Joe Satriani Reveals Main Reason Behind Why He Rejected Joining Deep Purple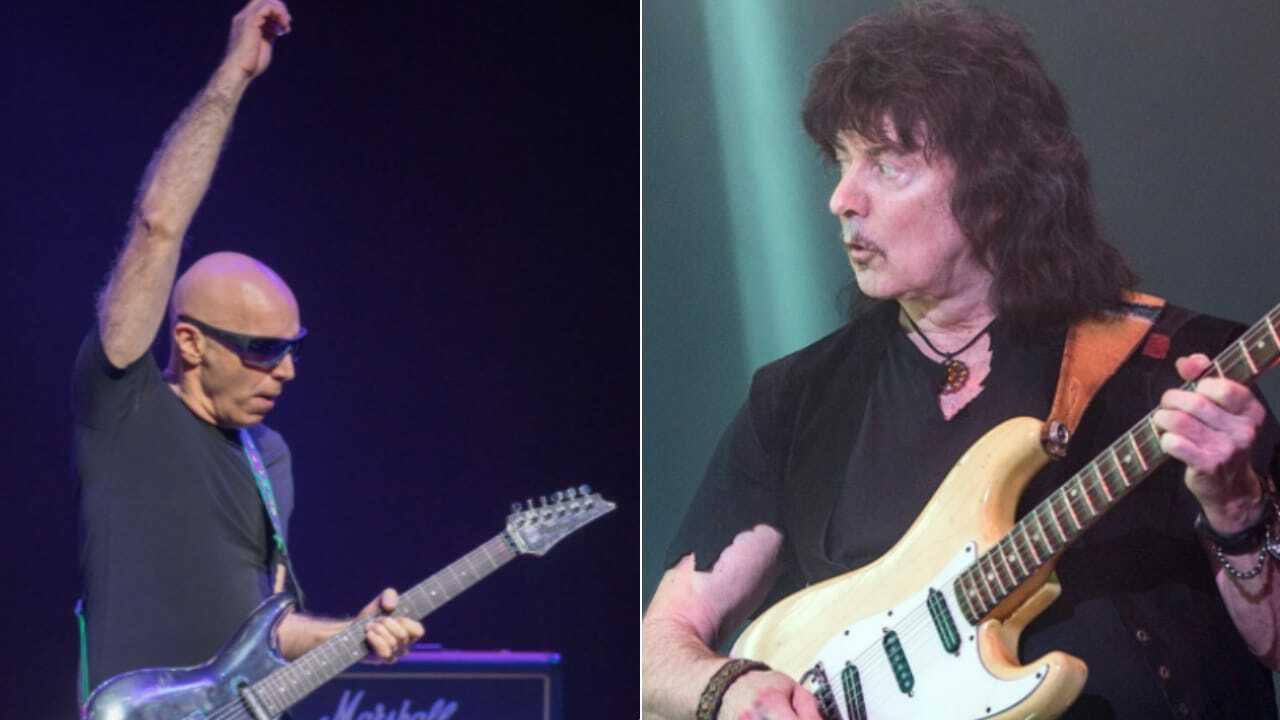 Legendary guitarist Joe Satriani did a brand new interview with Vintage Rock. Satriani performed with Deep Purple to complete the band's Japan and European Summer tour in 1993 after Ritchie Blackmore left the band. In the interview, Joe Satriani talked about why he didn't want to be a part of the band in the future despite being offered to him.
Seen as one of the pioneers of heavy metal, Deep Purple was founded in England in the late 60s. Deep Purple has changed its line-up many times since its formation. The most successful of these formations are Ian Gillan on vocals, Roger Glover on bass, Jon Lord on keyboards, Ian Paice on drums, and Ritchie Blackmore on guitar.
Debuted in 1968 with Shades of Deep Purple, the band had many breakups within the members, one of which was with one of the band's founding members, Ritchie Blackmore. Blackmore quit the band for good during their Japan tour. Deep Purple completed the tour with the famous guitarist Joe Satriani.
In an extensive interview with Vintage Rock, Joe Satriani was asked why he didn't use it when he had the chance to join Deep Purple. While Satriani stated that his solo career is his priority, he admitted that it is difficult to replace the legendary members of a band before him.
"I took my cue from those players that were laying the groundwork for the kind of stuff I do, like Jeff Beck," Satriani said. "I saw the freedom that he had to play with interesting players that would inspire him to do different things. I thought that's really great.
"I love watching him live and I love his albums and he keeps you guessing and he's always progressing as a guitarist. He just keeps going forward. I love that attitude of just moving forward all the time.
"He's not really hampered like a legacy band where they're going to have to play their hits. Like when Aerosmith goes out, they're just going to have to play those songs that are their hits. They've got to play 'Janie's Got a Gun', they've got to [play] 'Dream On'. They can't do a concert without it.
"But Jeff Beck really doesn't have to do anything he doesn't want to do. [Laughs] He can say, 'No, this is where I'm at right now. Check this out. No one else can do it. I can do it.' [Laughs] I love that attitude. It's a dangerous move. You miss all that input from a band and you miss the chance that you can go mainstream.
"It's very difficult for Jeff Beck to go mainstream like AEROSMITH or any other pop band where you're talking billions of streams and TV appearances and all the awards, that kind of stuff. However, everybody knows and respects Jeff Beck as a player, as a musician, as a composer, and they wouldn't dream of him changing his attitude. We like him being the iconoclast that he is.
'I Had That Choice to Make When Roger Glover Asked Me to Join Deep Purple'
While Joe Satriani states that he will always feel guilty for not taking the chance to join Deep Purple, he admits that another reason for taking this decision is that he doesn't feel like he belongs to Deep Purple.
"I had that choice to make when Roger Glover asked me to join Deep Purple," Joe continued. "I just thought, I'm Joe from Long Island. I don't belong in this British royalty metal band. I knew I just didn't belong. I was a big fan of Ritchie Blackmore and I thought I'll never be able to rectify it. I'll always feel guilty that I have to copy Ritchie and I didn't want to do that.
"I've had friends who've had successful turns replacing famous people in bands," Satriani added. "But I remember what they would always say at the end of it. I remember Steve Vai telling me once, 'Joe, if you can avoid it, don't ever replace anybody famous in a band because the fans — they never let you forget it.
You're always compared to the first guy, the original guy.' So I thought I'm going to take the chance. I've got a good relationship with my fans, and we'll stick together and try to just make better and better albums."
Back in March, the legendary drummer Ian Paice recalled those hard times during his appearance on Hangin' & Bangin': Artists On Lockdown. At first, the drummer 73-year-old drummer started describing the recording place as a blackened ruin. Then, he shared the tough story of how Deep Purple completed its Machine Head album.
"When we started to record the album, the casino had already burnt down," Paice said. "And that was where we were gonna do the record… It was just a blackened ruin, and so we had to try and find somewhere else to record. And the guy who ran the festival said, 'Look, you can track in this ballroom.'
"So we set up in the ballroom. And we were just trying to get a sound together. And Ritchie had this riff. 'Let's try the dah-dah-dah song.' 'So how are we gonna start it?' I said, 'Try the riff and I'll just do a hi-hat thing and let it build up.'
"And this was an echoey old ballroom. Montreux, at that time of the year, had sort of gone to sleep. It's a summer resort — no skiing there; it's too low. But it's got the lake and all the rest of it. So by 10 o'clock, the whole village is comatose.
"And then this rock band starts up in this echoey old ballroom. Anyway, we'd been at it for about 10 minutes and then the police… We saw these blue lights go flashing by the door. We were just finishing a take; I think we got two takes done or something like that. Anyway, [producer] Martin Birch said, 'Don't let anybody in.' The roadies were holding the door till we finished the take. The cops came in and said, 'That's it. You can't do [that] anymore.' So we had to move again.
"And we eventually went to the Grand Hotel which is a hotel that was shut for the winter. And we forgot about that track. We were just getting a sound."
In the continuation of his words, Paice mentioned the time they finished the record and realized that it was not long enough. Saying that they have some space to fill in with new music, Paice touched on the band's bassist Roger Glover's looking at his notebook and seeing some things that flames going up related to Smoke On The Water. According to him, it was the story of how Deep Purple completed Smoke On The Water.
"When we finished the record, we found that we were a few minutes shy; it wasn't long enough for an album," he continued. "We had a track that could have gone on; it was the ballad, 'When A Blind Man Cries'. But Ritchie wanted the slowest song on the record; he wanted it all to be up.
"So [we thought], 'What about that track we did in the ballroom? [Let's have a] listen to it. It sounds all right. It sounds okay.' There were no words yet, so Ian and Roger went away.
"And Roger looked back at his notebook and he was writing down his impressions as we saw the flames going up. The downdraft from the mountains pushed the smoke down across the lake. 'Smoke On The Water', that's where the title came from. I said, 'Why don't we write a song about the making of the record?'
"And so that's how 'Smoke On The Water' got completed, and that's how it ended up on the record. Otherwise it would have just been lost as a soundcheck."