Joan Jett Blasts Ted Nugent: "This Is The Guy Who Shit His Pants"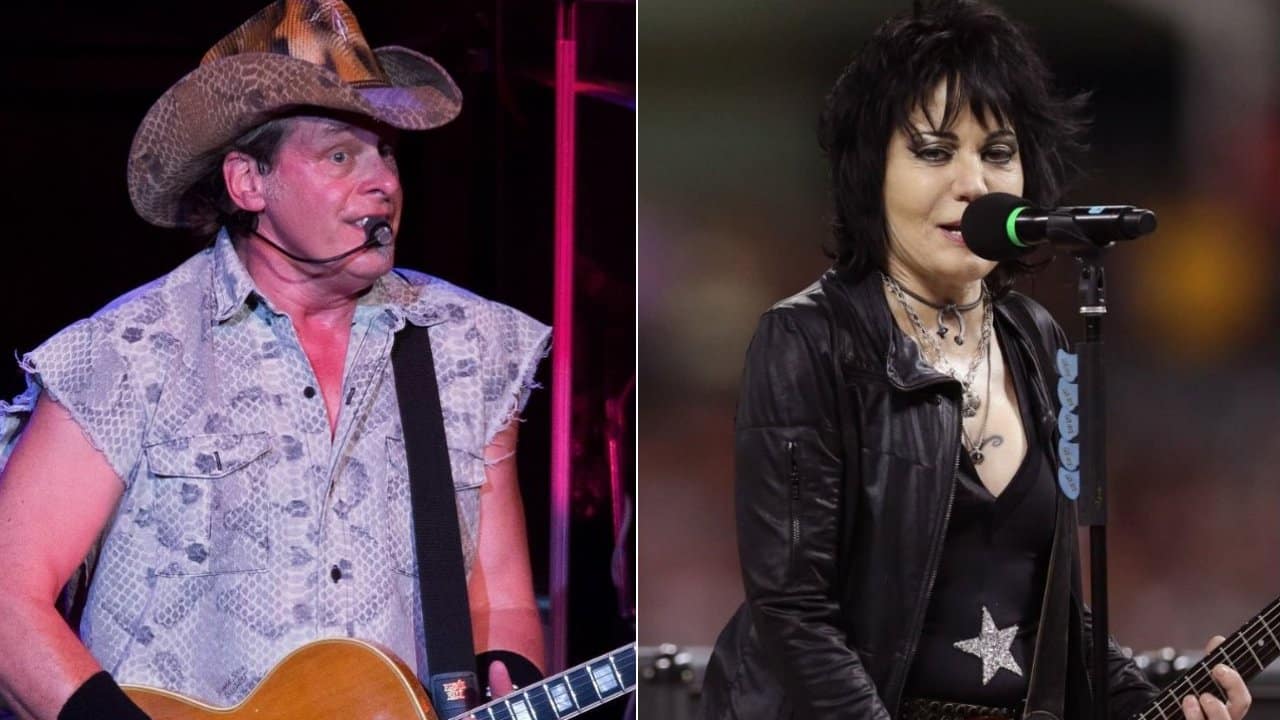 Joan Jett blasted Ted Nugent after the 73-year-old rocker criticized Rolling Stone magazine for including Joan Jett in its 100 Greatest Guitarists list.
Joan Jett is a rock singer who has been playing in the music scene since 1975. Appeared in The Runaways for over 4 years, Jett is best known for her works with the band she was inducted into the Rock and Roll Hall of Fame in 2015, Joan Jett & the Blackhearts. Having three different solo albums that have been certified Platinum, she is considered the Queen Of Rock 'N' Roll.
On the other hand, Ted Nugent is an American rocker and activist who has an undeniable impact on the growth of rock and roll music. Including his 17 solo studio albums during his ongoing career, Nugent has been contributing to the genre with his numerous successes and huge experiences. He also received huge respect for his works with The Amboy Dukes.
In December 2021, Ted Nugent shared his honest thoughts on Joan Jett's appearance on the list of 100 Greatest Guitarists in Rolling Stone magazine. Railing Joan Jett's appearance on the list, he said that "they have to have shit for brains and you have to be a soulless, soulless prick to put Joan Jett." Even though he said he loved Joan Jett, Nugent once again made fun of Jett's being on the list.
Recently, Joan Jett fired back at Nugent during his new interview with NME. When the interviewer pointed out Ted's comments that she didn't deserve to be on the list, Jett mocked Nugent. She also added that living as Ted Nugent is the biggest punishment.
"Neither should he," Jett says. "Is that his implication, that he should be on the list instead of me? Well, that's just typical — it's what I've dealt with my whole life, being written off.
"Ted Nugent has to live with being Ted Nugent. He has to be in that body, so that's punishment enough."
Joan Jett Adds 'Ted Nugent Is Not A Tough Guy' At All
Joan Jett then added that Ted Nugent has not as tough as he looked. Adding that Ted Nugent is the guy who shit his pants, Jett repeated blasting him. It is seen that she was very mad at Ted Nugent after he criticized her appearance on the list.
"He's not a tough guy," she adds. "He plays tough guy, but this is the guy who shit his pants — literally — so he didn't have to go in the Army.
"So this is the tough guy who's running around America, stirring things up against each other."
After Ted Nugent criticized Joan Jett, he was also criticized by people who thought he was not right. Defending himself by saying that he started by defending the musician at the beginning of his interview, he also added that his honesty about Jett drove people crazy.
"I started off by praising Joan Jett's genuine shitkicker, down-to-earth, all-American rock and roll credentials," Ted said. "I started off by praising her. I even saluted the lesbian thing.
"Here's the question: how on God's good green earth could someone listen to what I say and then claim it's about hate and about knocking and belittling? Joan's awesome.
"I mean, The Runaways. Her whole, 'Put another dime in the jukebox, baby.' I mean, she's the real rock and roll McCoy.
"But belonging on the 'top 100 guitar player' list anywhere on planet earth, even 'Boring' Stone before genuine virtuosos of the six-string? That was my statement. I was only using Joan as an example because she happens to be a perfect one.
"I think I can tell that you are a real music lover — you love spirit and soul, defiance, middle fingers on fire, genuine musical authority, all that combination that represents that dynamic and majestic soundtrack to our lives, our American Dream, and if there is a German or a Spanish Dream, I hope they get a soundtrack as well.
"But Joan Jett represents that. But on the top 100 guitar players list, before Tommy Shaw, before Rickey Medlocke and before Derek St. Holmes — I can go on with a hundred examples… I was only using that beautiful young lady as an example, and people literally went berserk trying to twist it into hate.
"There was no hate. I don't have any hate. I had my hate amputated when I was five years old. No hate — all love and compassion and honesty. That's what drives people crazy: my honesty."