Guns N' Roses' Slash Recalls His Tenure With Michael Jackson: "He Just Left Me In The Studio"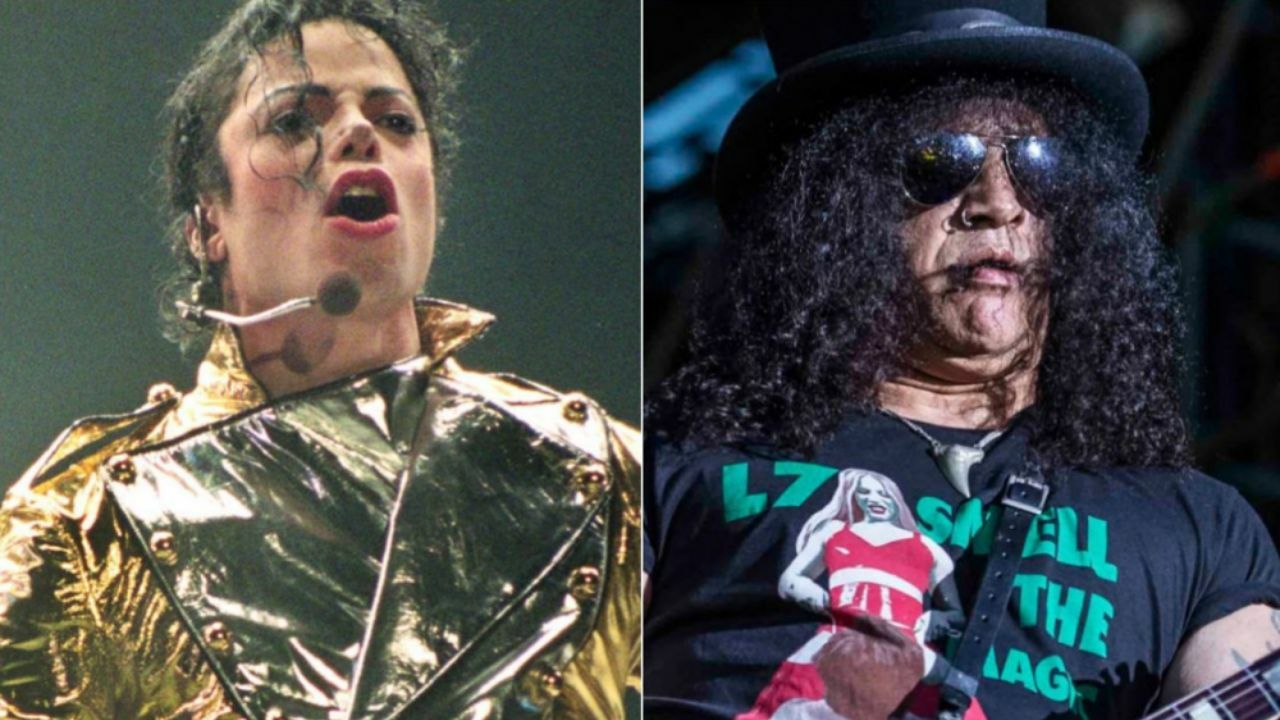 Guns N' Roses guitarist Slash recalled his tenure with the music icon Michael Jackson and revealed how Jackson treated him when they were working together.
Slash is the Rock Walk of Fame star who achieved his international success for being the guitarist of the rock band Guns N' Roses. Over the years, he also played alongside artists such as Myles Kennedy and Velvet Revolver. He also released albums under the band Slash's Snakepit.
His contribution with Michael Jackson was for the King Of Pop's 1991 single Give In To Me, which was taken from his eighth studio album Dangerous. He had played lead guitar in the song. In addition to that, Slash had also performed the opening skit of the musician's Black Or White song in the same album.
Recently, during a new interview with Couch Of Guitars, Guns N' Roses man Slash has commented on how it was working with one of the most significant cultural figures of the 20th century, Michael Jackson. At first, the interviewer mentioned the song he played lead guitar, Give In To Me, and asked how he felt at the time. According to Slash, it was great to play alongside Jackson.
"It was cool but more than anything for me it was an opportunity to grow as a player and learn to adapt to other people's situations," Slash says.
"It was really humbling because I wanted to do a good job and work within the idiosyncrasies of the people you were working with."
Slash Reveals How Michael Jackson Behaved In The Studio
Slash then revealed how the dancer/singer Michael Jackson behaved in the studio during the recording process of the song. Saying that they met and exchanged niceties, Slash added that Michael Jackson had left him in the studio.
"He just left me there," Slash continues. "Which was actually really cool.
"We met at the Record Plant and he was with Brooke Shields. I was sort of freaked out…
"It's Michael Jackson and there's Brooke Shields, and it was sort of a whoa kind of thing.
"We met and exchanged niceties and he took off to dinner and left me with the producer and I just did my thing. That was it.
"That's sort of what he was always like, just do your thing."
Elsewhere in the interview, Slash has also mentioned the time that he was criticized by Bob Dylan for his work on Dylan's Wiggle Wiggle. According to him, Dylan did not like his work, and it was a great lesson learned for him.
"Don Was hooked me up with Bob Dylan and said, 'Here's the song,' it was a real basic I-IV-V blues kind of thing.
"Don had suggested me to play the solo for this particular song, which was like an acoustic kind of thing.
"So there was a section and I went down to the studio and I went in and did what I thought was a really great one-off. So I said, 'Don, make me a tape when you guys are done and let me check it out.'
"So he sends me a tape the next day of the rough and the song's moving along – the lyrics and chorus go by, and the solo section comes in and it's just me playing acoustic, strumming.
"And that's like two full progressions, whatever. And then back into the song. I said, 'What happened to the solo?' [Don said], 'Bob thought it sounds too much like Guns N' Roses.'
"So it was a great lesson learned for me. At that time I hadn't done a lot of session work and it was a great learning experience."
Back in this past November, Slash had discussed his side project's upcoming studio effort, 4. Opening up about the album, Slash had said that the album's tools are very spontaneous.
"The way that we recorded this record, everything was just done live in the studio, and it's very spontaneous," he says.
"This is actually the most live I've recorded so far. I've always done the bass, drums and guitars live in the studio — bar none — except for when I do other people's sessions. But in any band that I've worked in, it's always been like that.
"But you come back and you do guitars later because you wanna get the right sound and you go into the control room and you do the guitars from there."