Gene Simmons Says 'Mick Jagger Would Pass Out' If He Toured Like KISS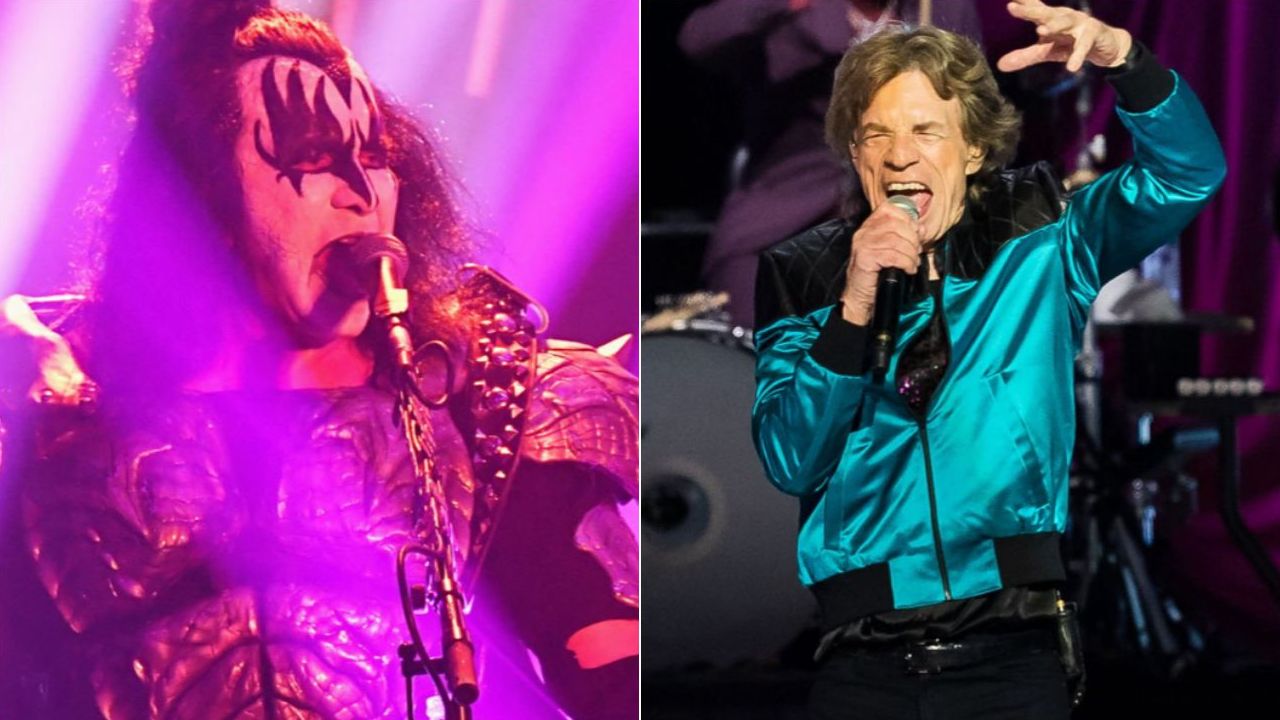 KISS legend Gene Simmons made his band's fans upset with a confirmation that the band's farewell tour End Of The Road is going to be the last tour of the band. He also shared an opinion about his band's live shows and claimed that The Rolling Stones singer Mick Jagger would pass out if he toured like KISS for a long time.
KISS received international fame in the late '70s with its extreme appearances that featured their makeups, outfits, smoking guitars, crazy live performances, fire breathing, and huge energy. Even though the band has gone through several line-up changes since 1973, the band's original line-up features Paul Stanley on rhythm guitars, Ace Frehley on lead guitars, Gene Simmons on bass/vocals, and Peter Criss on drums.
During its ongoing career, KISS has released 20 studio albums, 9 live albums, 14 compilation albums, 8 box sets, and many more things. With those incredibly discopraphy, KISS has sold over 100 million units worldwide. Some of the band's beloved releases are the band's Love Gun, Dynasty, Lick It Up, Animalize, and Crazy Nights. The band has 16x Platinum certifications for its epic studio albums.
Back in 2019, KISS launched its farewell trek named End Of The Road. Even though it was originally scheduled to conclude on July 17, 2021, in New York City, the trek is now scheduled to be ending in 2023, as Paul Stanley said. Being one of the pioneers of the rock genre for over 5 decades, KISS will continue to be an inspiration to musicians with its extraordinary discography, no doubt.
However, during a new appearance on ET Online, Gene Simmons commented about KISS' upcoming End Of The Road shows and upset KISS fans. Revealing when KISS will shows, Gene Simmons clearly admitted that this is going to be the last tour of KISS.
"We start playing the outdoor stadiums of South America, literally within two weeks, and continue on to Europe and Australia and eventually North America, Japan, all that stuff. Mexico," Gene Simmons admitted. "And this is going to be the last tour. We're done.
"We're approaching 50 years of doing this, which is unbelievable because we never thought we'd last more than a few years."
Gene Simmons Explains Why Mick Jagger Would 'Pass Out'
Gene Simmons then mentioned why KISS had to retire. Saying that it's been over five decades in music, Simmons added that it was hard to play live with seven-to-eight-inch platform heels. He also claimed that Mick Jagger would pass out if he played KISS-style.
"The last thing that you want to do is be a guy that stays in the ring too long and gets his ass beat," Simmons continues. "Get out of the ring when you're a champion.
"You got to understand — we love [Mick] Jagger and Bruno Mars and Bono and anybody else, they're all great, but if you put those guys — Beyoncé, put Beyoncé in my outfit with seven-to-eight-inch platform heels, dragon boots that each weigh as much as a bowling ball, the entire outfit, studs, leather and armor is about 40 pounds… the guitar and the studs is 12 pounds by itself.
"Then, you got to spit fire, fly through the air and do that for two hours. They would pass out within a half hour."
"We are the hardest-working band out there and take pride in it. And not every band should be out there too long. You've got to have some pride and not stay too long. Always keep them wanting. I'm the most blessed and grateful guy in the world to be able to be in a band where I can wear more makeup and higher heels than your girlfriend."
Back in June 2021, Gene Simmons had once again confirmed that there will be no KISS in the future during his interview with 6 ABC Action News. Explaining the reason, Simmons had stated that touring in dresses, with makeup, and long platform heels are getting harder and harder from day to day.
"I'll tell you why [End of the Road is the final trek]," Simmons reveals. "I'm 71, although I'm in great shape. The hand doesn't shake. I never got high or drunk in my life. I never smoked cigarettes; I never did anything of that…
"So, we're in great shape and we can't wait to get out there and do what we do. But there is such a thing as getting off the stage while the getting's good.
I was a massive Muhammad Ali fan. He stayed in the ring too long. Go out on top. If you're gonna go surfing, ride that tsunami – that's a hundred-foot wave – and then don't get back out there when there's a little baby [wave]. Go out on top."