Dream Theater's James Labrie Says He Was In Bizarre Situation When He Rejected To Join Iron Maiden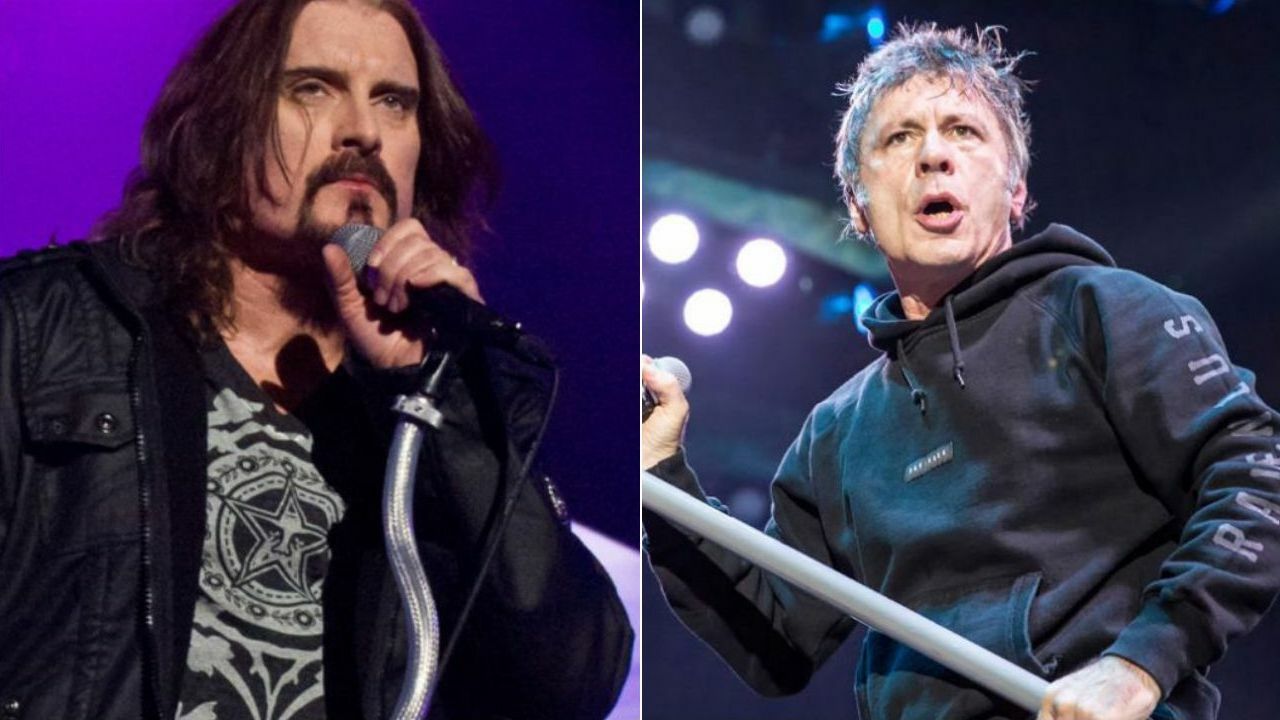 In a new interview with The Metal Voice, Dream Theater singer James Labrie recalled the time he rejected to join Iron Maiden and said that he was in a bizarre situation at the time.
Iron Maiden is an English heavy metal band that was formed in 1975 by the bassist Steve Harris. Debuted in 1980 with its self-titled album, Iron Maiden released 17 studio albums, 13 live albums, 20 video albums, 7 compilation albums, 40 music videos, 4 EPs, 46 singles, and many more things.
In 1991, Bruce Dickinson had joined the band after Paul Di'Anno left the band. Released his debut with the band when they released its third album, The Number Of The Beast, Bruce Dickinson parted ways with the band until 1999.
When Iron Maiden announced Dickinson's departure, they offered several musicians to join the band. Dream Theater singer James Labrie was one of those who received an offer from Iron Maiden. In his recent appearance online, the singer recalled those days.
Opening up about if Iron Maiden tried to talk to him to join the band, the singer recalled his conversation with Maiden's manager Rod Smallwood. Saying that he was confused when he was offered to join Iron Maiden, the singer was surprised in front of the moment's weirdness.
"Yeah, sure," he says. "Absolutely there was. Because at the time, we were being looked at to be managed by Iron Maiden's management. And so, Rod Smallwood, at the time, we were playing darts, and he took me aside and he said, 'What do you think about…?'
"You've gotta remember — I was in a very bizarre situation.
"Dream Theater, we had already recorded 'Images And Words', we were looking for management, we were getting ready to try and set up a tour and get out there.
"And I remember him saying to me — he takes me aside, and the rest of the guys in Dream Theater were there too, playing darts, because we were looking at him for management. And he says, 'I just wanna throw something at you.' And he had his assistant with him too — Merck — at the time.
"And they were both standing there. They were going, 'What do you think about being the singer with Iron Maiden?' And I said, 'What? What are we talking about here? I'm confused. Are you not here for the reason that you might start managing Dream Theater? Or are you here to get me to become…?'
"And I had already recorded the album. Can you imagine how bizarre that was?'"
James Explains Why He Rejected Iron Maiden
Later then, the singer revealed why he rejected Iron Maiden. He mentioned his passion for his band Dream Theater and recalled his youth.
"Anyways, so I just said, 'No. No way. You know what? I'm gonna tell you the reasons why I'm not going to do this,'" he continues. "And they said, 'What's that?'
"And I said, 'One: Dream Theater. That's it. Period.' And I said, 'But if I need to go any further with this, way back when I was 22 years old, I sang for a band called Coney Hatch for a year. And I walked [in as the replacement for] another singer [named] Carl Dixon,' and I said, 'and basically what I felt like was a glorified jukebox.'
"And I said, 'Because I came into the band, I was able to sing all that stuff no problem — no problem — but there was never that 'This is me. And this is what I created.'
"It was about, 'Are you looking at me for who and what I am?' I don't think so. And I don't think you ever will."
The musician concluded his words by sending his respects to Bruce Dickinson.
"Bruce and I have mutual respect for one another," James adds. "We've met several times. We've done several shows. I remember doing the BBC show with him. And there was that mutual respect between the two of us."