Deep Purple Drummer Recalls Ritchie Blackmore's Traumatic Departure: "We Just Saw The Audiences Getting Smaller And Less Impressed"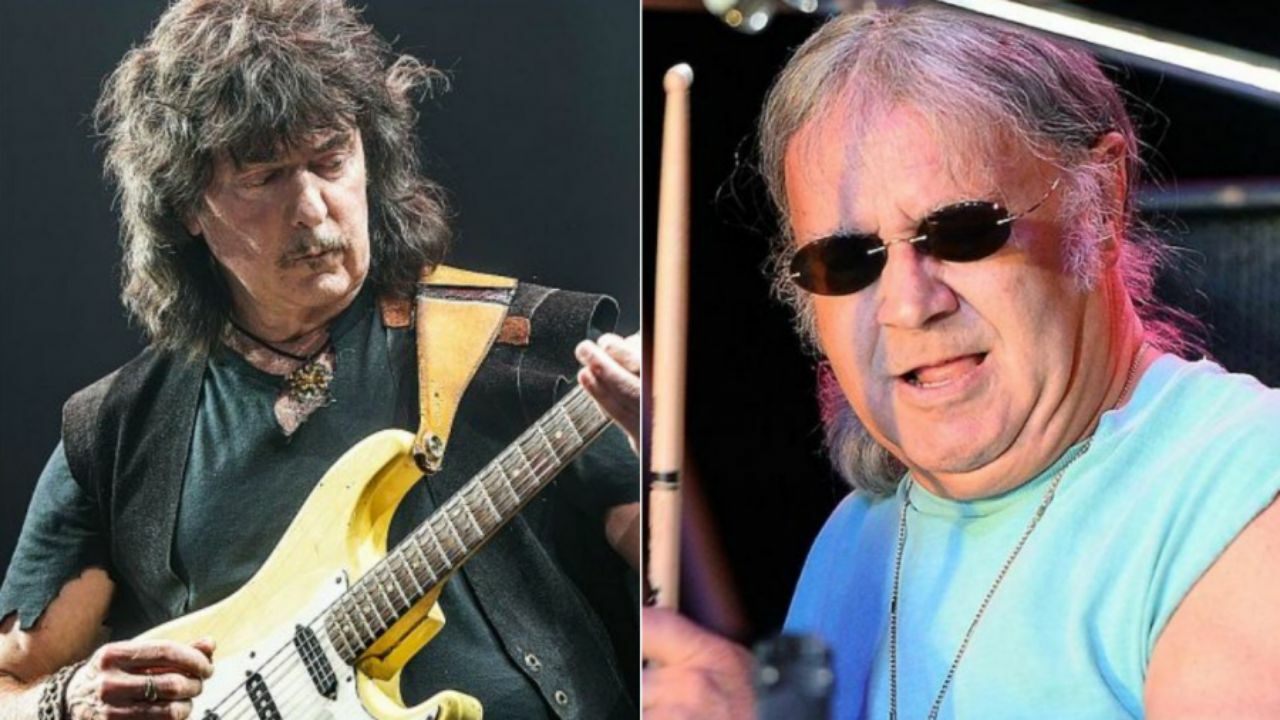 In a new appearance on The Paltrocast, Deep Purple drummer Ian Paice recalled his former bandmate Ritchie Blackmore's departure from the band and revealed if the band worried about not having another hit song after the musician's departure.
Deep Purple is an English rock band formed in 1968. During its ongoing career, Deep Purple released 21 studio albums, 45 live albums, 28 compilation albums, 15 video albums, and 45 singles at press time.
Ritchie Blackmore was the co-founder and guitarist of the Purple. Throughout his tenure with them, Ritchie performed in the band's first fourteen studio albums. His latest effort with the band was the band's 1993 release The Battle Rages On…
After Blackmore left the band in 1993, Deep Purple was joined by the renowned guitarist Joe Satriani from 1993 to 1994. At the time, Deep Purple had invited him into the band as a permanent member, but Satriani had declined.
However, during his recent interview on The Paltrocast, the drummer Ian Paice revealed if there was ever a period when he and his bandmates were worried about not having another hit song. He revealed the only concern of the band and said that Ritchie Blackmore's decision to leave the band was traumatic.
"I don't think we were worried about having hits in the first place," Ian says. "It was a time when pop bands made singles and rock bands made albums.
"So long as we kept coming with albums that people seemed to like, we weren't worried about having a Top 40 hit – if they came along, it was like a bonus.
"Now, the only time we got concerned was towards the end of Ritchie's [Blackmore, guitar] tenure with the band, as he was losing interest and the performances from the band were not great because you need everybody helping each other out – you can't be a passenger.
"And we just saw the audiences getting smaller and less impressed, and that was worrying. And when Ritchie decided to leave, that was pretty traumatic because we didn't know what to do then.
"And had we not been contracted to have to go to Japan, it might all have fallen to bits then."
Ian Adds Joe Satriani Was The Light For Deep Purple
Later then, the musician mentioned what it was like to be joined by Joe Satriani during the band's Japanese tour. Saying that they had a lot of fun after Satriani joined the band, Ian added that he was the light at the end of the tunnel for Deep Purple.
"We had to go to Japan, with the wonderful Joe Satriani [filling in], and it proved that there is life after even somebody as great as Ritchie is," he continues.
"He didn't wanna be there, but it was just as much our band as it was his. And we were still having fun.
"We started to have fun again when Joe turned up and just became a fifth member of the band, pulling his weight. So that was the light at the end of the tunnel.
"Everybody knows to try and recapture those days of the early '70s, that's never gonna happen. The world moved on to a different place and music moved to a different place and we're different people.
"But it's all about having fun. And if you make some other people enjoy it with you, that's OK – that's a good end product."
Back in September, Ian had discussed his current relationship with Ritchie Blackmore. According to him, they've been written pleasant notes to each other.
"Yes, we are in touch," Ian revealed. "Tensions eased quite a lot after we got hold of our business affairs and sorted everything out.
"There were previous managers from the past who had not done things exactly as you would like. I didn't get paid for 10 years when I was with Deep Purple, in the big years. Goodness knows what happened to all that.
"And there were other tensions too and, needless to say, it was all pretty nasty when we finished and Ritchie walked out. But we're too old for all that now so we've both written some pleasant notes via our managers."