Slayer Guitarist Kerry King On Metallica's Black Album: "That's The Biggest Level Of Success For Them"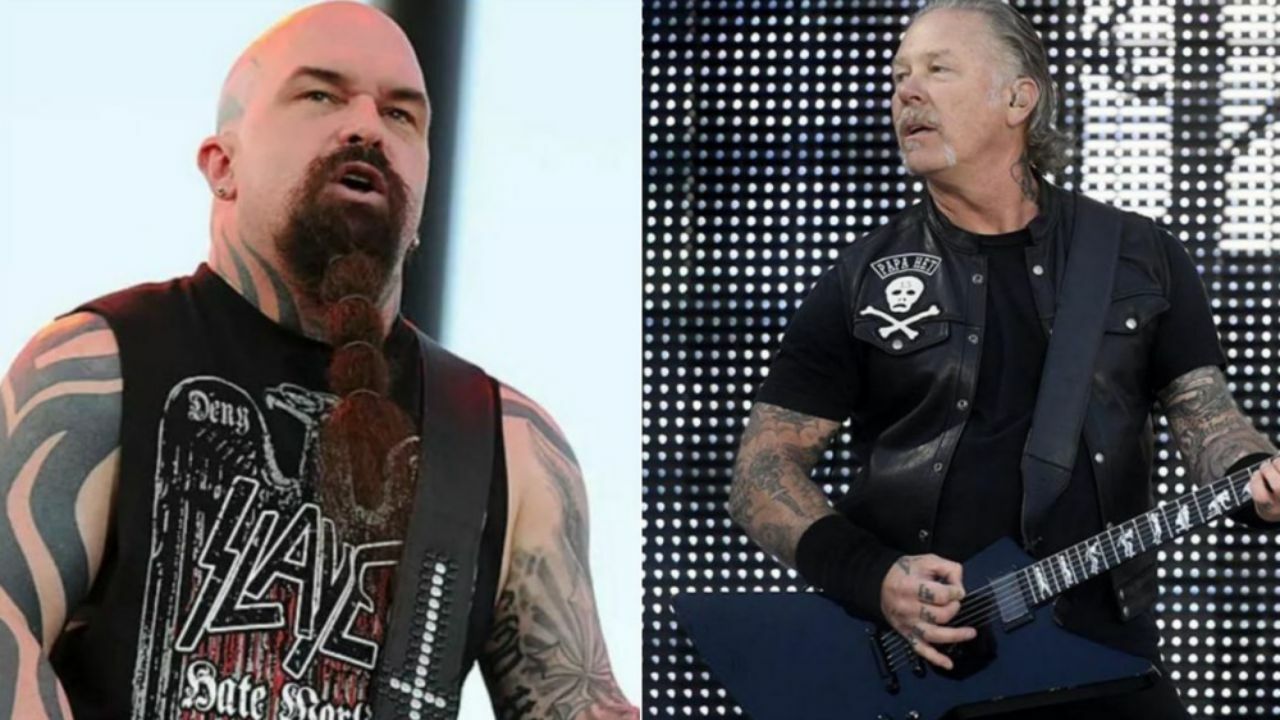 In a new appearance on Metal Hammer magazine, Slayer guitarist Kerry King shared his honest opinion on the heavy metal band Metallica's Black Album and said that he never hated The Black Album the way a lot of people did.
Kerry King is known for being the co-lead guitarist and songwriter of his co-founded thrash metal band Slayer from the band's first day in 1981 to the band's disbandment in 2019. Debuted in 1983 with the band's Show No Mercy, Kerry King had appeared in every Slayer album during the band's career.
On the other hand, Metallica is a Los Angeles-based heavy metal band formed in 1981 by James Hetfield and Lars Ulrich. At press time, the band released 10 studio albums, 8 live albums, 3 EPs, 10 video albums, and many more things.
The Black Album was Metallica's self-titled fifth studio album. Being one of the best-selling albums in the United States, The Black Album, aka Metallica, was released on August 12, 1991. The album consisted of 13 songs in total and sold more than 16,500,000 million copies worldwide.
Recently, Kerry King was asked what his reaction was to Metallica's self-titled 1991 effort. Saying that he still likes the record since its first day, Kerry King added that Metallica made The Black Album super-catchy.
"I may not have been super-stoked on it, but I never hated it the way a lot of people did," King says. "To this day, I like that record a lot. I think it's Metallica but I don't think it's thrash Metallica.
"You can hear where all the influences come from, from all of their older stuff. They just super-slowed it down and made it super-heavy; they made it super-catchy.
"That record probably sold more than all of my records combined. [Laughs] There was so much grief over that when it came out.
"And to be honest with you, everything that came out after that for a long time, that's what I have a problem with.
"But The Black Album? It's still heavy. It's got some fast stuff on it."
Kerry King Adds Black Album Is The Biggest Level Of Success For Metallica
Later then, Kerry King has also touched on Metallica's greatest accomplishment. Recalling his band's Big Four show with Metallica at New York's Yankee Stadium, Kerry King said he's happy to be a part of that with Metallica.
"Man, they've had so many," he continues. "One that I can say we were a part of was the 'Big Four' show at Yankee Stadium. I think we were the first musical concert at the new Yankee Stadium and I think that was big for Metallica, so I'm happy to be a part of that with them."
He concluded by claiming that Black Album is the biggest level of success for Metallica.
"Their greatest achievement, I would say, has got to be The Black Album," he claims. "That's the biggest level of success for them. It may not be my thing, but it's the first thing that comes to mind."
Back in this past October, Metallica frontman James Hetfield had commented on the band's newly-released The Blacklist Album, which was an album that celebrated Black Album's 30th anniversary. According to Hetfield, it was beautiful to see different musicians from different genres covered Metallica.
"Yeah, Mark from our management, this is his brainchild, his baby," James revealed how they decided to make the album.
"Just getting an idea, 'Oh, what are we gonna do for the 'Black album'?' 'Well, we've done lots of covers, why don't we get other people to do covers?'
"And, the outpouring was amazing! The fact that 53 different people wanted to be a part of it…
"There were definitely a lot more. And I love the fact that people enjoy the music, they've taken it in, they've digested it, and they've to spit it out in their way what works best for them.
"Whether it's in Spanish, or it's in rap, or it's in a country twang or a crazy remix kind of thing…
"I love the fact that they're all really, really different. And the people that did them, the artists, they took the time.
"They took the time to make it theirs, and they didn't just phone it in and say, 'Oh, we'll just cover it how it's supposed to sound.' They took it in and made it theirs. That, to me, is beautiful."