Guns N' Roses' Slash On Axl Rose: "Everybody That I'd Worked With Before Him Was Sucked"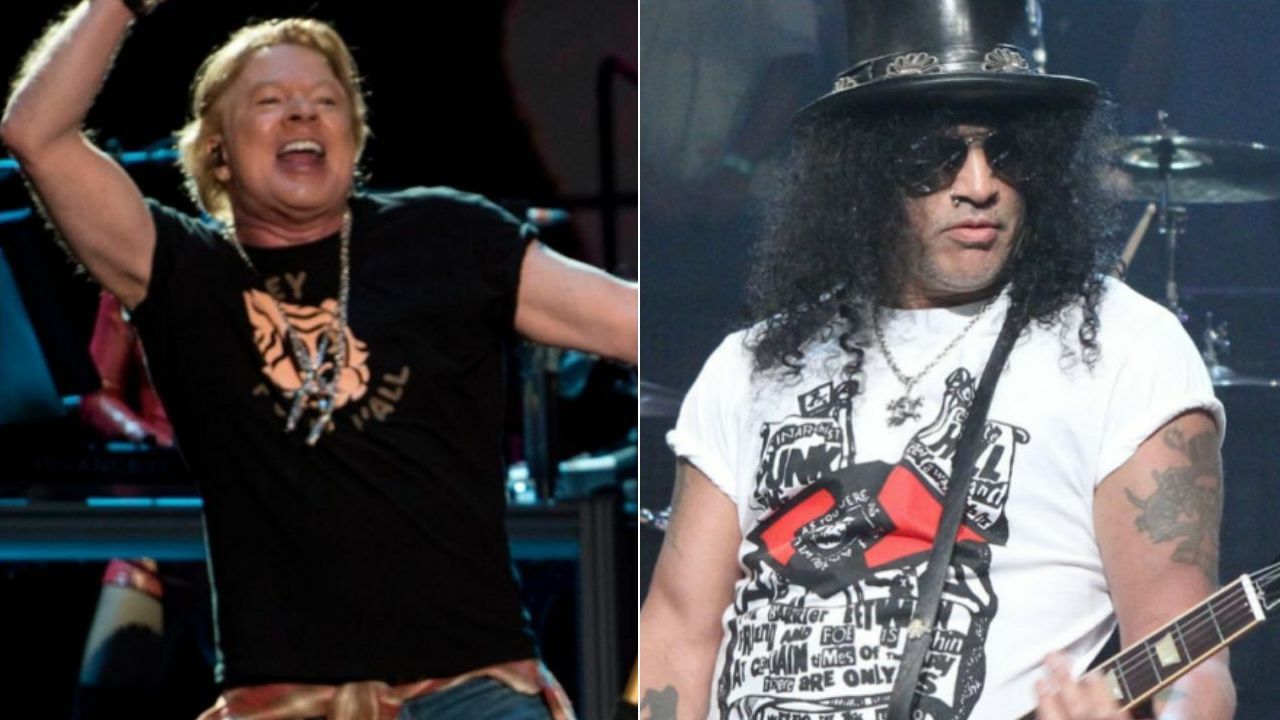 Guns N' Roses guitarist Slash has mentioned that what working with his bandmate Axl Rose means to him since the band's first day and shared emotional thoughts about their relationship.
Axl Rose is known for being the lead vocalist and lyricist of the rock band Guns N' Roses. Performing in every one of Guns N' Roses' albums, the 59-year-old singer Axl Rose is Guns N' Roses' sole constant member since their inception in 1985. Out of Roses, Axl Rose had contributed to Sebastian Bach's Angel Down, Don Henley's The End Of The Innocence, Gilby Clarke's Pawnshop Guitars, and many more musicians over the years.
Considered one of the greatest guitarists in music history, Slash gained international fame for being the lead guitarist of the Guns N' Roses. Although he took a hiatus from the band from 1997 to 2016, Slash and Axl Rose have a great friendship.
Over the years, Slash worked with numerous talented rock and roll singers such as Scott Weiland, Eric Dover, Ozzy Osbourne, Myles Kennedy, Adam Levine, Lemmy, Iggy Pop, Alice Cooper, and Kid Rock, but according to him, there was no one like him who brought an emotional content to music that affected him heavily.
Recently, during a recent fan first interview with Revolver, Slash has opened up about his honest opinion on his bandmate Axl Rose. At first, the musician touched on the singers he worked with before Axl Rose.
"I'd worked with different singers, on and off, for a while, and then when I met Axl and we started jamming together," Slash said (as transcribed by MetalCastle.net). "He was the only singer that ever brought an emotional content to it that affected me on an emotional level, on an energy level."
Slash Mentions Axl Rose's Impact On His Playing Style
Slash then stated that songs had gone to a new level after he started working with Axl Rose. According to him, everybody that he'd worked with before him was sucked. He also admitted that he just rathered to play instrumentally with no conversation.
"A song all of a sudden went to a whole new level, and I felt it, and that's when I realized where music and vocals really meet," he continues.
"Because prior to that, everybody that I'd worked with sucked and I had no use for it, and I would just rather play instrumentally.
"But that's when I first really arrived at that poignant feeling that you get when things connect on a lyrical and the vocal level and the music level."
Back in October 2020, Slash had remembered his band Guns N' Roses' reunited partial classic lineup's first comeback performance in April 2016. Saying that it's hard to put into words what that felt like to play Welcome To The Jungle live after all those years, Slash had also remembered Guns' first show at The Troubadour.
"Our first Guns N' Roses show proper, that I was involved in, was here at The Troubadour," Slash said (via BM). "We really got our start in this particular venue. I remember we had a show here at some point in 1985, where Tom Zutaut from Geffen came down, and that was who we ended up signing with. This is the gig that he saw us play.
"I remember that gig pretty well. At that point, we were selling out these venues and had a really big word of mouth going and had a really eclectic demographic coming to see us — from fucking hardcore punk rockers to metalheads and glam and fucking surfers. It was a very mixed up kind of audience, but it was great.
"Guns came back and played here in 2016, on April Fool's, the first show back in 20 years, for me anyway. Once we loaded in and started soundchecking, it was like going all the way back to 1984. Playing 'Welcome To The Jungle' here all those years later, it was something that… It's ineffable.
"It's hard to really put it into words what that felt like. The funny thing is we had way more gear that this club really holds.
"So we basically blew the fucking doors off this place. We just thought it would be fitting to get back together all these years later and start at The Troub."