Behemoth's Nergal Sends Respects For Iron Maiden's Bruce Dickinson: "He's Someone Who's, Like, Holy Shit"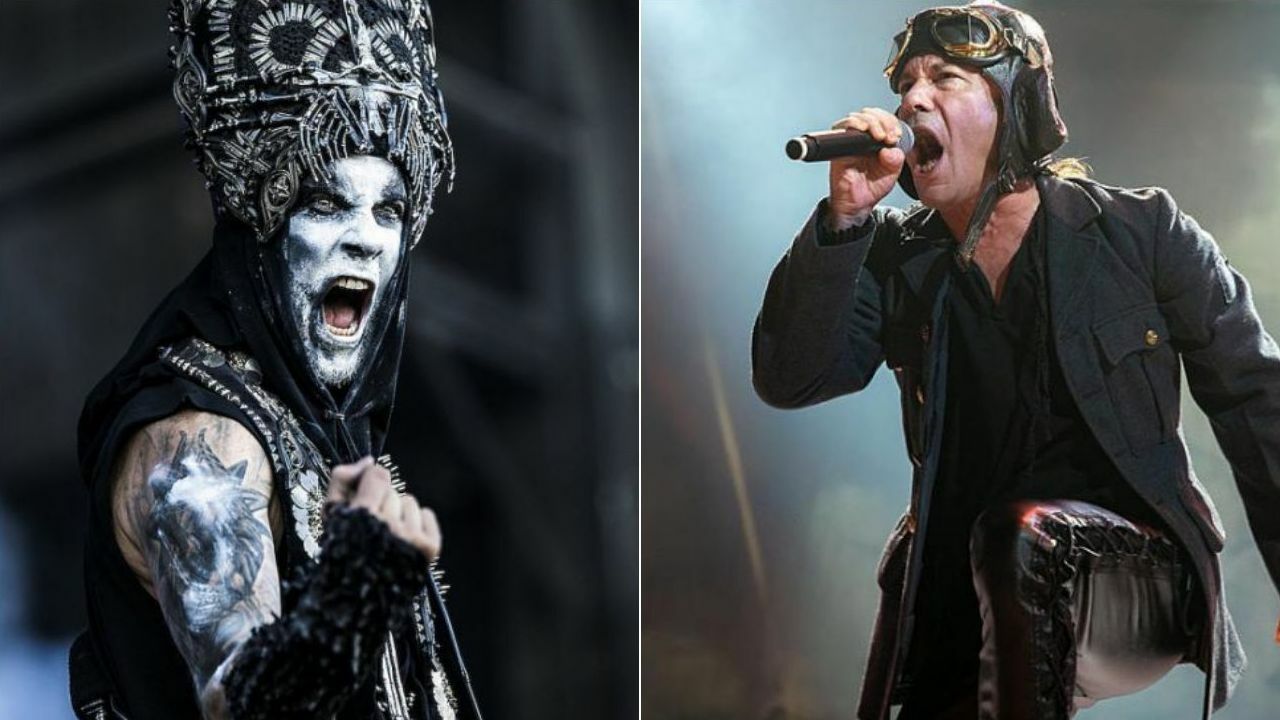 Behemoth singer Nergal has sent praising words for Iron Maiden vocalist Bruce Dickinson and showed off his respect by saying that he is an awesome musician.
Adam Darski, known as Nergal, achieved international success for being the lead vocalist and frontman of the extreme metal band Behemoth. Performing in every Behemoth album, Nergal released 11 studio albums, 2 live albums, 7 EPs, 3 demo albums, and many more things during his ongoing career with the band.
On the other hand, Bruce Dickinson rose to world prominence as a member of the heavy metal band Iron Maiden. At first, the musician joined Maiden in 1981 after the departure of Paul Di'Anno. He left the band in 1993 after tensions grew up between band members. Later then, he rejoined the band in 1999 and still rocks the stage alongside his bandmates.
However, in a recent appearance on The Dan Chan Show, Nergal praised Bruce Dickinson and mentioned his solo band Me And That Man. At first, he answered a question that about what he looks for when deciding which projects he gets himself involved with. According to him, he loves his heavy metal cage.
"As human beings, we're very complex," he says. "It's pretty much just to ask if we let ourselves try things out.
"I love my heavy metal cage, and that is my mother womb, so to say, but I'm really willing to try things out.
"I'm not saying I'm gonna be a good actor, but I really wanna play in a theater at some point. If I fail, I fail, but let me fucking try.
"My mind is really all over the place. Some people, they can't really split their mind — they just focus on one thing and that's it.
"I can really do three things at the same time — almost like Napoleon [Bonaparte, who reportedly could think and speak so fast that he was able to dictate five letters to his secretaries at the same time]; I'm just a little taller than him."
Nergal Says Bruce Dickinson Is An Awesome Musician
Nergal later continued by sending his respects for Bruce Dickinson of Iron Maiden. Touching on his recent meeting with Bruce Dickinson, he said that Dickinson is an awesome knowledgeable person.
"Yesterday I had dinner with Bruce Dickinson," he continues. "If you ask me what I look up to, I look up to Bruce Dickinson.
"He's the renaissance man. He's someone who's, like, holy shit. That is awesome. I mean, what all he does — all he captures, all he embraces. All the knowledge, all the curiosity, all that hunger for life and all its dimensions, that is a way to go for me.
"There's people that tell me, 'Ah, you do this for money. You do this for that. You're just cashing in, monetizing.' I'm, like, 'No.' I'm having fun with bringing — I don't know — Behemoth whiskey. It's fun. I play with it.
"Do I need to do it? No. But I have a need to do that, so I will. As long as I'm having fun with that, I bring it along."
Released two albums so far, Nergal's side band Me And That Man will release its third full-length studio effort, New Man, New Songs, Same Shit, Vol. 2, on November 19.
Back in this past October, Nergal had discussed how Red Hot Chili Peppers singer Anthony Kiedis inspired him on turning fans down when they ask him to take a photo or something. He had revealed a golden story about the issue by recalling his friend's memory with Kiedis.
"My good friend, he was telling me some stories with some iconic people in L.A. And one of my absolutely favorite stories from his is," Nergal recalls.
"He was just a kiddo waiting outside some shows, and he would just come across Ozzy Osbourne. And he's telling me, 'Man, Ozzy Osbourne was cool. He [let me] take a photo. And they were super friendly and cool.
"[He continues], 'And then I ended up at this party and I see there's fucking Anthony Kiedis standing in front of me, so I just approached him in the most polite way, and I just asked him' – that is amazing; I love it – I just patted him on the back and he just turned towards me, and I just asked him in a super-polite way, 'Anthony, would you mind if I take a photo with you?' And he goes, like, [in an assertive way] 'Absolutely not.'"
"I can't love it more than I do," he continued. "I think it's amazing. You know why? Because you actually…
"You're in a restaurant having a date with a lady, and [they approach you excitedly], 'Can we take a photo?' 'No.' And somehow [the Kiedis story] inspired me to say 'no' in a very assertive but polite way."