An Interview with Sam Morris of the Midnight Devils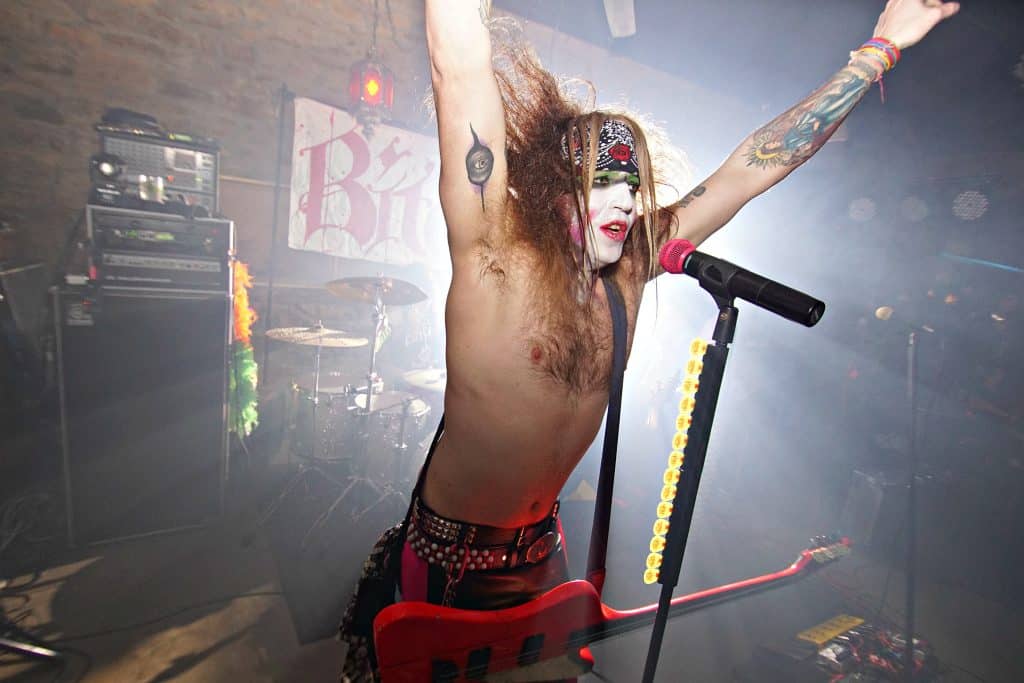 Feature image courtesy of Sam Morris/the Midnight Devils Facebook (official)
Growing up in the sleepy suburbs of Nebraska, modern-day glam hero Sam Morris harbored dreams beyond the confines of his Midwest origins.
Through years of cutting his teeth and sharpening his bass chops, Morris ground it out, gracing stages of hot and sweaty clubs in pursuit of a dream defined via rock and metal stardom.
Harboring a deep appreciation for the era of '80s glam rock, Morris, along with his partner in crime guitarist extraordinaire Sniper, formed the Midnight Devils, with Morris taking up both bass and vocal duties.
Initially a two-piece outfit, the Midnight Devils blossomed into a forceful trio with Jimmy Mess aboard on drums. With the lineup cemented, and the glitter-bombed rocker's debut record, Something Bigger offered alternative flavorings to mundane pop offerings that permeated the charts.
From there, things moved quickly for Morris and the Midnight Devils, headlining M3 Festival and sharing the stage with legacy acts Enuff Znuff and Pretty Boy Floyd, and captivating audiences worldwide.
As Morris and his cohorts continue to log miles on the road in support of the Midnight Devils' latest release, Never Beg For It, the energetic bassist checked in with me to run through the history of the band, their latest music, and what lies ahead.
Andrew: As a young musician, what was the moment which first sparked your interest in music?
Sam: Hey Andrew. Thank you so much. It's a pleasure talking with you. As crazy as it may seem, I have been playing in a rock 'n' roll band in some form or another for the last 20 years. I was always interested in music, but I never really could put my finger on it until I heard "Detroit Rock City" by KISS. Until then, I listened to Elvis and Jerry Lee Lewis. In 8th grade, a kid brought in a KISS CD, which changed my entire world. My parents bought me my first Les Paul guitar to be like Ace Frehley; I started growing my hair out and eventually joined my first band. At that point, I didn't even know what KISS looked like, but I knew I had found my path, and it felt good.
Andrew: How would you say that style has evolved as you've moved through your career?
Sam: Growing up in a small town in Nebraska, you aren't exposed to a lot of live rock 'n' roll music, and there certainly was no access to bands that weren't played on the classic rock stations. I was at the tail end of the FM radio years where you still recorded over blank tapes when the DJ played the cool songs late at night. I started with KISS and dove all the way in discovering The New York Dolls, The Ramones, Sweet, Slade, Alice Cooper, and ACϟDC. I was into guys like Ace Frehley and Johnny Thunders, and I started my first touring punk rock band when I was 18. I eventually switched to bass guitar and played in an 80's hair metal tribute band with our guitar player Chris' Sniper' Hineline. When the Midnight Devils started to take shape, we focused on this unique glitter glam party rock 'n' roll style. The kind of music that gets asses shakin' and people screaming in the front row.
Andrew: What led you to pick up the bass?
Sam: I actually never set out to be a bass player or singer. I started on guitar, but the bass player in the band I was stage managing at the time stepped away, and I learned all the songs and took over as the full-time guy. I soon realized that the bass made way more sense to me than the guitar, plus Sniper is off-the-charts incredible as a songwriter and guitarist. I started learning everything from my favorite bass players like, Duff McKagan, Nikki Sixx, and Gene Simmons. From there, it was how do I make this work and front the band at the same time. It's tricky as a three-piece, but we've become a great rock 'n' roll band with great songs. I still look up to those great bass player songwriters like Rachel Bolan from Skid Row.
Andrew: What were some of your earliest gigs where you first cut your teeth?
Sam: As soon as I was in a band, my biggest goal was to get us traveling out of Nebraska to see the world. We bought an old church van, loaded it with gear, and started touring immediately without really knowing how to tour. My buddies and I were all 18-19 and traveling around the midwest, playing any venue that would let us set up. We did church basements, house shows, VFWs, flatbed pickup trucks, and slept anywhere someone would let us park the van. I remember staying at truck stops with guys sleeping on the roof of the van because we didn't have room. It was very punk rock, but we didn't know any better. We were having a blast, and rock 'n' roll was our ticket out of our small town. It also really began my love of being on the road and touring. We will see both the east and west coast this year alone.
Andrew: Take me through the formation of the Midnight Devils.
Sam: Sniper and I actually started the Midnight Devils as a two-piece acoustic duo to keep busy while our other band wasn't playing shows. We wanted more control and more creativity, so we went out and started playing all of these small-town bars around the Midwest. We did it in full makeup and hair, and people were into it. Eventually, it got to a point where we needed to add a drummer and turn up the heat. We got a guy that bailed on us in the middle of a tour down to Rocklahoma. We were scheduled to play in front of thousands of people, and he just got in a car and drove off after a show one night. I got on the horn and talked to Jimmy Mess; he was between bands and was open to finishing the tour with us. I drove from Omaha to Chicago, picked him up, then turned around and drove back to Omaha, where we got in our van and made up the rest of the tour dates and Rocklahoma. He learned all the songs in the van ride on the way down to Oklahoma. It went so well, and we got along so great we decided to keep the greatness rolling and push ourselves out into the deep end. We recorded our first album, Something Bigger, and booked a two-week tour to Hollywood. It was back to hard punk rock style touring, but we played The Viper Room on our first national tour. From there, the fire just kept burning.
All images courtesy of Sam Morris/the Midnight Devils' Facebook (official)
Andrew: Let's dig into your newest record, Never Beg For It. Tell us about its inception.
Sam: Never Beg For It started in early 2020. We landed our first big tour opening for The Quireboys coast to coast for a month. It was our dream tour supporting our heroes across America. I thought we would be doing this album on the road in hotel rooms, but the world had other plans. On March 15th COVID shut down the world and ended our tour early. We went back home and regrouped and took the worldwide shutdown as a sign that we needed to get this album out. We sat around in Sniper's basement writing the songs with a session drummer while everyone was going crazy with COVID. We had done a bunch of shows with Enuff Znuff, and Chip saw something in us and offered to produce our record. Through Chip, we got hooked up with Tim King at Pavement Music, who signed the Midnight Devils to our first label. In fact, we were turned down by so many other bigger labels because they thought we were too wild, too glam, too crazy. Tim and Mark at Pavement completely got us, pushing us to deliver a great album.
Andrew: From a songwriting perspective, how have your collective experiences affected the music?
Sam: I love writing songs for the Midnight Devils because there is so much creative freedom. We have built this band to be an outlet for not only ourselves but for our fans. There's so much power and emotion just dripping from these songs, which excites me. The songs on the new album Never Beg For It all came from our experiences touring around the country for the last five years. Every day becomes some wild, crazy adventure, and we try to capture every second of that excitement in these 11 songs. When it comes to songwriting, Sniper and I have been working together for the last 15 years. Our two styles complement each other, and Jimmy Mess steps in and adds the heartbeat that keeps the blood boiling. We all grew up with different yet similar influences, all mixed together to bring out something new and exciting yet relatable to everyone in any walk of life. Sniper brings this very complex Van Halen-driven guitar approach to our songs, while Jimmy grew up on The Ramones and his drumming style proves that. We aren't reinventing the wheel, but we are bringing excitement and attitude that I haven't seen in years.
Andrew: How about the production mixing side of things? Take me through that process and how the final sounds were honed in.
Sam: During the lockdown of 2021, we drove out to Blue Island, IL, to Chip's house and recorded all of the tracks for the new album. Chip's incredible engineer Rob Pozen helped us get everything knocked out in a few weeks. It was easy and fun bouncing ideas off of a true legend like Chip Znuff. Donnie Vie even stopped by to listen to the first single, "Highway 69." We went back home, and Rob would send us mixes every day. We would listen to the rough mixes and fix anything we didn't like. Once the mixes were done, we enlisted Chris Steinmetz at Stonecutter Studios in Chicago to mix and master the album. We were thrilled to have Chris doing the final mixes as he was the guy that engineered KISS' Revenge album, which was a monster of a great record. We did the same thing with Chris, back and forth with emails and rough mixes until it was perfect. Every night I would take the tracks to the club I work at in Nebraska and play the songs at maximum volume after everyone left. We knew we were onto something special if it sounded good on the big PA.
Andrew: How was the reception at M3 Festival this past spring?
Sam: We love being a part of the legendary M3 Festival. I think we have gone at least three years in a row, and everyone recognizes us now as "those glam guys." It's such a huge party and family reunion-like atmosphere. You don't always get to see your friends because everyone is traveling so much, but for a few days, we all meet up and pick up exactly where we left off. The best part is walking around in the massive crowd of rock n roll fans and just talking to people. This year we were on tour with The Quireboys and just rolled through backstage security like we owned the place. It was sad not to see Spike singing for The Quireboys, but Guy Griffin stepped up to the plate and completely knocked it out of the park as a guitar player and frontman every night of the tour. The Quireboys are one of the best British rock bands still out on the road, and it was an honor sharing a van with them for two weeks touring across the country. It was probably one of the happiest tours we have ever been on. I don't think I've ever laughed so hard.
Image credit: Bud Ingram/Courtesy of Sam Morris/the Midnight Devils Facebook (official)
Andrew: What are your thoughts on the ongoing debate of "is rock dead?"
Sam: I completely disagree with that statement, but only because I refuse to believe it. I do think a lot of bands got lazy, and there are a lot of bands not in it to win it. That attitude dilutes the product and kills the spark and passion for this music. I learned early on that nobody will give you anything for free in the music business. If you want something, you have to go out and work your ass off to get it. The blueprint was written by all those great bands that came before us, and we are following in the footsteps of the giants as we keep trudging up the mountain. Every step is harder than the one before, but it isn't supposed to be an easy climb to the top. It's all about perspective and passion for what you love. For me, there isn't anything else but rock 'n' roll, so I could never say it was "dead." That's just not an option. I think a shift is coming, and everyone is trying to carve out their own piece of the action. I see that same fire in the eyes of the kids in the front row that I had as an impressionable youth. There's definitely "Something Bigger" coming, and that keeps me excited.
Andrew: What sort of gear do you use?
Sam: My gear is really simple and built to be standing long after the apocalypse. I use a Thunderbird Bass custom painted and modified to only have an on/off switch. I use DR Bass Strings and InTune Guitar Picks. I run the Thunderbird straight through a GK 800RB head, which has taken a beating over the years and still sounds like a million bucks. Finally, it all sits on an Ampeg 8×10 cabinet. I don't run anything fancy to get in the way. For microphones, I proudly use a Shure SM58 wired mic onstage and a Shure SM58 wireless in the crowd. Nothing even comes close to Shure microphones. We've been using the same gear for many years now because we've gone through everything else, and nothing can withstand the intense pressure we put on our gear.
Andrew: Last one. What's next for you in all lanes, Sam?
Sam: This is a very exciting time for the Midnight Devils. Our new album came out on July 1st via Pavement Records, and the first single, "Highway 69," has toppled all of our expectations. We released a video for the cover "Working For The Weekend" and finished up a 20-day tour of the East Coast supporting Enuff Znuff and Pretty Boy Floyd. We are about to announce the release of our first-ever piece of limited-edition etched vinyl, and the next video will coincide with the release. We are doing a bunch of festivals around the midwest for the rest of the summer, including Rocklahoma in September.
We then join back up with Pretty Boy Floyd for a show at Vamp'd in Las Vegas, then The World Famous Whisky A Go-Go in Hollywood, CA. In October, the 2nd leg of the Glam Slam Metal Jam launches in Texas and Florida. We are then scheduled to finish up the year overseas touring Europe with Enuff Znuff. After all of that, it'll be time to start work on another album and keep the tour wheels rolling. We are a road band, and that's exactly where we want to be, on that unending stretch of highway rolling to the next show.
Thanks so much, Andrew, for the great interview and for taking the time to talk with me about the Midnight Devils and our new album, Never Beg For It. Thank you for keeping rock 'n' roll alive and doing just fine.
– Andrew Daly (@vwmusicrocks) is a contributing writer for www.metalcastle.net and may be reached at andrew@vinylwriter.com