Dave Mustaine Recalls Reacting To Gene Simmons Singing 'Sweating Bullets'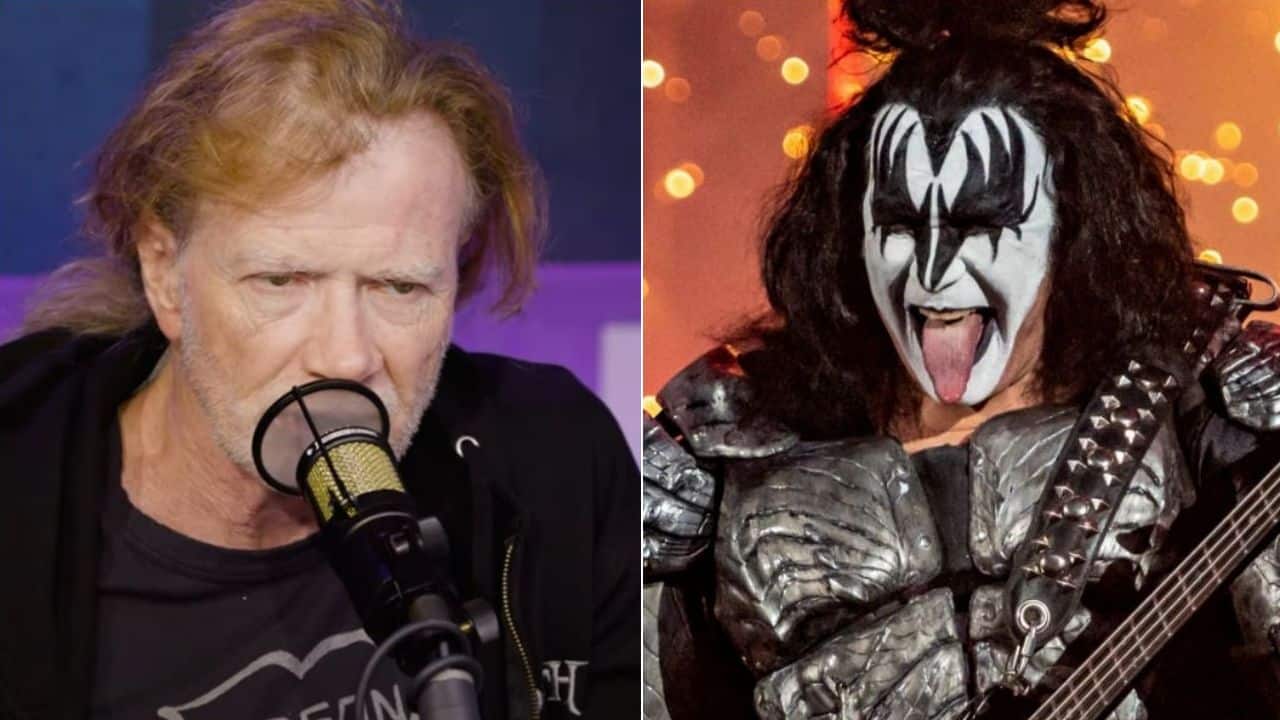 In a new appearance on Metalverse, Megadeth frontman Dave Mustaine recalled the time they met with KISS at Resurrection Fest in Spain, revealing a rarely-known moment when Gene Simmons sang some of Megadeth's Sweating Bullets lyrics wrong.
In 2018, Megadeth and KISS took the stage at Resurrection Fest to rock the audience who went to the show. At the time, Dave Mustaine and Gene Simmons met backstage and made a little conversation. During their speech, Gene Simmons gave Dave Mustaine a hard time, playing Megadeth's Sweating Bullets lyrics wrongly.
During the first podcast of Metalverse, which is Pandora's new station to dive deep into the metal world, Dave Mustaine detailed Simmons' singing his band's song wrongly. Recalling his reaction to the moment, Mustaine admitted that it was great to see such a legend as Gene Simmons sang his song. He also said that they've always had a fun time every time they played alongside KISS.
"For some weird reason, I think Gene [Simmons, KISS singer/bassist] likes giving me a hard time," Mustaine said. "We went over to go take a picture with them and Gene was in his uniform. I hear this guy go, 'Hello me, it's me. Hello me, it's me.' And, it wasn't, you know, the line, 'Hello me, meet the real me' or whatever.
"And I look up and it's Gene Simmons singing my lyrics and I thought, 'What a blast, who would ever have thought this would happen?' And I thought, 'Okay, so now you have a chance to make your mind up. You're gonna tell 'em the right lyrics and risk getting smashed by the gargoyle boot. Or are you gonna just let 'em say it wrong and just ride this one out?' So I didn't say anything and that was cool. We've always had a fun time when we play with KISS."
Elsewhere in the interview, Dave Mustaine also mentioned Gene Simmons' bad joke about his former band Metallica, which he was a member of the band from 1981 to 1983. Showing off his unhappy and displeased face when Simmons made the joke, Mustaine explained why it bothered him at the time.
"I'm up on the stage with one of my guys and then Paul [Stanley, KISS frontman] and Gene were up on the stage," he says. "And, somebody says, 'Hey Gene, how about a KISS reunion?" And I said, 'Yeah, Gene, how about a KISS reunion?' And he goes, 'How about a Metallica reunion?' And I went [makes unhappy, displeased face] cause Cliff had died, you know, and I thought it was just not good for him.
"And I don't know if it bothered me that much at the time, it doesn't bother me anymore, but at the time it was really, really, again, really foreign to know that somebody that you've looked up to your whole life to as a musician, knows who you are. It's a really, really weird feeling."