Taylor Hawkins' Son Shane Hawkins Rocks Performing 'My Hero' With Foo Fighters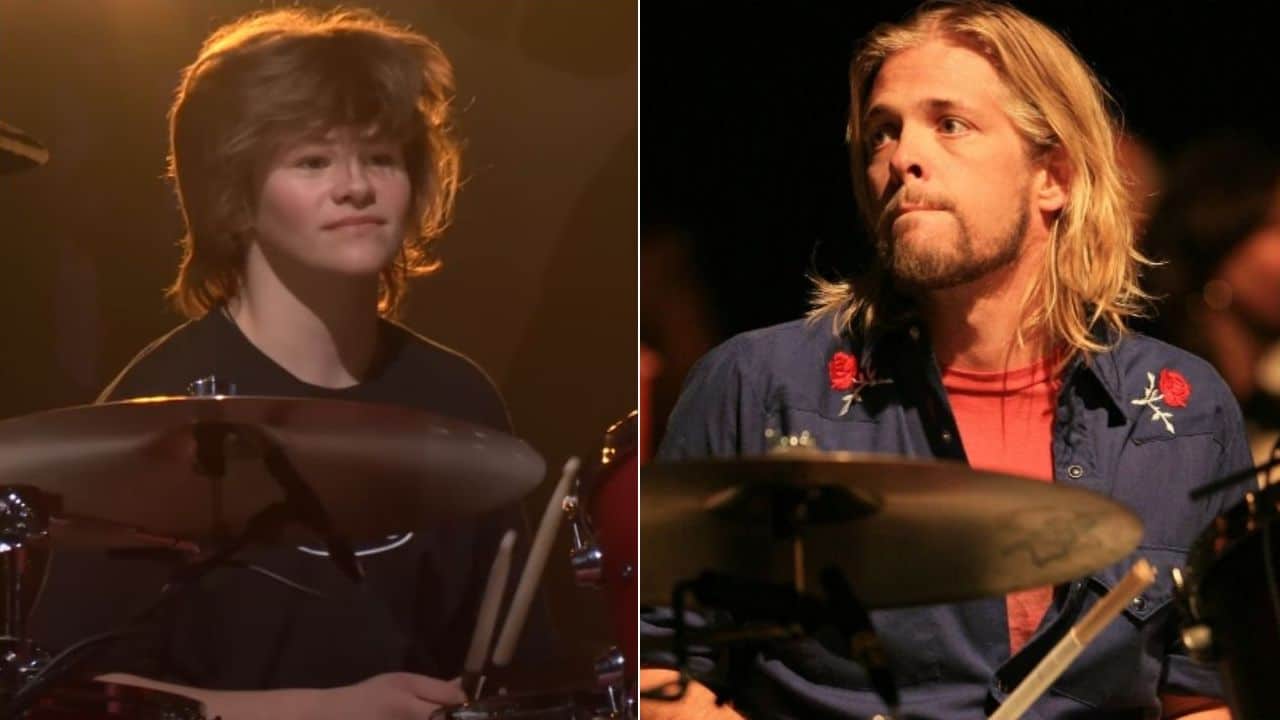 The late Foo Fighters drummer Taylor Hawkins' 16-year-old son Shane Hawkins sat behind the drum kit in honor of his father and rocked the audience by performing 'My Hero' with Foo Fighters during a tribute concert on September 3.
Taylor Hawkins was an American musician who came to world prominence as a member of Foo Fighters. Starting playing in 1997, Hawkins recorded nine studio albums and contributed to the band until he passed away on March 25, 2022. As a member of Foo Fighters, the drummer was inducted into the Rock and Roll Hall of Fame in 2021. In 2005, Rhythm magazine readers voted him the Best Rock Drummer of all time.
After Taylor Hawkins passed away, his family and his friends decided to take place tribute shows in honor of him. On June 8, 2022, it was announced that the first tribute show would be played on September 3, 2022, and the second would take place later this month. This past Saturday, as Foo Fighters and a couple of musicians performed at the Taylor Hawkins tribute concert, there was another name that wanted to honor the late drummer, Shane Hawkins, a 16-year-old son of Taylor Hawkins.
In the show, Shane Hawkins blew up the stage and the audience, just like his dad. The 16-year-old star, who played 'My Hero' with the Foo Fighters, sat behind the drum kit and broke them down in tears. Prior to launching the track, Dave Grohl told a piece of words to the audience to introduce the little drummer.
"Ladies and gentlemen, we have one more drummer that's gonna come up and play with us tonight," Grohl said (as transcribed by MetalCastle.net). "And, let me tell you, I don't think I've ever seen anyone hit the drums as hard as this person. Beyond that, he is a member of our family, and he needs to be here tonight with all of us. And I think it makes sense he's gonna come up and play with us tonight. Ladies and gentlemen, would you please welcome Mr. Shane Hawkins on the drums."
You can watch Shane Hawkins' performance with Foo Fighters below.
Rockers Reacts To Taylor Hawkins' Son Shane Hawkins' 'My Hero' Performance With Foo Fighters
Some rock musicians took to their social media accounts to react to Shane Hawkins' playing 'My Hero' with Foo Fighters. Sharing a part of the performance, Scott Ian respected the 16-year-old son.
"Shane Hawkins played like it's his throne," Ian said. "Not a dry eye over here. Cheers Shane. #taylorhawkinstribute #foofighters #shanehawkins."
Twisted Sister artist Dee Snider was also one of those who sent heartwarming words for the moment.
"Holy shit," he said. "Chills. Just chills. Beautiful."