Alter Bridge's Myles Kennedy Says It's Inspiring To See Iron Maiden On Stage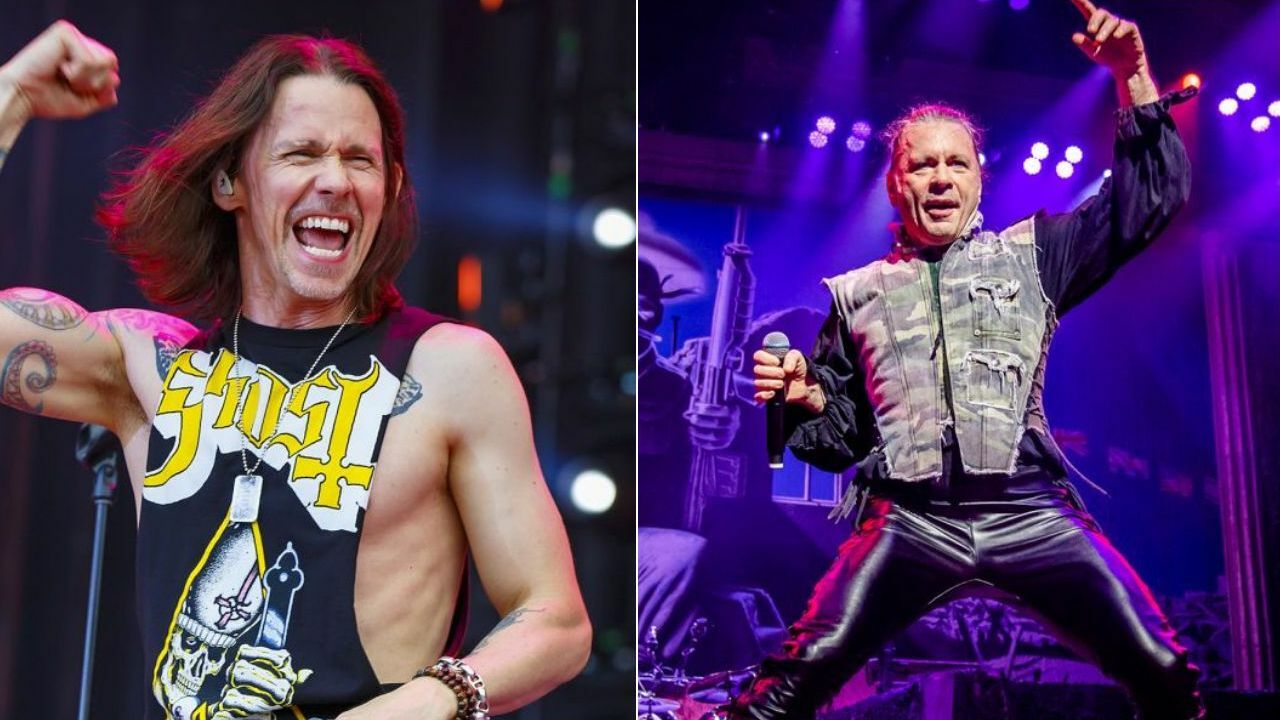 In a new appearance on The Eddie Trunk Podcast, Alter Bridge guitarist/singer Myles Kennedy has sent praising words for the heavy metal pioneer Iron Maiden and said that it's inspiring to see them on stage.
The Grammy Awards-winner heavy metal band Iron Maiden was formed in 1975 by Steve Harris. Selling more than 200 million copies worldwide, Iron Maiden's discography includes 17 studio albums, 7 compilation albums, 20 video albums, 4 EPs, 13 live albums, 5 box sets, and many more things.
During its ongoing career, Iron Maiden has received numerous awards such as Grammy Awards, Ampex Golden Reel Awards, Argentina Music Industry Awards, Bandit Rock Awards, ARIA Awards, Burrn! Awards, Classic Of Rock Awards, and many more.
On the other hand, Myles Kennedy is known for his ongoing career with the rock band Alter Bridge. Releasing six studio albums with the band, Kennedy is also a member of Slash featuring Myles Kennedy & the Conspirators, who has been preparing to release its fourth album.
Recently, Kennedy talked about Iron Maiden and his passion for them. When the interviewer asked him whether he covered any Iron Maiden song, the musician mentioned covering The Trooper with his solo band. Saying that it's inspiring to see them live, Kennedy revealed the thing Bruce told him about him and Steve Harris.
"Yeah, I covered 'The Trooper' with my solo band. Yeah, obviously Maiden for those of us who grew up as metal kids in the '80s, they were a big one," Kennedy says.
"So it's really inspiring to see them out there still doing it, and like you're saying, still making these records.
"Obviously, they care, they're not just phoning it in. 10-minute epics, those aren't easy to write, so they're getting it."
"Bruce was telling me in an interview that he and Steve Harris are both huge progressive-rock fans."
Myles Recalls The First Time He Saw Iron Maiden
Later then, Myles was asked whether he remembers the first time he saw Iron Maiden on stage. Recalling his missing some great shows of the band, Kennedy said he saw Maiden live when he started doing shows with Alter Bridge.
"You know what, I never had the opportunity to see them because when they came through town, I was young, my parents were still like, 'You know what? Until you're 15, you're not going to go to rock shows,' which was a total drag," Myles continues. "I missed out on all these great shows.
"I did have an opportunity, I think it was like '88, and Guns N' Roses was opening for them, and once again, I think I was in a marching band or something, and I couldn't get out of some obligations I had with the high-school band, so I missed that show as well.
"I didn't get to see them live until we started doing festivals with Alter Bridge, and it was great because we got to stay on the side of the stage. What better seat can you ask for than that? They definitely did not disappoint."
Elsewhere in the interview, the musician explained if there's a Myles Kennedy album in the future.
"Well, it's kind of the demo process, so when I demo these tracks, essentially that's what I did," the musician reveals.
"You can actually buy them, I think they're available on certain versions of the album where the demo comes with it, I think I might've included 'The Ides of March,' and a few other things.
"Granted, I played all the instruments on that, with the exception of the drums, I just simply programmed the drums.
"I mean, at this point, you can do so much with programs, so basically everything I'm hearing in my head that we emulate when we go into the studio.
"And maybe one day I'll do a record, maybe a polka record, I'll play all of the accordion parts. [Laughs]"