Alice Cooper's Nita Strauss Praises Queen and The Legendary Guitarist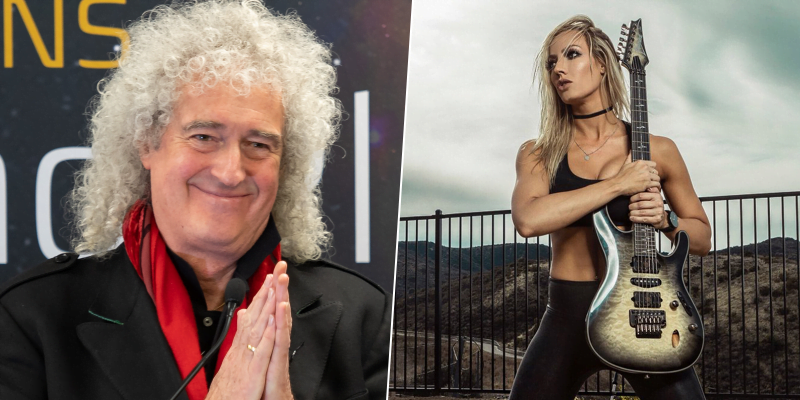 The current touring guitarist for Alice Cooper, Nita Strauss, who was the first female signature artist with Ibanez guitars, has recently shared a stage-video through her social media account and expressed her excitement and admiration for the legends.
While Queen performing at the special event called Fire Fight Australia, which about the unfortunate Australia fires, at ANZ Stadium in Sydney Olympic Park, Nita recorded the band's performance and praised them for the performance. She also talked about the guitarist of Queen, Brian May, and stated that he is absolutely a legend like Alice Cooper.
"I don't know what was cooler, getting to experience the magic of Queen up close or getting a few minutes to chat with the great Brian May in between our set and theirs!!! What an absolute legend and the nicest imaginable- like Alice nice!!!
"Thank you Dr. May for taking a few minutes for a fan yesterday!!! I have never left a show so inspired to write great songs as I did after watching Queen last night."
The special show was organized for the help of Australia after the death of close to a billion animals, the death of around 25 people and the destruction of many homes in Australian fires.
The special event's lineup featured Alice Cooper, Amy Shark, Baker Boy, Conrad Sewell, Daryl Braithwaite, Delta Goodrem, Grinspoon, Guy Sebastian, Hilltop Hoods, Icehouse, Illy, Jessica Mauboy, John Farnham, K.D Lang, Lee Kernaghan, Olivia Newtown-John, Peking Duk, Queen + Adam Lambert, Tina Arena, William Barton.