Alice Cooper Reveals How Nita Strauss Ended Up Rejoining The Band
In a new interview with Ultimate Classic Rock, Alice Cooper reflected on releasing two albums in the same year and Nita Strauss' rejoining the band after her Demi Lovato adventure.
Strauss first gained recognition as a member of the all-female tribute band The Iron Maidens, where she performed under the stage name Mega Murray. She later went on to play with several other bands, including Femme Fatale, Consume the Fire, and LA Kiss. In 2014, Strauss was invited to audition for Alice Cooper's touring band, and she was ultimately selected to replace Orianthi. She has taken part in many fascinating tours with legendary vocals until 2022. Strauss undoubtedly put herself among the elite guitarists in this process and also signed successful works in her solo career.
However, in 2022, Strauss had an opportunity that she could not rebound from, and she took this opportunity quite well. She joined Demi Lovato's touring band as the lead guitarist. In July 2022, Strauss made her live debut alongside Demi Lovato at Jimmy Kimmel Live!, performing Substance. The guitarist also appeared in Lovato's music videos from her recent album, Holy Fvck.
Anyway, in her last appearance with Ultimate Classic Rock, Alice Cooper recalled how he ended up with Nita Strauss about rejoining his band, as well as he discussed writing and recording two albums in a year. He first revealed what it was like to release many albums in a few years. Admitting that it was hard, Cooper touched on the pressure on them.
"Back then, it was something really interesting," he said. "If you remember the time period, you did two albums a year. We did 'Love It To Death' and 'Killer' in the same year. And I think we did 'School's Out' and 'Billion Dollar Babies' in the same year. But we did two albums a year. Everybody did, that was just the way it was. You did an album and then you went on tour.
"When you got off the road, you went right back into the studio, because you were competing with some of the best acts in the world. So you'd better stay up there, especially if you had a hit record. Then the hard part is staying there. If you have a No. 1 record, then people are really waiting for that sophomore record, and it better be good, because that's what's gonna mean if you're gonna stick around."
Alice Cooper Reveals How He Reacted To Nita Strauss' Rejoining His Band
Alice Cooper then commented on how the return of Nita Strauss came about. Touching on Strauss' return to the band, Cooper stated that he gave a lot of freedom to the artists who worked with him. Cooper also mentioned Strauss' contribution to Demi Lovato and praised their work.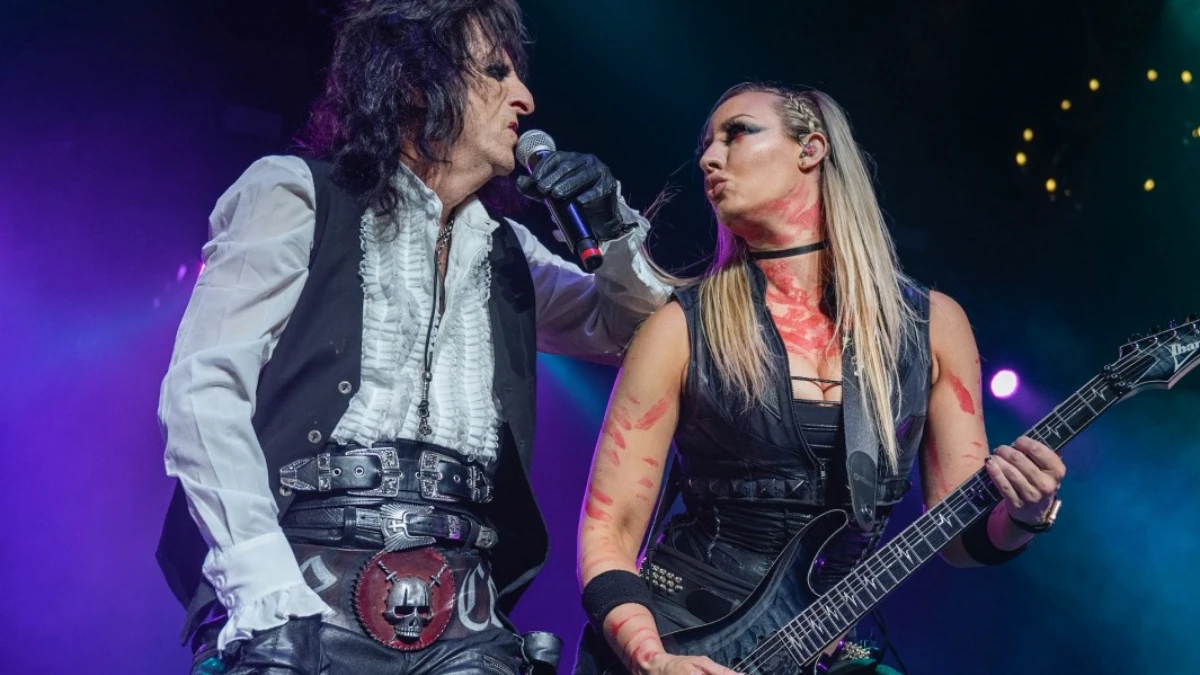 "It was the funniest thing because I always have had a revolving door in my band," he reveals. "If somebody has a thing where they say, 'I want to go do this for six months,' I go, 'OK, go.' Absolutely no problem. I understood what she was trying to do with Demi, and it worked. It was a good thing. And of course, getting Kane back in was a fan favorite. That was something that was really fun for us and them.
"And then at the end of it, I said, 'You want to come back?' She goes, 'Sure.' And I went, 'OK, great. It's gonna be a whole new show.' I never, ever take a musician and put them in a position where they can't revolve out and then revolve back in."
Back in September 2022, Nita Strauss revealed how Alice Cooper supported her decision to join Demi Lovato. She said there was a lovely conversation between Alice Cooper and herself.
"We had just started the U.K. tour when I got the offer to come and play with Demi," Strauss told Metal Injection. "And I just went into Coop's room — I went to his hotel room and I talked with him and his wife. And I said, 'Look, I have this opportunity.' He asked, 'Would it conflict with anything on this tour?' I said, 'No, but it would conflict with the fall dates, so I'd have to step back from the fall tour.' And he said, 'Go and do it.' He gave his blessing. He gave me a big hug and said, 'Go and have fun. Shine your light, and let us know what next year looks like and we'll work it out.'
"So it was a lovely and loving conversation — no big blowup; no drama; no one got fired; no one stormed out. And I took a step back and I'm trying something different. And we'll see what happens in the future."