Alice Cooper Responds To Queen Star Brian May's Respectful Behavior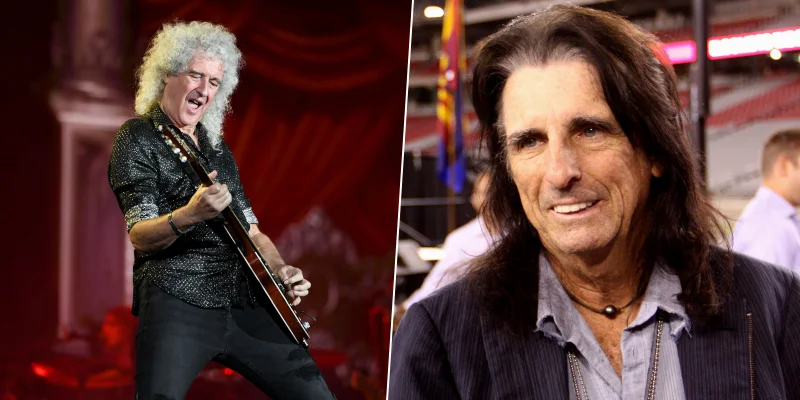 TEG Dainty and TEG Live are decided to do a charity event called FIGHT FIRE AUSTRALIA, which will take place at ANZ Stadium in Sydney Olympic Park on February 16, 2020, to help Australia after the death of close to a billion animals, the death of around 25 people and the destruction of many homes in Australian fires.
Today, on the show day, The English rock veterans Queen guitarist Brian May has shared a photo with American musician Alice Cooper and showed his respect to him.
"Catching up with an old friend backstage at ANZ Stadium Fire Fight Australia. Alice is way beyond cool," Brian wrote for Alice.
Also, as a comment on the photo, the successful guitarist Nita Strauss, the current touring member of the Alice Cooper, reacted to Brian's photo and said that she finally meet with Brian tonight and it is a big pleasure.
"Such a pleasure to finally meet you tonight Brian!! You guys absolutely slayed it and we all left so inspired," Nita wrote.
Almost two hours later Brian's post, Alice Cooper has also shared the photo with Brian and respond to Brian's respectful behavior.
"Wonderful to catch up with @brianmayforreal and the rest of the @officialqueenmusic backstage before their set at the incredible @firefightaustralia," Alice wrote in the description of the photo.
The Fire Fight Australia lineup features Alice Cooper, Amy Shark, Baker Boy, Conrad Sewell, Daryl Braithwaite, Delta Goodrem, Grinspoon, Guy Sebastian, Hilltop Hoods, Icehouse, Illy, Jessica Mauboy, John Farnham, K.D Lang, Lee Kernaghan, Olivia Newtown-John, Peking Duk, Queen + Adam Lambert, Tina Arena, William Barton.