Alice Cooper Recalls The Golden Moment He Lived With Paul McCartney: "He Was The Music Of The Beatles"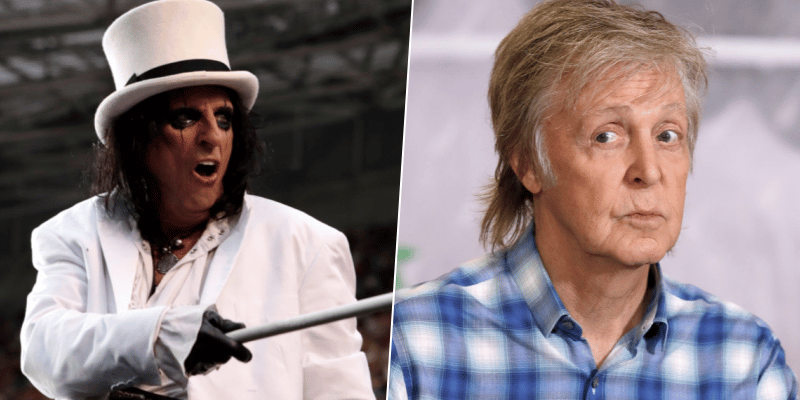 During this dangerous coronavirus pandemic, the legendary rock musician Alice Cooper joined AXS TV's "At Home and Social Online," and remembered the funniest and rarest moment he lived with The Beatles star Paul McCartney.
When the interviewer asked, "Having toured, met and worked so many these iconic artists as iconic as yourself, did you ever have your own 'Wayne's World' moment?", the 72-year-old musician Alice Cooper replied (transcribed by MetalCastle):
"It happened when the Hollywood Vampires – you know, Johnny Depp, Joe Perry and I, were in Johnny's house recording for the vampire album, and we're all, you know, the all-star band they're playing, we're playing the song, and all of a sudden, Paul McCartney walks in. Sits down at the piano, and he goes, 'Okay, I wrote this song for Badfinger, you got excited to do this song.'
"And he starts to play, 'If you want it any time come and get it,' you know… And we're like, [when] he sits the piano with his back to us, and we're all going like this [shows his surprising]. And then, as soon as he turns around, we are like, 'Hey, we're cool yeah.'
"Now, I've known Paul for 40 years almost but knowing Paul being at his house, knowing him personally, it's a different thing when you're in the studio with not just a Beatle, with The Beatle. Paul McCartney was the music of The Beatles and the nicest human being on the planet. Every time I see him, he goes, 'Am I still a Vampire,' and I go, 'Yes, you're still a Vampire.' But, I mean, everybody in that room – was just like with their jaws – Joe Perry from Aerosmith, Johnny Depp, myself, two or three other guys from other bands, we're all like starstruck because I'm in the studio, and he's playing piano when I'm singing with him. Come on, it doesn't get better than that [Laughs]."
Elsewhere in the interview, Alice Cooper has also touched the heavy metal band Metallica and praised them saying that they were a threat to the rock n' roll community.
Alice Cooper, who defended that we have to keep fighting with the coronavirus threatening with our all power, released a new single named "Don't Give Up," which uploaded through his YouTube channel with a sudden announcement made on May 15.
https://youtu.be/frgtyPida-Y