The 5 Live Albums Slash Listed As His Favorites Of All Time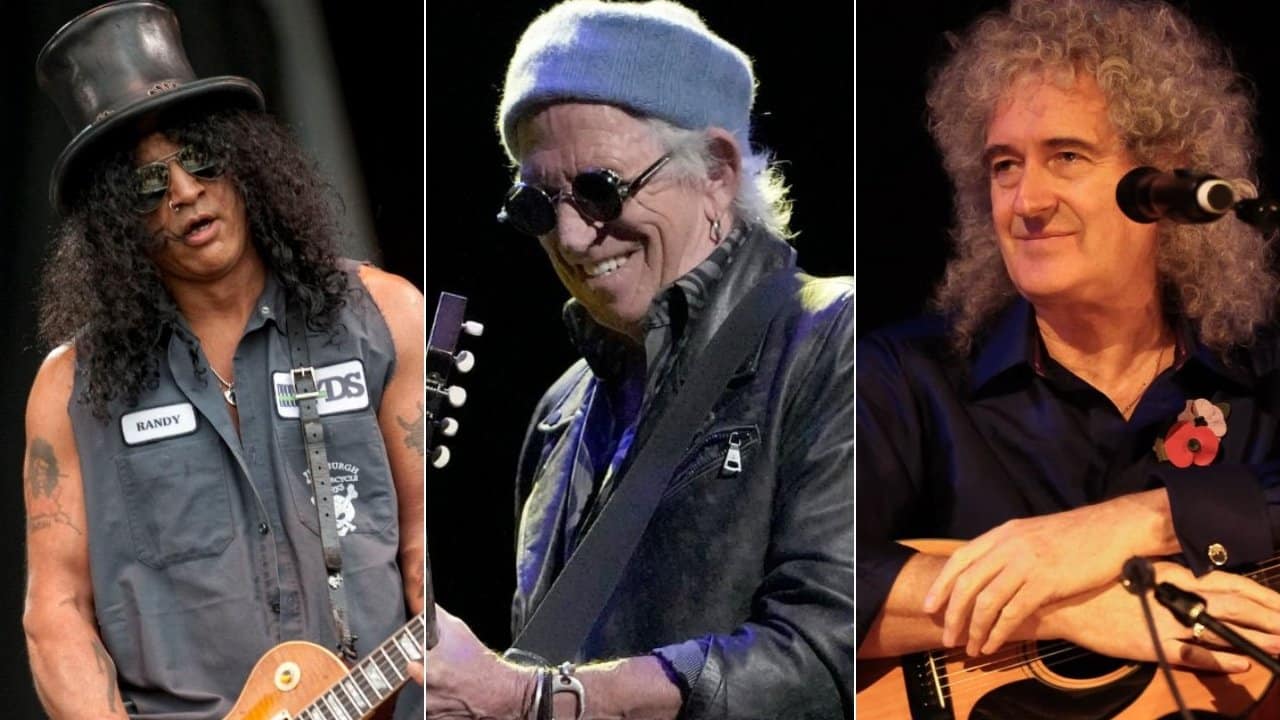 There is a fact about songs that the live versions of them are such a different thing for some of those listeners in music. Guns N' Roses legend Slash is one of those people that love the live versions of the songs. In his appearance on Australian Guitar this March, Slash revealed the 5 live albums he picked as his favorites.
The American-British musician Slash has been the lead guitarist of the rock band Guns N' Roses since 1985, except for his hiatus between 1996 and 2016. Contributing to the band's five studio albums out of six, Slash is considered one of the greatest guitarists in the history of rock. He was also inducted into the Rock and Roll Hall of Fame as a member of Guns N' Roses back in 2012.
Slash's music hasn't just been limited to Guns N' Roses. During his tenure with Guns, Slash had formed Slash's Snakepit in 1993. When he left Guns in the middle of the '90s, he co-founded the supergroup Velvet Revolver. He is also creating new stuff as a part of Slash ft. Myles Kennedy And The Conspirators. Slash has released 9 different albums with those bands at press time.
However, when we focused on Slash and his favorite live albums of all time, there were great names in rock music. Including Queen, Aerosmith, and Ted Nugent, the list also featured two different live albums from The Rolling Stones. Let's see what's some of Slash's favorite live albums of all time.
The 5 Live Albums Slash Listed As His Favorites Of All Time
5. Ted Nugent – Double Live Gonzo!
https://youtu.be/cDzcOEZ0Lq0
Double Live Gonzo! is a live album by Ted Nugent released as a double LP in 1978. Certifying 3x Platinum by RIAA in total, the album contains original material played live. The album also has live versions of songs from Ted Nugent's previous albums. It is the album reached number 13 on Billboard US 200 chart.
Previously, Slash respected Ted Nugent during his interview with Kerrang! back in July 2021. In the interview, he remembered the first time he plugged a guitar into an amp. It was a moment he played Ted Nugent's Cat Scratch Fever.
"I remember that moment," he says. "It wasn't just plugging in to an amp, because I had a little Fender, but when I first got that mustard yellow distortion box and put that line into an amp and played 'Cat Scratch Fever' it was like a eureka moment.
"That's when I went, 'Wow, OK, cool.' This was in Los Angeles. I roughly started playing when I was 14, but I was maybe 16 when I had that amp, guitar, distortion box combo."
4. The Who – Live At Leeds
Later Slash mentioned the rock band The Who's debut live album, Live At Leeds. Recorded at the University of Leeds Refectory in February 1970, the album was released by the band's best-known lineup, including Roger Daltrey, Pete Townshend, John Entwistle and Keith Moon.
Consisting of 33 tracks in total, the album features Heaven and Hell, Happy Jack, Tattoo, Christmas, I'm Free, Fortune Teller, and more.
In the past, there was a moment Slash mentioned The Who as his early influences. In 2021, he discussed the band being one of his influence.
"Well, that was the first real road trip that we ever did, besides hitchhiking to Seattle in the very beginning," Slash said. "It meant a lot to me because I have family here, but also the music that I was really influenced by was from here.
"My beginnings of rock'n'roll started here as a kid, thanks to bands like The Who, The Yardbirds, and The Kinks, because that's what my dad and my uncles were into. From the moment I can remember Stoke-on-Trent, where I lived, I was weaned on them all.
"Then when I moved to the States it really opened up. There was so much shit going on music-wise. When the record came out it was really well received in the UK, so it's always been a special place in my heart."
3. The Rolling Stones – Got Live If You Want It!
Another one on the list was The Rolling Stones' Got Live If You Want It!. Released in December 1966, the album was certified Gold by RIAA. It also numbered 6 on the US Billboard Top LPs in 1966. Consisting of 12 tracks in total, the album has more than 33-min listening time.
Back in 2021, Slash interviewed with Revolver to reveal his first met with Keith Richards from The Rolling Stones. According to him, Keith pulled a knife through him.
"The first time I ever really personally met Keith, you know, he was great, but he pulled a fucking switchblade on me," he recalls.
"Ronnie Wood introduced us and took me to Keith's hotel room. He sort of motioned me over, and then he put a butterfly knife and flashed it around. I was like, 'Cool!' I didn't know what I was supposed to react to that, but it was a funny, sort of auspicious kind of first meeting."
2. Queen – Live Killers
The list also featured another rock pioneer, Queen, the band that popularized rock music to the world in the 1970s. Released in June 1979, the double live album of the band was recorded during the band's European leg Jazz Tour between 26 January and 1 March 1979.
In his February 2022 interview with 95.5 KLOS, Slash recalled the most uncomfortable concert he ever attended. He said that it was the time he was playing with Velvet Revolver and seeing Jimmy Page and Brian May live.
"I was doing a show at Hammersmith," Slash recalled. "So I guess it was 2005 with Velvet Revolver. Jimmy Page and Brian May, who I've not met before, showed up at the gig. And that was… Talk about just being really uncomfortable.
"But they're lovely guys, really, really down to earth. So I was really happy to meet them and also to find that they were so, sort of, human. But I'll never forget that as being one of the most intimidating shows I ever did."
1. The Stones – Get Yer Ya-Ya's Out!
The second live album Slash picked as his favorite was Stones' second live album, Get Yer Ya-Ya's Out!. Recorded in November 1969, the album was released in September 1970. The album marked the first album to reach number 1 in the UK.
Certifying Platinum by RIAA, the album also has a Gold certification from Music Canada and a Silver certification from BPI. The album also reached number 2 on the Kent Music Report chart in 1970. It was also number 6 on Billboard's US 200 list.
In 2016, Slash mentioned The Rolling Stones as one of his influences: "From day one it was all about the Stones, The Yardbirds, Cream and the Kinks. And I have to bring The Moody Blues into it because they had quite a strange effect on me.
"Then when I moved to the States it was all about bands like The Doors. My mum was into lots of eclectic music from Phoebe Snow to The Commodores, David Bowie to Led Zeppelin."