Ten Cent Revenge's Josh Decker Talks "Hollywood," Sharing the Stage with Angel, and More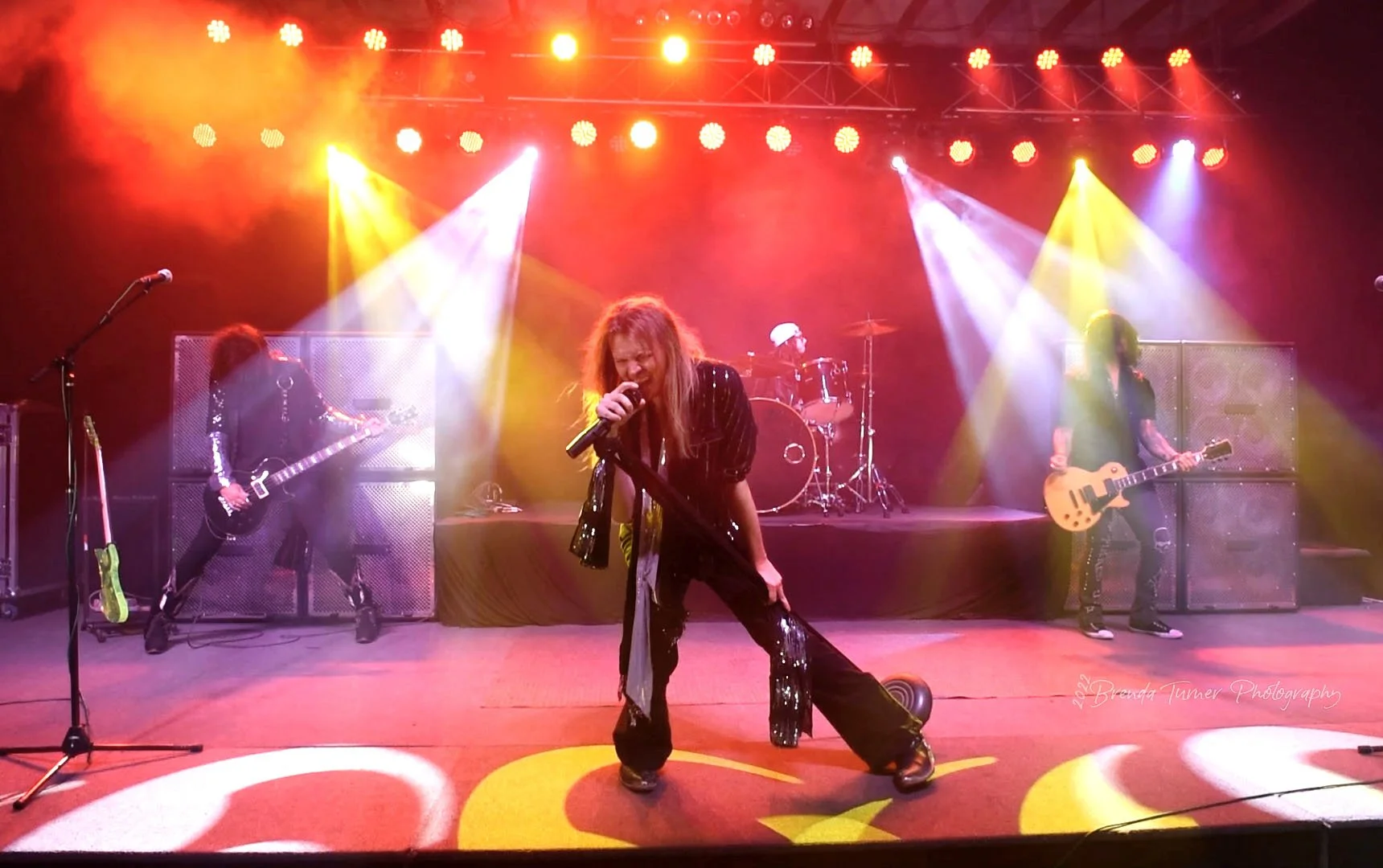 All images courtesy of Ten Cent Revenge/Brenda Turner Photography
As one of the brightest spots amongst the re-emerging glam rock scene, Ten Cent Revenge is harkening back to an era of lipstick, fishnets, and Aqua Net.
After spending a lifetime soaking in the music of KISS, Alice Cooper, and Aerosmith, sharing stages with the likes of Puddle of Mudd, Angel, and Buckcherry seemed the logical next step. Ten Cent Revenge has held serve each step of the way, rising to the challenge and delivering bone-crushing performances to a growing fanbase.
With its debut single "Hollywood" out now, it's all too obvious that Ten Cent Revenges' forthcoming EP – which features the likes of Tony Franklin and Brian Forsyth – will be must-hear material as we move into 2023. So, keep your antennas up for that in the coming weeks and months, and be sure to catch Ten Cent Revenge if they're hammering away on a stage near you.
With his star on the rise, Ten Cent Revenges vocalist/guitarist Josh Decked dialed in with Metal Castle to discuss his origins in music, love for rock, formation of Ten Cent Revenge, and what it takes to make it as a band on the rise.
As a young musician, what was the moment which first sparked your interest in music?
I had been playing piano and guitar for a few years casually by the time I was eleven, but nothing had particularly captivated me. It wasn't until my couple of grade school friends showed me the music video for Aerosmith's song "Pink" that I realized there was a world outside of the country and mainstream pop bubble I was living in up to that point.
Of course, I was aware of bands like Bon Jovi and the Beatles, but nothing had consumed my interest the way Aerosmith did. At that moment, I knew in my heart that I wanted to be like Steven Tyler and Joe Perry. Fortunately, reason prevailed, and I only focused on their musical influence, not the influence they could have had over my personal life!
Who were some of your earliest influences that first shaped your style?
Aerosmith, of course, was the catalyst for so much that followed. I tried to sing like Steven Tyler and play guitar like Joe Perry. Once I started broadening my interests, I loved bands like Sweet, Alice Cooper, and Mott the Hoople. The glam aesthetic appealed to me, and I was enamored with their songwriting.
As I grew older, I developed a greater appreciation for 80s hard rock and started really focusing on my development as a frontman. Some of my earliest influences in that realm were Don Dokken (Dokken), Joey Tempest (Europe), Mike Tramp (White Lion), Marcie Free (Signal, Unruly Child), and Jim Dandy (Black Oak Arkansas).
Outside of the classic rock sphere, I was raised on Brooks & Dunn, Reba McEntire, and Johnny Cash, so surely some of that has crept into my playing and songwriting. Being raised in Nebraska and spending my summers in rural areas with family meant that the country influence was inescapable, so I took a lot from Alabama, Dolly Parton, and the like.
How would you say that style has evolved as you've moved through your career?
I began as a very bluesy player and, in many ways, have come full circle as I've realized how integral that sort of playing is to my style. I was in a band called The Rewind for many years, and we were much more pop rock-oriented. We'd play shows with bands like Sister Hazel and fit in reasonably well if that's any indication of where we were sonically.
Eventually, I started to turn inward more and become more serious about my playing. I discovered I was more confident writing very riffy, bluesy hard rock. It's a constant evolution, and for any artist, it should be, but that's where I'm at right now.
What were some of your earliest gigs?
I have been playing in bars regularly since I was 10 years old. I'd been in a couple of cover bands around that time that played the standards—stuff like Tom Petty, Cheap Trick, Ozzy, Bon Jovi… that sort of thing. I first got my confidence in playing original music live when I was a young teenager. When I was fifteen, my band at the time opened for the southern rock group Black Oak Arkansas, who had a hit with their song "Jim Dandy" back in the '70s.
Those guys sort of took me under their wing, and I still stay in touch with them to this day. They really instilled in me the confidence to get onstage and be who I feel I am. Jim Dandy, as a frontman, is the perfect example of honesty in performance, and I'm always astounded whenever we get the opportunity to share the stage with him and hear his stories. He's been through a lot and has significantly influenced me.
All images courtesy of Ten Cent Revenge
Take me through the formation of Ten Cent Revenge.
Greg and I both moved to Arizona in June of 2021. We had both been in The Rewind together and wanted to continue our collaboration. Still, several months were spent getting settled and trying to figure out what exactly we wanted to do. One night, we were at a Tubes concert, and he came up to me and said, "Ten Cent Revenge." It really was that sudden and unexpected.
Since then, we've been building this band into the project we have always wanted to be a part of. We have Jake Victor on drums. He's in a group called Silence is Madness, which is incredible as their own unit, I must say, and they moved down here from Nebraska as well, so we snagged him. Steve Favela is also on guitar. Greg and I met Steve when he was playing with Bang Tango, and they toured through Nebraska. We did a couple of shows with them and kept in touch over the years, and when we moved down here, we decided to ask him to join us.
What do you recall regarding the band's first gig?
We knew from the start that we wanted our first gig to be more "prestigious," for lack of a better word, than an ordinary bar gig. We ended up getting booked at the Whisky A Go-Go in West Hollywood with the '70s group Angel, and I couldn't have asked for a better first show. Seeing people from all different aspects of our lives descending on Hollywood to see our new group was surreal. People I never thought would be in the same state were having drinks together and socializing. It was an incredible atmosphere.
"Hollywood" is the aptly titled first single for the band. Take me through the writing and recording of the track.
The lyrics to our song "Hollywood" were written by Greg shortly after The Rewind played a show at the Whisky. It went down literally as the lyrics described: "Took a train to Hollywood…" Greg and I had one hell of an adventure on that trip and got to experience so many of those bucket list things rock musicians dream of experiencing.
We played the Whisky with Tantric, spent time at the Rainbow and ran into members of Anthrax, the Butcher Babies, and the Cult, and got to explore the historic parts of Hollywood that make that place so iconic. To say that it was a life-changing undertaking would be putting it too mildly. Greg recorded the song at his studio in Nebraska, and I added vocals when we got down to Arizona.
We enlisted Brian Forsyth from Kix to play the guitar solo on the track, and it turned out exactly as we envisioned it. I have to give Greg props for articulating what it felt like that first time going to Los Angeles. This song will always have a special place in my heart, and the video was everything I wanted it to be.
The band's debut EP is on the horizon. What more can you tell us?
The first EP will be comprised of songs written individually by Greg and me. He had the tracks "Hollywood," "Are You Ready," and "My Life," while I contributed the songs "Road to Ruin" and "Eden's Burning." We have several guest appearances by musicians we admire on this album, like Tony Franklin from The Firm plays bass on "Road To Ruin," for example – and the songs lend themselves well to video, which is a pursuit we're looking at exploring more as the video for "Hollywood" continues to get shared around.
All images courtesy of Ten Cent Revenge/Brenda Turner Photography
As an indie band, what would move the needle toward you signing a label deal? For now, what are the release plans?
At present, we are comfortable with how the band is being run. We have complete creative control over our material, make all the decisions, and have the latitude to change directions sonically whenever we feel like it. The idea behind Ten Cent Revenge is essentially that it will be our creative outlet for any good musical idea either of us has. I don't want to lose that freedom to a record company that would naturally expect us to narrow our vision and focus on one sound. That's not what this project is about.
With a new wave of hard rock washing over the scene, what does Ten Cent Revenge need to do to stake its claim amongst its peers officially?
As long as we stay true to ourselves and don't try to be something we're not, I think we have a good chance of presenting a sincerely good catalog of music to rock fans. We want to bring energy to our performances as well, which I've noticed is starting not to be so prevalent anymore. Alice Cooper and Aerosmith heavily influence me, and Greg takes a lot of inspiration from KISS and Mötley Crüe, so we are aiming at that sort of stage production.
Will the material get any time on the live circuit, or does the story end here, given the state of the world?
We did play the entire EP live at the Whisky when we opened for Angel in June! We're going to be largely a studio effort over the summer and hope to have at least three EPs out by the start of next year. The act of creating is something that is incredibly attractive to both Greg and me, so we're going to ride this wave while we're on it.
Once we have more material written and recorded, we'll start to be more choosy with what we play live, and personally; I would love to have a different setlist for all of our shows. I think it would be great for someone to see us and not hear the same ten songs repeatedly. A rotating docket of constantly updated material will keep things fresh.
With respect to living performing specifically, we are primarily going to focus our energies on opening for national acts and playing festivals. If a tour opportunity presents itself and it's logical, we're not opposed to that either. For now, however, our focus is recording.
Last one. What's next for you in all lanes?
As I alluded to in the above response, we will be doing a lot of recording. In addition to new music, we're going to be filming a large number of music videos. The process of making "Hollywood" was so much fun, and we want to not only replicate that but build on it and make our productions more elaborate and our catalog more extensive.
Having more digital content for our audiences will give us more credibility as a band and demonstrate the breadth of our influences. "Road To Ruin," our next video," will be an enormous departure from "Hollywood," both sonically and lyrically, and thematically, we want to incorporate a lot of the comedic elements that made the latter video so successful.
While "Hollywood" featured cameos from Chip Z'Nuff (Enuff Z'Nuff), Steve Summers (Pretty Boy Floyd), and a few others, "Road To Ruin" will also have its share of special guests. Ultimately, we want to be exciting and unpredictable, and if we can put a smile on someone's face, that's really what it's all about.
All images courtesy of Ten Cent Revenge/Brenda Turner Photography
– Andrew Daly (@AJDWriter88) is a contributing writer for Metal Castle and may be reached at andrew@vinylwriter.com