Shinedown's Brent Smith Praises Korn's Jonathan Davis On His Struggle Against Aftereffects Of COVID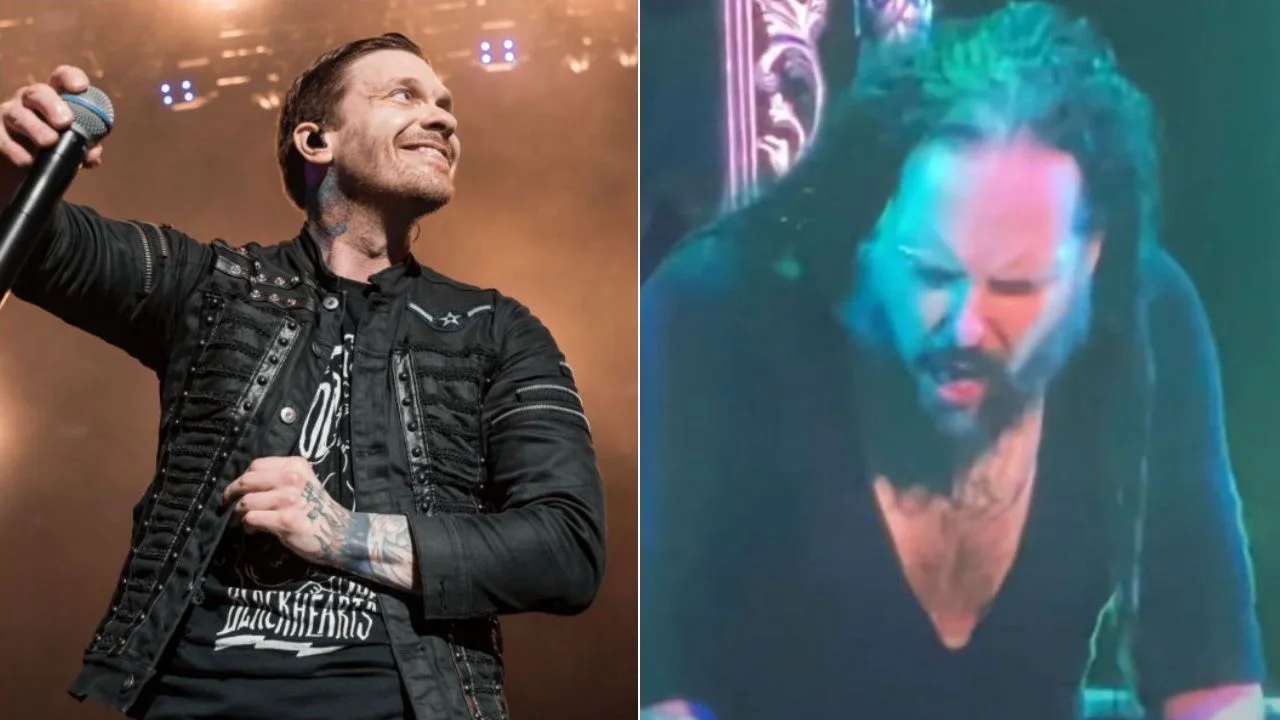 Korn singer Jonathan Davis was praised by Brent Smith.
Shinedown singer Brent Smith has sent respectful words for Korn singer Jonathan Davis after he denied canceling shows due to his struggle against the aftereffects of COVID.
The American musician Jonathan Davis is known for his tenure with his band Korn. The musician co-founded the band in 1993 and reached world success inside the band. Throughout his career with Korn, Davis released thirteen studio albums in total. Besides his Korn career, the musician has only one solo studio album, titled Black Labyrinth.
In the middle of this past August, Korn announced via its social media accounts that they're forced to cancel and postpone several shows due to the singer Jonathan Davis's positive COVID diagnosis.
Shortly after the band announced the postponement and cancellation of the shows, Korn guitarist Welch informed fans about his bandmate Jonathan that he is still struggling with aftereffects of the illness. He later added that he is physically weak and having a mental battle. Welch had also asked people to send their prayers to his bandmate, Jonathan Davis.
Recently, Shinedown star has sent some words to praise Jonathan Davis because of his effort. He mentioned Jonathan's stability and said that he respected him because he did not want to cancel the shows, although he's been struggling with the aftereffects of the virus.
"That dude is necessary," Smith told in a recent episode of The Mistress Carrie Podcast. "Point blank. That guy has my absolute respect. Look, we all know what's going on here. Obviously, he got an infection. He got cleared to go back to the road.
"We actually just posted something about him the other night on our Instagram on Shinedown, just telling everybody in Shinedown Nation and around the world, 'Send all your love and your positive energy and your healthy vibes and your healthy energy to Jonathan.'
"Because look, man, he doesn't wanna cancel shows. He has shedded the virus, but he's chosen to go out there and perform for people because he doesn't want to cancel the shows."
Jonathan Davis' Stage Performance After COVID
After testing negative for COVID, Jonathan Davis refused to cancel or postpone the band's future shows, although he's been struggling with the aftereffects of the virus that causes him to live tough times.
After Jonathan Davis, who lived difficult times to take a breath at certain moments of the show, returned to the live stage with his band Korn's recent show at Tinley Park, they've played another show at The Pavilion at Star Lake in past Friday. Prior to launching into the song Falling Away From Me, Davis informed people about his struggle with the aftereffects of COVID and said it beat him.
"It feels so good to be back, y'all. Some of you might know, some of you don't, but I'm recovering," Jonathan told the crowd. "I got COVID, and that shit kicked my motherfucking ass. But I decided I'm not gonna fucking cancel.
"So I might be standing up, I might be sitting in my chair, but I'm gonna give you a hundred motherfucking percent. So let's scream and have a good motherfucking time tonight."
As the result of the Davis' positive COVID test, Korn had announced that August 14 Scranton show moved to September 25, August 17 Wantagh show moved to September 28, August 18 Holmdel show moved to September 26, August 20 Hartford show moved to October 2, August 21 Mansfield show moved to October 1, and August 22 Gilford show moved to October 3.