Phil Collen Says Def Leppard Wanted To Make 'This Guitar' Kind Of Like The Eagles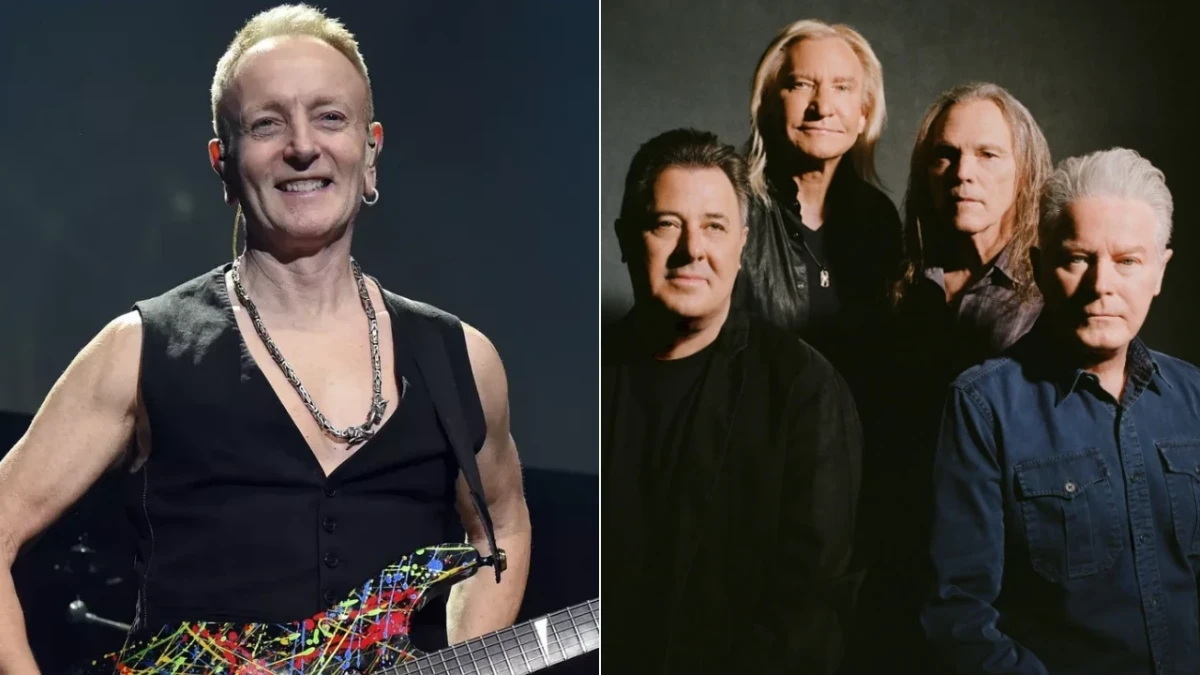 The guitarist Phil Collen revealed a fact about the making process of Def Leppard classic, This Guitar, admitting that they wanted to make it sound like The Eagles.
Def Leppard released This Guitar on its most recent album, Diamond Star Halos, released in May 2022. The song was originally written by Phil Collen and C. J. Vanston and featured Alison Krauss on guest vocals. It had a special story behind itself, as Collen wrote the song nearly two decades ago with his friend. Joe Elliott heard the song for the first time in 2003 as a demo and wanted to release the song every once in a while. Finally, the band released the song on its twelfth one.
In his recent appearance on RadioacktivaColombia, Collen discussed the making process of This Guitar and Kick. Mentioning Kick, the interviewer described the song as an anthem. The guitarist then said they wanted to make a song as Queen did; We Will Rock You, a huge stadium song.
"We didn't worry about that when we came to this album," he says (as transcribed by MetalCastle.net). "And that one I wrote it with a friend, Dave Bassett, we tried to make it, like, 'We Will Rock You,' I Love Rock and Roll, 'Pour Some Sugar On Me,' those big anthems. So, yeah, always trying to write one of those songs."
Phil Collen Reveals What Def Leppard Wanted To Make With 'This guitar'
When Collen revealed what Def Leppard wanted to bring with This Guitar, he admitted they wanted to make a song sound like the rock band The Eagles.
"I wrote it 18 years ago with my friend CJ Vanston. We wanted to have an emotional song, and we actually wanted to make it kind of like The Eagles, you know?" Collen admits.
He then admitted Joe's reaction to the song. According to him, the singer Joe Elliott wanted to release the song on the band's previous albums, but there was no right time to do that.
"A lot of people do country, and there's a new country, and no one's actually got it right like the Eagles did, you know?" Collen continues. "So we tried to do that, and Joe's been wanting to do that song all the time, and it was never the right time. I said, 'It's a little country, isn't it?' So, he's like, 'Yeah, but if we do it, it will be different.' And it was, you know, we've been playing it live. It's amazing. So it's fun."
Back in February 2021, Phil Collen recalled joining Def Leppard. When he joined the band in 1982, he received a phone call from Joe Elliott, who asked him to learn the band's songs.
"Joe had phoned me a year previous and said, 'We're on tour in the States, touring with Ozzy, and it's not going great with Pete [Willis]," he told Sweetwater. "There are some issues. Would you be able to learn 16 songs and maybe come out and help out?'
"I said, 'Yeah, sure.' Then he didn't phone back and then a week later he called, 'Oh, no, we got it smoothed out.' I said, 'OK, well, no worries.'"