Nita Strauss Slams The Famous TV Host After Her Disrespectful Comments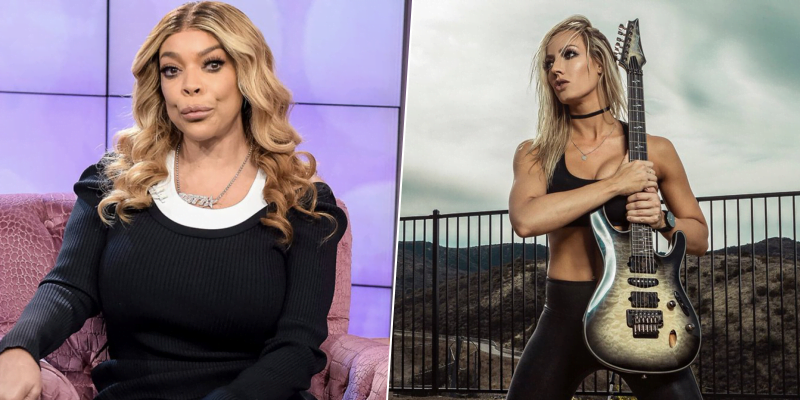 The talented guitarist Nita Strauss, who was ranked number one on Guitar World's list of '10 Female Guitar Players You Should Know', seen extremely frustrated and angry because of the famous television host Wendy Williams' disrespectful comments about the tragic death of celebrity sex and relationship therapist Amie Harwick, who was also known for the close friend of Nita Strauss.
"Drew Carey's ex-fiance was tragically murdered over the weekend," Wendy Williams said of Amy Harwick on an episode of her daytime talk show. "She was killed. Not by Drew."
As if these were not enough, Wendy Williams continued with yelling the famous The Price Is Right catchphrase, "Come on down!" and she slid her head as though she was watching someone fall.
Nita Strauss made a call through her social media accounts and boycotted Wendy. Nita called Wendy as a classless piece of trash.
"Hey @WendyWilliams– CLASSLESS MOVE making a joke about a domestic violence victim. Amie Harwick, an amazing woman and champion for mental health awareness was senselessly killed and you used it as an opportunity for a one liner. HOW FUCKING DARE YOU," Nita said for Wendy.
Also, a fan said to her that he had never seen her so angry before. Nita tagged his tweet and replied: "You've also never seen someone make a joke about one of my close friends being murdered."
After the emotional death of Amie Harwick, a campaign was launched to update the domestic violence law.
The 39-year-old Amie Harwick was killed by her ex-boyfriend at her Hollywood Hills home on Saturday. Her motionless body found on the balcony of the house.
Amie Harwick, the ex fiancée of Price is Right host Drew Carey was tragically murdered last week, after an ex threw her off a 3rd floor balcony! 🙏 Leave it to talk show host Wendy Williams to throw in a tasteless joke about this saying "Come on Down!" 😳 pic.twitter.com/XPKKgiF6Et

— Shawnasaurus Rex (@ShawnG927) February 18, 2020
Hey @WendyWilliams– CLASSLESS MOVE making a joke about a domestic violence victim. Amie Harwick, an amazing woman and champion for mental health awareness was senselessly killed and you used it as an opportunity for a one liner. HOW FUCKING DARE YOU. @FOXTV

— Nita Strauss (@hurricanenita) February 18, 2020
You've also never seen someone make a joke about one of my close friends being murdered.@FOXTV @WendyWilliams https://t.co/mnHsIl00p3

— Nita Strauss (@hurricanenita) February 18, 2020