Metallica's Kirk Hammett Reveals Rare Moments Of Cliff Burton and Himself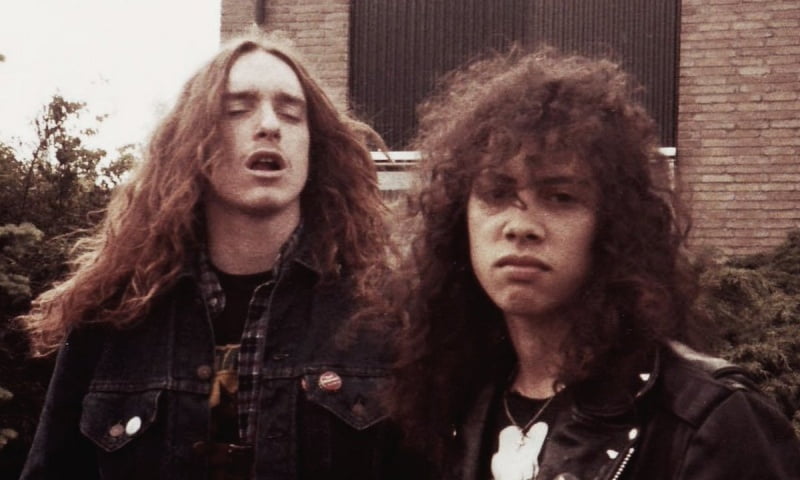 During an interview with Let There Be Talk, American heavy metal band Metallica lead guitarist Kirk Hammett has talked about his early days with Metallica and revealed rare moments of the band's bassist Cliff Burton, who died at the bus crash on September 27, 1986.
When asked "When you first joined, were you, like, 'These fucking guys are weird' or were you just weird with them?", Kirk Hammett said he weird with them and continued with his first play with them:
"We all got along right off the bat; we hit it off so amazingly right off the fucking bat. The very first night that I played with them, this 'audition,' Lars kept on looking at James, and James kept looking at Lars, they kept on smiling."
He said that he later learned why Lars and James looked at each other and smiled. This may surprise you.
"I was, like, 'What's up with these guys, are they in love with each other or something? What's going on?' I later found out that they were so happy that the other person playing guitar was not their old guitar player [Dave Mustaine].
"And they were so happy that he is out of the picture and I was in the picture with a lot of potential and a lot of possibilities. They saw all of that stuff even before I saw it."
Kirk also talked about the moment he was taken into the group, but in fact it never happened. Kirk explained that he understood this when Lars said, "Okay, in about three weeks we're gonna go to Upstate New York and we're gonna record our first album."
"They never really told me that I was in the band; I mean, I figured it out when Lars said, 'Okay, in about three weeks we're gonna go to Upstate New York and we're gonna record our first album.'
"I was, like, 'Okay', and then I realized, 'I must be in the band because we're doing the album.'"
Kirk mentioned his first flight with Metallica and talked about the financial difficulties. Kirk also mentioned the day they recorded the band's first album, Kill 'Em All, and said he took a Greyhound bus with Cliff, and it took three days. He then added that Lars and James returned with a cassette of the album.
"So, I fly out to New York, play a bunch of shows in New Jersey, New York, that whole area – and we had to play shows because we were fucking broke, and we needed to play shows to fucking eat because we were on Megaforce Records, we were the first artists on Megaforce Records.
"There's no, like, capital or fucking financial resources, and I remember this, whether it was $10,000 or $15,000 raised, and with that money, we had to record our album and also live.
"We went up to Upstate New York and we were all living in one house, and then we recorded 'Kill 'Em All,' and then Cliff and I took a Greyhound bus from New York back to San Francisco – took us three fucking days – and then Lars and James came back like a week later with a cassette of the album."
Also, when asked "Did you guys ever look at Cliff and go, 'Hey dude, you got to do this look'?", Kirk said that they tried to change his look all the time and how they calling him and continued:
"We would call him 'Pencil legs' or we would call him 'U-boat' because he had big feet; thin legs and big feet, and we were always laughing at his bell-bottoms and at his Peddeleton's and Denim jackets.
"He didn't care. Turns out he was ahead of his time, but the funny thing is, I remember on tour he was, like, 'Oh man, I need to get some more bell-bottoms.'"