Metallica's Kirk Hammett Reveals His Favorite Gibson Les Paul Guitar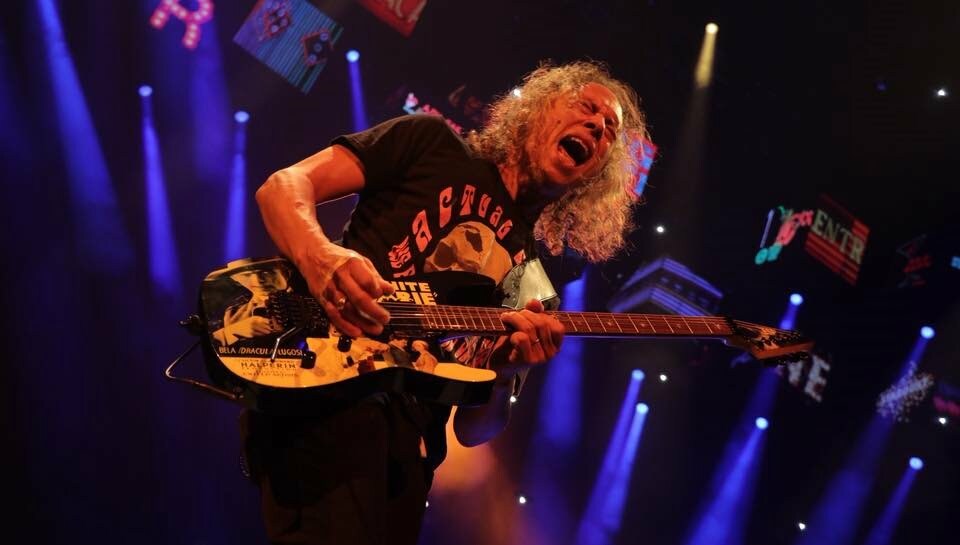 In a new interview with Let There Be Talk, Kirk Hammett, the iconic guitarist of the American heavy metal band Metallica, has just talked about his guitar collection and revealed that his Greeny is his number one.
Kirk stated that he wanted to has all of them, but after that, he notices that there is a guy who almost has them all.
"You know, there was a time when I was looking to buy, but then I discovered there's this one guy who has almost all of them.
"So you can't even begin to go out and look for them because they're already in a collection, and that collection is huge. This collection has over a hundred Les Paul Standards, over a hundred."
The guy who has almost them all is Alan Rogan.
"There's this one guy, he's one of the best guitar techs out there; he worked for me for a little while, he worked for Angus [Young], he worked for Keith Richards – his last gig was with Pete Townshend.
"This guy named Alan Rogan, he was actually the guy who turned me on to '58s and '59s back in the '90s. He went to go see this collection, and he ended up getting mad."
Kirk revealed which guitar was his favorite, and also explained what the guitar was after his favorite guitar, and where it turned out.
"I've been collecting these guitars since the '90s, Les Pauls I have about 12 now myself. So the one I have that's my favorite right behind Greeny is the amazing '59.
"It came out in Kansas City – the flame is sick, the actual flame lines are fat, and the sound is just heavy, and so people name these guitars, and so that one I named Thor's Hammer.
"It's a heavy-sounding Les Paul, totally great for chunk, and Greeny's great for chunk too. Greeny just rules everything – chunkiness, clean-ness, leads, clean jazz stuff, great jazz chords just ring with Greeny, it just delivers. I should show you Thor's Hammer one of these days, you'll love it."