KISS's Gene Simmons Recalls How He Behaved When He Heard Eddie Van Halen's Passing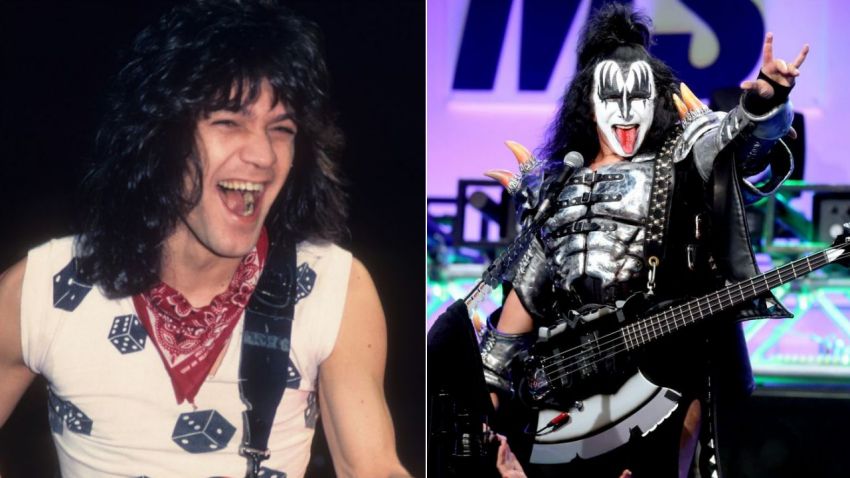 One of those founding members and the bassist of the rock band KISS, Gene Simmons, remembered the day that Van Halen founder/guitarist Eddie Van Halen has passed away and that how he behaved when he heard his passing.
As some of you might remember, Eddie Van Halen, one of the iconic guitarists of the rock community, has passed away on October 6, 2020, due to brain cancer. With or without his band, Eddie Van Halen is a great inspiration for young or old musicians.
However, during an interview with Guitar World, the talented bassist Gene Simmons stated that he is a genius and that he always smiling. Remembering the day that Eddie Van Halen's passing, Gene Simmons expressed that his happy face came to his mind when he heard first his passing.
When he was asked, "You were lucky enough to witness Van Halen very early on and helped discover them. Now Eddie has gone, what do you remember most about those encounters?", Gene Simmons replied:
"You would have been surprised. Of course, genius is the right word, but when you think 'geniuses' you also think of big personalities and people that are perhaps full of themselves.
"You couldn't have met a nicer person than Edward. He didn't like Eddie. A lot of people don't know that he started off on drums and that he was an accomplished pianist and it actually his brother Alex who was the guitar player.
"They decided to switch quite early on. Imagine the musical talent in that family?
"When I heard he had passed, the image that immediately came into my mind after the shock, was him smiling. He always smiled. He smiled on stage when they did videos. He was just enjoying life.
"He'd do these astonishing things with his guitar and look up at you as if to say, 'Aren't we having fun?' as opposed to 'See what I just did there?!' There was never any of that 'I know I'm great' side to his personality."
Click here for the interview.