Jason Momoa Lives With Metallica, Says Robert Trujillo Is His 'Spirit Animal'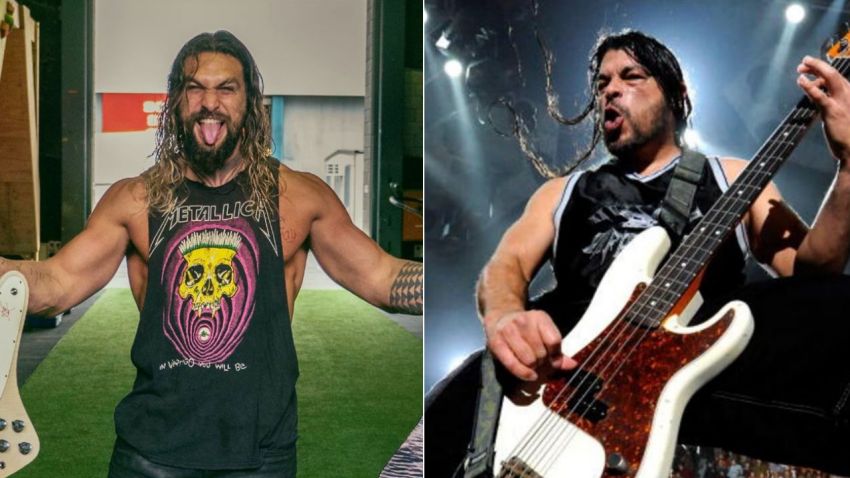 In these days that music and cinema worlds intertwine with each other, the American actor Jason Momoa is known for his passion for the rock & metal world, no doubt. During a recent interview with Guitar World, Jason Momoa mentioned his love for Metallica and Robert Trujillo and praised them.
Never hesitating to express his admiration for Metallica, Jason Momoa spent his separate time listening to Metallica songs throughout the week, according to him. "He was unbelievable. Did you see [Metallica's new live album] S&M2, with the standup bass playing it? Oh my God. I had chicken skin, I was watching it over and over. I thought that was just so beautiful for Cliff. I'm all old Metallica, bro. I probably listen to Ride The Lightning and Kill 'Em All every week, if not every other day."
Jason Momoa has also shared opinions on Cliff Burton and admitted a fact about himself related to Cliff. According to Jason Momoa, Cliff Burton is the reason that he has Rickenbackers because the first song he decided to learn was Cliff Burton's Anesthesia (Pulling Teeth).
"Oh, let's talk about Cliff!" Jason laughs. "The first song I'm dedicated to learning is [Burton's 1983 solo piece] Anesthesia (Pulling Teeth). That's the reason why I have my Rickenbackers, because of him. I fucking love Cliff."
Speaking about Robert Trujillo, Jason Momoa said that he is his 'animal spirit.' "When's that guy going to teach me how to play bass? Ha ha! He's like my spirit animal, I love him. When I'm with Robert it's like we both came out of the same cave. We're the spitting image, and I absolutely adore him and his son and his family, they're amazing."