Judas Priest Guitarist Recalls His Life-Changer Hero Jimi Hendrix's Storming Shows: "It Was So Electrifying"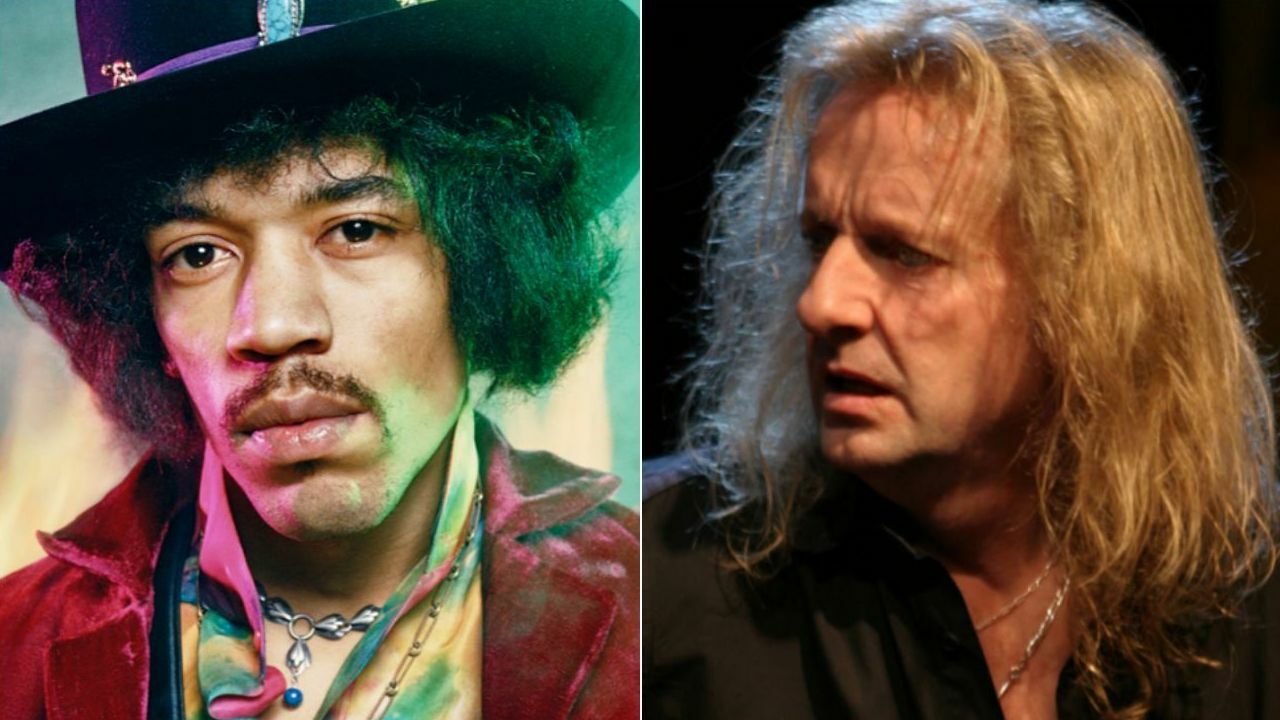 Former Judas Priest guitarist K.K. Downing recalled his life-changer hero Jimi Hendrix's crazy shows and revealed how the late guitar legend behaved during live shows in front of his insane crowd.
Jimi Hendrix was an American guitarist who is widely regarded as one of the greatest guitarists in the rock and roll community. He changed the rock and roll community throughout his insane career from 1963 to 1970. Although he had passed away more than five decades ago, Jimi's guitar legacy has been continuing to be an inspiration for the world of rock and metal.
When he was an adolescent, Hendrix had focused on Elvis Presley, Little Richard, and Chuck Berry to improve his skills. At the beginning of his career, Hendrix had influenced by talented guitarists such as B.B. King, Elmore James, Muddy Waters. Since then, he's been one of the most important artists in rock history.
On the other hand, K.K. Downing was the guitarist of the heavy metal band Judas Priest from 1970 to 2011. Throughout his career with Priest, Downing had contributed 21 efforts in total. After he departed from the band, K.K. Downing launched KK's Priest with the former Judas Priest singer Tim "Ripper" Owens in 2019.
However, during a recent conversation with The NFR Podcast, the 70-year-old guitarist K.K. Downing talked about his musical hero Jimi Hendrix. At first, the guitarist recalled Jimi Hendrix's early show in the UK. According to him, Hendrix was a life-changer and his shows were storming.
"In 1967, I went and saw Jimi Hendrix, and that was just a life-changer," Downing says. "He had just come to the U.K. and he was fresh, and he was literally on fire.
"He just came and went in such a short space of time, but obviously, lots of things got to him – the management, the industry, the pressure, and obviously everything that went with it, drugs or whatever, things that happened.
"In the early days, because I managed to see him like six times, and the first couple of shows within two weeks of each other in 1967, and he was so fresh and on fire, and he was just a completely free spirit.
"But these were the gigs when he went on stage and just destroyed everything. The audiences went crazy, storming the stage, always one of them."
Judas Priest Icon K.K. Downing Details Jimi Hendrix's Storming Shows
When the interviewer asked him to detail Hendrix's storming shows, Downing admitted that they were exciting, and he was one of those people who stormed the shows. He also claimed that those shows were unreal.
"Yeah, everybody did, because it was so electrifying," Downing continued. "It was so electrifying, and it literally was a real experience, and I'm thinking, 'My God, this is just unreal.'
"This is, in my mind, when I'm doing 'Hellfire Thunderbolt,' for example, the intro on the video, and I remember seeing Jimi on stage, and he's turned towards his amp, and turning them all onto full, and he starts that vibrato thing for 'Foxy Lady.'
"And it's getting louder and louder, and he turns around and just goes into a shape and into a riff, and I'm thinking, 'My god!'
"It was the most incredible moment I could ever experience, because there he was, full color, full life, because Jimi, he was the player and the performer. He looked good, played good, sounded good, and his performance, you know, he was the all-in-one.
"I like to think I've taken something from that. I've played a couple of Hendrix in the '60s, I played a couple of covers, 'Spanish Castle Magic,' and stuff like that."
Concluding, Downing mentioned how he felt when Jimi Hendrix passed away. According to him, it was shocking.
"Unfortunately, when he died [in 1970], it was a massive impact on me because I had just seen him the other night in 1970, and it just happened.
"It was such a shock, so I kind of distanced myself. It was hard to face up after all this wonderful enjoyment and wonderful experiences listening to his music and seeing him live."
Downing Reveals Why People Called Him One Of The Sons Of Jimi Hendrix
In the continuation of his words, Downing had remembered people's reactions to his guitar playing and his interest in Hendrix. Saying that it was the last thing that he emulated Hendrix, Downing admitted that Hendrix has always been with him.
"I saw the two shows at Royal Albert Hall, got to get some autographs from him and stuff like that, and I was in shock," he reveals.
"I was trying to become a musician myself, the last thing I wanted to do was have to try to mimic him in any way, shape or form, but consciously or subconsciously, he's always kind of been there in me, and I have heard people call me one of the sons of Hendrix.
"Because obviously, I haven't been able to contain these, 100%, so I still like to do controlled feedback and uncontrolled feedback, and I will do more of that now, kind of in my own band where I have more freedom to do, to express myself even more now, I'm looking forward to that.
"But that magical moment, it's just a different thing, but it fortifies everything about me to want to do this at my age and keep going and it makes me realize how exceptional is that I'm still here able to do it.
"The great Jimi Hendrix, he's been gone now for so many years, decades, it's so tragic, and that's why I feel very important for so many other guys, close friends that are not with us anymore, some people, age, illness."