Joe Satriani Recalls How Mick Jagger Saved Him From Losing Big Money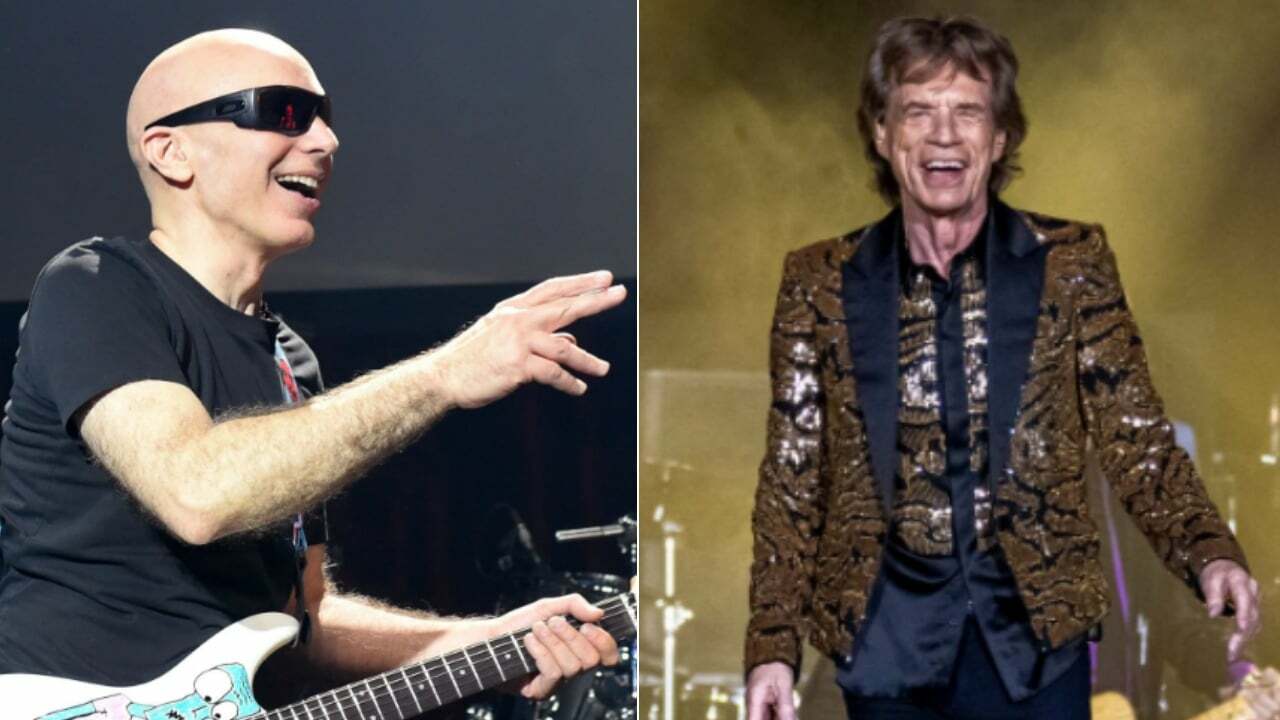 Legendary guitarist Joe Satriani recalled the early days of his career in his last appearance with Tone-Talk. Satriani describes his financial difficulties while touring to support his second album. Satriani also talked about how everything changed when he decided to join Mick Jagger on his Japan tour.
Joe Satriani would lose 8K dollars per week during Surfin With The Alien's three-week tour, according to his manager. While things were going badly for Satriani, he auditioned to join Mike Jagger's solo tour on the advice of an old friend and everything has changed.
At that time, The Rolling Stones were also having a hard time. Mick Jagger wanted to run projects separately from the band but was having discussions with Keith Richards about it. In the end, Jagger did not attend the tour to support the band's 20th studio album, Dirty Work, and instantly turned to his own solo projects.
In the process, Mick Jagger released his second solo album. Although the album lagged behind his first solo album commercially, it received positive views from the rock community and critics. Jagger toured Japan and Australia in support of the album, the setlist included several Rolling Stones songs, and Jagger hired Joe Satriani to play Keith Richards' parts.
Somehow, tensions between Mick Jagger and Keith Richards came to an end after the two met in Barbados. Anyway, during his interview with Tone-Talk, Joe Satriani reflected on how his tour with Mick Jagger turned things around for him.
"It's really quite funny," Satriani recalls. "My last lesson that I gave as a guitar teacher was to Kirk Hammett, and we were having a good laugh about how I was about to go out and play instrumental music. And I had no idea what to do, and he was busy making a record as well with Metallica.
"So, I go off…[to] a three-week tour. Stuart Hamm [bass], Jonathan Mover [drums], myself. I think we started in San Diego, and we were playing 400-seaters, two sets a night, that kind of thing. By the end of the first week, my tour manager told me we're going to lose about eight grand per week. And there's no way around it. And I remember, I think it was in Boston at the time. We just finished a gig where he opening band had rifled through my rack and tore it apart. [laughs] Goodwill from fellow musicians, right?"
'Mick Jagger Shows Up And to the Shock of Everybody There'
Joe Satriani says that although the records were good on the charts during the tour, he was in a difficult financial situation as he could not get the theater concert he wanted. Then, on the advice of his former agent, he auditions for Mick Jagger's solo tour, and things going change.
"So, I'm sitting there thinking like, 'Okay, how am I gonna get around this?" Mick asked. "Because this is not working out.' Even though the record's really hot on the charts, and we're getting calls from MTV, I still can't get a theater gig – that would help pay for the bus, salaries and everything. And I got a call from a former agent who said, 'Hey, how would you like to go audition for Mick Jagger's solo band?'
"And we laughed for about a minute, because we knew that I wasn't the right guy for it. But, you got to go, right? You just got to check it out. And so I went to NYC, I had a gig there, at The Bottom Line – really, really small place, teeny stage with a pole, typical little club. And we had sold out two nights, two shows a night – and they only gave us one fruit basket, by the way, I always like to point that out. [laughs]"
Satriani decided to audition even though he thinks he is not suitable for Mick Jagger. The day before auditioning, Satriani invited Mick Jagger to his concert, just as a joke. Jagger accepted the invitation and the crowd goes wild.
"Anyway, before I landed in NYC, the day before I do the audition, I get the gig, I invite Mick to come and play at the show, just as a joke, just to come and jam," he reveals. "He says, 'Yes,' he shows up, and to the shock of everybody there, he jumps on stage, and he does 'Red House' [by Jimi Hendrix] with us. It was really, really amazing. And things did start to change from there. Number one, I was able to cancel the rest of my dates, which was great, because we were just losing money."
"But I spent the next two months with Mick in New York, and then in Japan. By the time we got back, things had changed a lot. Suddenly, we were playing small theaters, and clubs that were really big, like the Fillmore, and stuff like that. And that really helped quite a bit. And that lasted up until I went back with Mick in late September for the Down Under tour… By the time the next record came out, 'Flying In a Blue Dream,' we had moved up. We started the tour at the Santa Monica Civic. We did play bigger places, and it was really great, just to kind of spread our wings that way."
Back on April 27, Joe Satriani appeared on the Le Hangar Des Guitares podcast, Satriani recalled jumping on stage with Mick Jagger from small club shows to the huge arena shows like Tokyo Dome. At first, the guitarist mentioned receiving experiences over the years, explaining his fear of playing in front of an audience at his 15. According to him, he was scared a lot because he thought they were against him.
"I certainly could play a lot better," Satriani said (as transcribed by MetalCastle.net). "It took, I'm like the guy who took the longest to get good at what he could do. I'm not really sure why. I used to think when I was really young that it was just purely emotional that, you know, I'd get so nervous getting up on stage that the shows that I did when I was 14 and 15 were always disappointing because I thought I only was able to show the audience a third of what I could do.
"I could never figure out what was stopping me, and of course, it was just myself. It was the fear of being criticized or fear of failing to make a mistake or something like that. So I would always hold back.
"And then, I think it just took a lot of experience to realize that the audience was with me and not against me and that they were rooting for me in a way to succeed. Once I started to relax a little more, I started to have experiences on stage where I would show, like, almost 99% of everything that I could do. And I would get that positive feedback, and I thought this is you finally arrived at that point where you can start to deliver."
Although he is one of the most successful guitarists in music, Satriani also learns new things from everyone. During his performance with Mick Jagger and his crew, Satriani learned huge things, as he said. Admitting that he thought he would be a guitarist in a rock band, it was great he played with Mick Jagger in the past.
"A solo career wasn't something that I was pursuing," he admits. "I certainly didn't think I was going to become a solo instrumental guitarist. I always thought I'd be a guitarist in a rock band, but in '88, when I was beginning to do shows as a solo artist, I was also playing with Mick Jagger, and it was the strangest dichotomy.
"You know, playing two sets a night in a small 300-capacity club, trying to play instrumentals, and figuring out what to do. Then, two months later, in front of 90,000 people at the Tokyo Dome, playing with Mick Jagger in a big band, running around. It was a great lesson in the extremes.
"And I learned a lot from Mick and the other guys in the band. But most importantly, I learned about myself, about what I was capable of."