Joe Satriani Admits It Would Be 'Terrifying' To Play Eddie Van Halen Parts On Van Halen Tribute Tour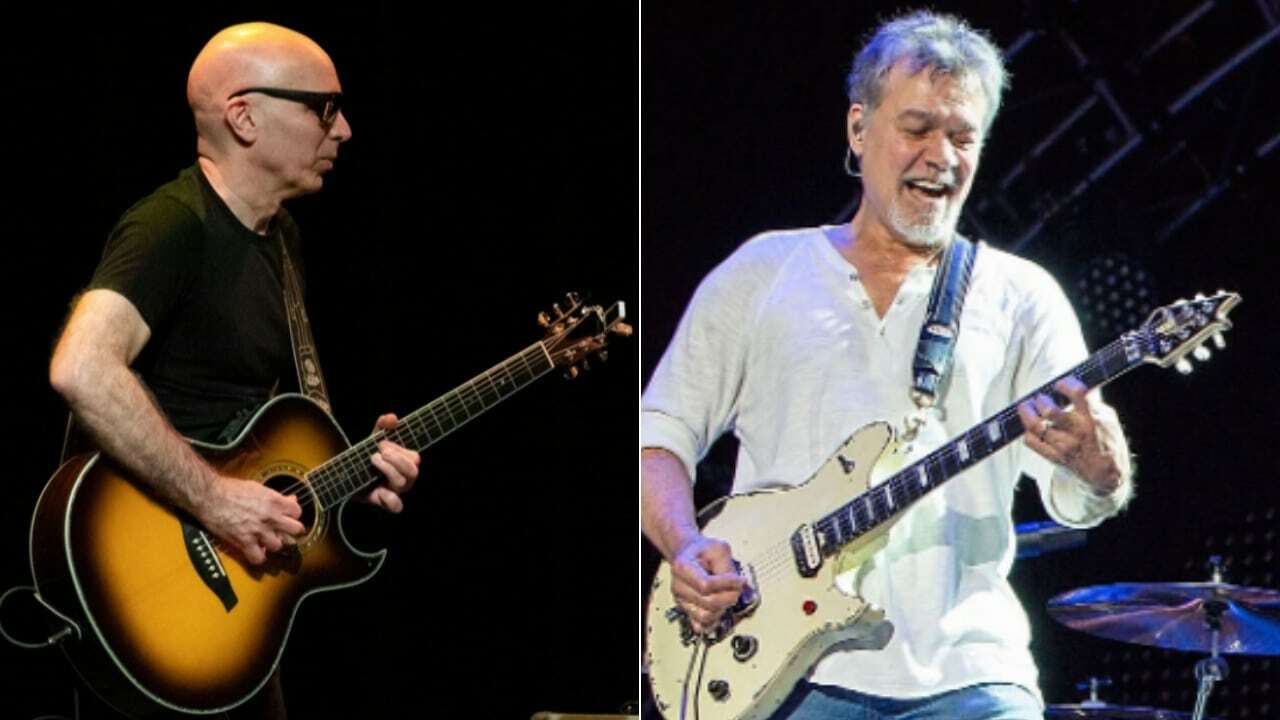 Legendary guitarist Joe Satriani introduced his new album The Elephants of Mars in an interview with VW Music. Satriani also responded to rumors about the Eddie Van Halen tribute project. Confirming the rumors, Satriani admitted that it would be terrifying to play Eddie Van Halen parts on Van Halen tribute tour.
The iconic heavy metal band Van Halen released twelve studio albums before the band's co-founder Eddie Van Halen passed away in 2020. One month after the band's legendary guitarist Eddie Van Halen passed away from cancer on October 6, his son Wolfgang confirmed the band's disbandment.
On the other hand, former Metallica bassist Jason Newsted leaked to the press a month ago in an interview with the Palm Beach Post that Alex Van Halen and Joe Satriani had reached out to make a Van Halen tribute tour. Days after Jason, David Lee Roth was also one of those who confirmed that he had been in touch with Satriani and Alex about the project.
However, while Satriani confirmed Jason Newsted comments, he said nothing is certain and he doesn't know what's going on in the background. And he also stated that it was wrong for Jason Newsted to make a public statement before everything was finalized.
"Yeah, it is true," reflecting Van Halen tribute tour. "I was contacted by Alex Van Halen and Dave and had some conversations a little less than a year ago about putting together a full tour to celebrate Eddie and the Van Halen legacy.
"And yeah, it's terrifying. I mean, I literally heard myself saying, 'Yes,' and then the other part of my brain said, 'Did you just say yes? Are you nuts?' I think I remember telling them that any sane guitar player would just turn around and start running away as fast as possible because you can't measure up to Eddie.
"It's like one of those jobs where you just try because you know it's important to you, and a labor of love, but still, people are always going say, 'It doesn't sound like Eddie,' no matter what you do. I took on the challenge that way, and I did say, 'Okay, I'll agree to keep talking about this to see what happens.' But I'm not in the family, and I've never worked with Dave before. I'm just a guy that they called and started the ball rolling."
"We were not supposed to talk about it, because it may never happen, and obviously, you know, Sammy [Hagar] and Mike [Anthony] were contacted, but I don't really know what's going on behind the scenes there. I can't say I know exactly what's going on.
"I do know that Jason was called at one point, and he was told — like I was — to not talk about it, because it may never happen. And so we were all shocked when he went public because he certainly wasn't supposed to. And it's only caused grief in the family, which is not nice, you know?"
"So, yeah, that's all I can really say about it," Joe added. "I don't know much more today, to tell you the truth. I do know that for the next year and a half I'm probably on tour starting in September, just doing 'The Elephants Of Mars'/'Shapeshifting' combo tour. So, whatever comes with this, it's sometime in the future. I mean, in a way, now that the cat's out of the bag, at least I don't have to feel like I'm keeping something from people, you know?"
Joe Satriani Says What People Forget When They Think of Eddie Van Halen Is His Talent For Writing
Satriani highlights Eddie Van Halen's songwriting as well as being an excellent guitarist. Stating that people forget the authorship part when they remember Eddie, Satriani says the songs are technically various and fun to play.
"I will say this in regards to Eddie," Satriani continues. "I think that the other biggest thing that people sometimes miss when they bring up Eddie Van Halen is that his writing was really the biggest expression of his talent. When you start to learn the songs, you start to see the genius of the compositions and the arrangements.
"Of course, there's the solo or the intro that blows your mind, but it wouldn't be there unless he had written the song. Whether it's 'Hot For Teacher', 'Jump' or something, it's the actual song that then forced him to whip out some crazy solo. The average person is gonna love those songs, whether it was Dave or Sammy singing. It's all in the writing, you know? That's what makes it so much fun and attractive.
"I guess that's what attracted me to the gig, just the thought that I could go from playing 'Atomic Punk' to 'Unchained' in one show. It's just so much fun. The songs are just fun to play."
Last month, during an appearance on Rock Of Nations With Dave Kinchen, Joe Satriani broke his silence on a possible Van Halen tribute tour and admitted an exciting detail about it. Saying that he has been talking with David Lee Roth and Alex for a while, Joe added that it would be a real labor of love for him.
"I've been talking with Alex [Van Halen] and David [Lee Roth] for about a year about doing something — a tour, something like that — that was gonna be a true tribute to Eddie [Van Halen] and the Van Halen legacy," Joe says.
"For me, it was a terrifying prospect of doing something like that, but I realized that it was something that would be a real labor of love for me. I was just so honored to take on the challenge."
The guitarist then revealed his emotions about that possible Van Halen tribute tour. Saying that it would be great if they do that, Satriani admitted that Jason shocked them all when he disclosed the Van Halen tribute tour. According to him, it had to be secret because no one wanted to hurt fans' feelings.
"It's very complicated," he continues. "All I can really say about it is that if it does happen, I know we'll make it the greatest thing ever for the fans and we'll all celebrate together not only the great Eddie but the legacy that that band created, the amazing amount of music and the goodwill and good vibes they created as a band.
"These things are always happening in the music industry, and you're supposed to keep very quiet about it [laughs], because sometimes they don't work out. There's usually about 10 crazy ideas that float around and musicians are always, like, 'Okay, I won't say anything about this 'cause it may not work out. I don't wanna hurt this person's feelings or disrupt any other business plans.'
"So, yeah, we were all pretty shocked that Jason wanted to go public with it 'cause we were all sworn to silence. [Laughs]"