Guns N' Roses' Slash On Myles Kennedy: "He Is Laidback"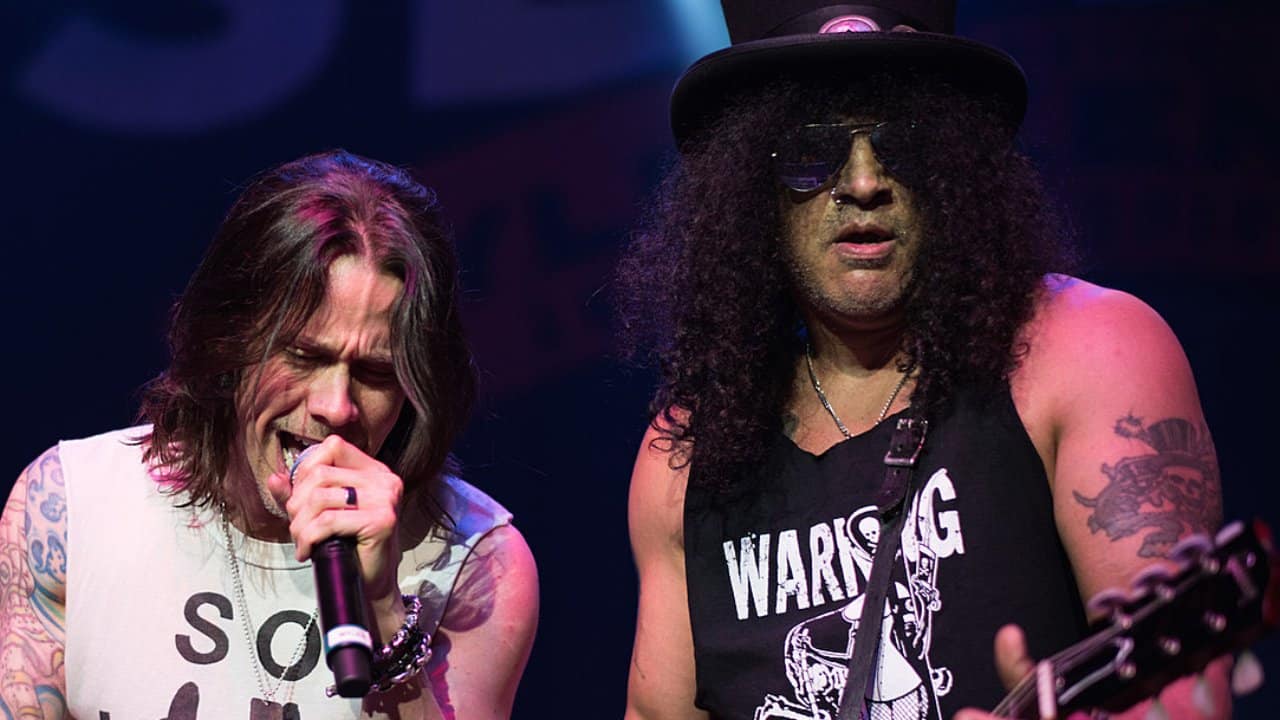 Guns N' Roses guitarist Slash has sent praising words for his close friend and bandmate in his side-project, Myles Kennedy, and said he is a sweet person.
Slash is one of the most active musicians in the rock and roll music genre. He came to world prominence with his unique contributions to the 1985-formed rock band Guns N' Roses. To date, he appeared in the band's every one of its releases, except for the last one, Chinese Democracy. When the band released the album, he was not a member of them, as he parted ways with them from 1996 to 2016.
Slash focused on his solo career after he parted ways with Guns back in the mid-90s. At first, he added one more studio album to his supergroup, Slash's Snakepit, in 2000. He then worked under the name of Velvet Revolver and released two studio albums with the band in 2004 and 2007, respectively. In 2010, Slash officially released his self-titled debut solo album. In late-2011, the guitarist met with Myles Kennedy and began to work for his side-project, Slash feat. Myles Kennedy & The Conspirators.
During his ongoing work with Slash feat. Myles Kennedy & The Conspirators, Slash and the band has released four different studio albums in total. Slash's second studio album 2012-released Another Love, which was the band's first release, was billed to the band in the end. In 2014, the band released its second studio album, World On Fire. Two years before the band released Living The Dream in 2018, he rejoined Guns N' Roses. He is still a member of Guns N' Roses and released one more album for Slash feat. Myles Kennedy & The Conspirators, which named 4.
Recently, Slash appeared on Guitar.com to discuss his side-project Slash feat. Myles Kennedy & The Conspirators. When he was asked about the band's vocalist Myles Kennedy, he made heartwarming comments for him. Saying that Myles is a laidback person, Slash added that they have creative chemistry.
"He's a sweetheart of a guy, very laidback, and we seem to have creative chemistry," he says. "For the most part it's effortless.
"I'm always working on stuff and if I have something I'll just send it to him or play it during soundcheck or on the bus. He automatically gets into it and starts thinking of melodies.
"From the very first thing we recorded, which was Starlight back in 2010, it's been that kind of writing relationship and I really don't compare him to Scott or Axl, because they're different people."
Slash Opens Up The Chemistry Of 'Slash feat. Myles Kennedy & The Conspirators'
Slash then touched on the band's chemistry between band members. Revealing how the band's debut studio album Apocalyptic Love was released, Slash said it was very enjoyable to work with those guys. He then mentioned the longevity and expressed his pride.
"When Myles and I started working together for that first tour, I thought, 'This is a lot of fun, I'll do the next solo record with these guys if they're into it'," he continues. "That's what Apocalyptic Love was.
"Then we went out on tour and I wrote music for the next one [World on Fire, 2014]. It's just been going on like that and here we are 10 years in."
Back in May 2021, Slash was praised by Myles Kennedy during the singer's appearance on Audio Ink Radio. In the interview, Myles mentioned what it was like writing with Slash. According to Myles, Slash loves playing music more than anything.
"He's really cool," Myles said. "He's very easy to work with. There's no 'intimidating' whatsoever, actually, as far as writing with him – because of the fact that he's not precious with his ideas.
"That's one of the downfalls with a lot of creative people, is you tend to get kind of protective and territorial, and you let your ego come into the fold.
"And with him, what I learned early on in the process was that he was open to whatever. So, having that ability and knowing that he's gonna do what's best for the song is very liberating.
"He's a very cool guy. He's just a really mellow cat who loves to play music more than anything in the world. So, it's fun."