Ghost's Tobias Forge Recalls What He Didn't Like About Iron Maiden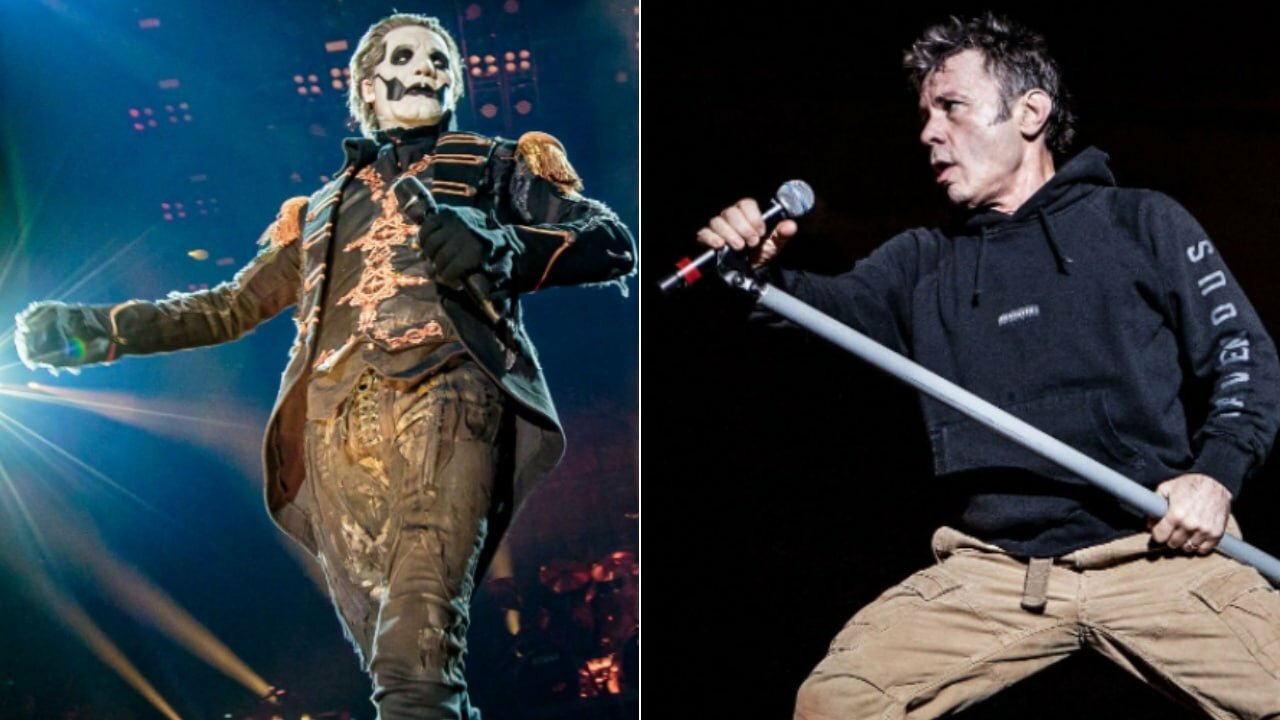 Ghost frontman Tobias Forge appeared in Planet Rock's "My Planet Rocks" concept. In the interview, Forge talked about the songs that inspired him. He referred to the songs of Rammstein, Foo Fighters, and Metallica, besides the influence Iron Maiden had on him.
Tobias Forge, better known by his stage name Papa Emeritus, is a Swedish vocalist who shines in new age heavy metal. Forge took part in five studio albums with the band and played a major role in the group's winning 3 Grammy Awards.
Ghost's talented vocalist Tobias Forge chose Iron Maiden's Blood Brothers song as one of his inspirational songs. One of the tracks from Iron Maiden's 12th studio album, Blood Brothers, was written by the band's bassist Steve Harris for his late father.
In an interview with Planet Rock on May 8, Tobias Forge talked about the influence Iron Maiden had on him and how closely he followed them. Forge also admitted that he dreamed of becoming a professional musician while listening to Iron Maiden's live album, Live After Death, released in 1985.
Asked if Maiden has been a "massive influence" on Ghost, Forge said: "Absolutely. Both musically and also stage production-wise. But also when it comes to work ethics and just the sheer volume of work you have to put into your job [and] in your craft has always been inspiring to me.
"When I was a kid, I was sitting with [IRON MAIDEN's 1985 live album] 'Live After Death' record and I was dead set on wanting to become a professional musician and I wanted to tour.
"I knew about the concept of touring, but a lot of my knowledge or my preconceived notions of what I thought touring was about was looking through 'Live After Death' and seeing all those dates that they were playing everywhere. I sat there with like a big map book and just drew out how they toured, where they played, and how often you play. That record in the inner sleeve, you have a lot of information about touring life."
Tobias Forge Says He Wasn't A Fan Of Iron Maiden Blaze Bayley Era
Forge admitted that he wasn't a firm follower of the Iron Maiden Blaze Bayley era, and lauded Bruce Dickinson's return album Brave New World. And he also stated that it was incredible that the band was still able to produce original songs in their 20-year career at that time.
"The '90s was a little bit medieval for a lot of the '80s bands and I must say that after Bruce left, I wasn't a giant fan of the Blaze Bayley years. In the '90s, this is before Internet, this is before accessibility that way you had to invest in your records, and you had to invest time into anything that you liked.
"In 1995 when they made the first record with Blaze ['The X Factor'], I was so buried in death/black metal stuff, and I was so busy exploring what happened in 1985 that I didn't have time for following that.
"So, of course, I was amazed when Bruce came back into the band and they made this triumphant return. I must say that 'Brave New World', the comeback record with Bruce, was and still is an unbelievably well-constructed record… That record is actually really good from start to finish. Unbelievable.
"It's incredible that a band 20 years into their professional career were able to still add songs to their already existing and mind-blowingly great repertoire. I think that 'Blood Brothers' is a song that they are still playing at most of their shows, but they could easily play 10 songs from that record."
Back in 2020, former Maiden vocalist Blaze Bayley appeared on Headbangers News. In the interview Blaze Bayley talked about his early days with heavy metal legends Iron Maiden and revealed unheard facts about it.
"It was very difficult for some people to accept me as the new singer and I understand some people, particularly in Brazil have open hearts and go, 'Okay. It's a new guy. Let's see. Maybe he's good.'
"In Brazil, the fans gave me a chance and I really feel that they took me to their hearts and supported me and it was a wonderful experience. Since that first tour of Brazil with Monsters Of Rock and our first huge concert in São Paulo, Brazil has been in my heart."
Blaze said that the fans hated him just because of he was new, and continued:
"And a lot of those people still hate me and for all those people who hate, there are some people that 'The X Factor' is their first. 'Virtual XI' is their first album with Maiden. They love those songs and I am their favorite singer of Iron Maiden. So, it's a balance, really."
He also touched on how honoring it was to spend time with Iron Maiden.
"It's a privilege and an honor for me to have been part of Iron Maiden, to write songs with the band, to tour with the band and to still be thought of very fondly by thousands of Iron Maiden fans around the world.
"Go back every so often and listen to my Maiden albums and so many fans have said to me, "The X Factor' saved my life.' Because that's the album they were listening to when they had the big torment in their life. And that's a very humbling thing."