Gene Simmons Says The Beatles Led Him To Play Bass: "They're Small Human Beings With Silly Haircuts"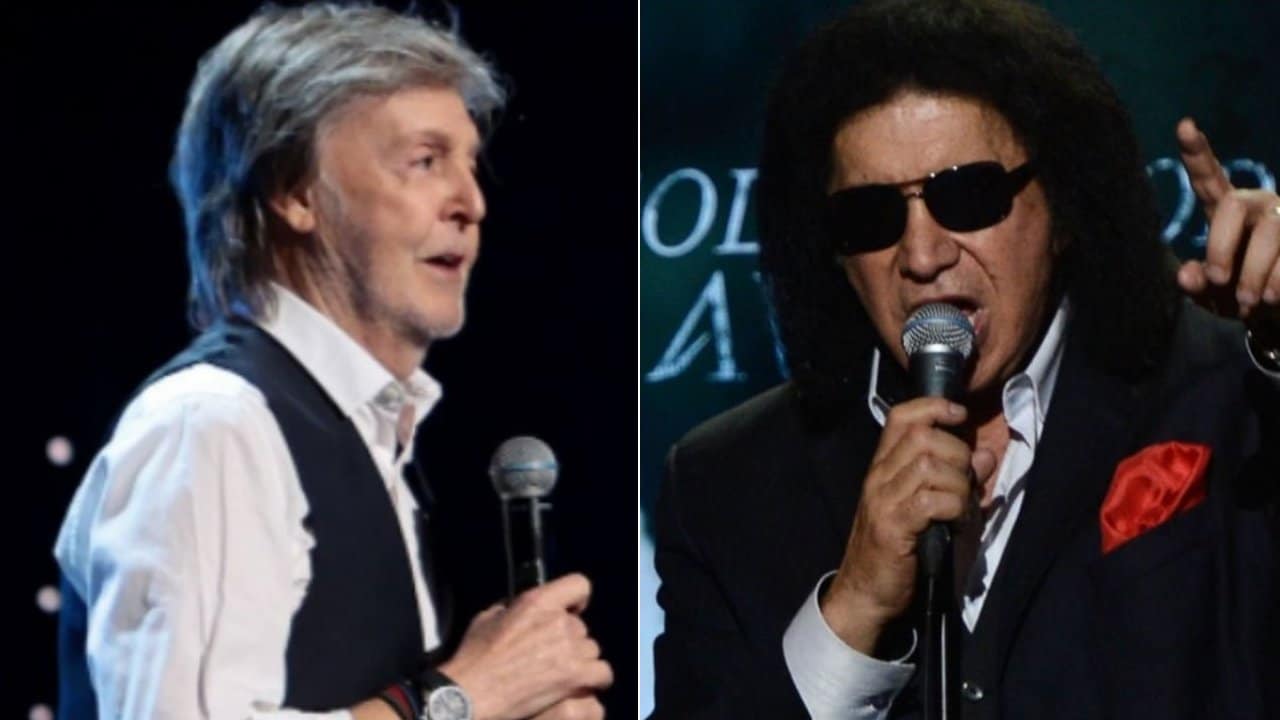 KISS frontman Gene Simmons did a brand new interview with SPIN. In the interview, Simmons talked about The Beatles' influence on him. Simmons also touches on the moment The Beatles first impressed him and comments on their outward looking.
Formed Liverpool in 1960, The Beatles left their mark on rock music in the United Kingdom in the 60s and was a role model for many children. Slowly gaining fame by playing in clubs in Liverpool and Hamburg until 1963, the band quickly gained worldwide fame and became one of the most important rock bands in the world.
Gaining international fame with thirteen albums with the classical line-up between 1963 and 1970, The Beatles has sold more than 600 million copies to date. The Beatles is considered one of the most influential bands of all time and have inspired many artists throughout their lifetime.
Gene Simmons was one of those musicians that was influenced by The Beatles and their unique sound. When he was a kid, the bassist watched them on TV and admired them too much. It was the time he fell in love with music and got his guitar to play.
In his latest appearance with SPIN, KISS bassist Gene Simmons answered questions about the agenda and future plans. Simmons also revealed how he decided to play the guitar and The Beatles' influence on him.
"When I was a kid, I was affected by the Beatles – like a religious event, like a singularity," he says. "I wasn't a musician. I was just a kid. Turn on TV and the Beatles came out: [sings] 'She loves you, yeah, yeah, yeah.' I'm going, What is that? What accent is that? And they look like girls and they're small human beings with silly haircuts.
"And then my mother came in and she said, 'What are those guys? They look funny.' And at that exact moment, I thought they were as cool as cool could be because my mom, who I love dearly, thought they were silly. And therein lies the greatness of this thing called rock & roll, which is: It's our music."
Gene Simmons Says 'There Was Before The Beatles And After The Beatles'
Gene Simmons explained how he started playing the guitar and how he learned it. Confessing that his first guitar was a secondhand SG Standard Gibson, Simmons said he changed his guitar after Paul McCartney switched to Hofner bass.
"It changed my mindset, who I am, what I was, what I could be and I literally reinvented myself," he continued. "I was born Chaim Witz. I became Gene Klein. And a few years after that decided I'm going to be Gene Simmons. There was before the Beatles and after the Beatles.
"I taught myself how to play, and the first instrument was an SG Standard Gibson guitar, second-hand. My mother bought it for about 50 bucks. My 14-year-old fingers bled because I couldn't make the strings go down. And then I switched to bass because Paul McCartney played a Hofner bass and my mother bought me a Japanese knockoff."
Back on May 4, Gene Simmons talked about his admiration for The Beatles during a recent interview with Metal Hammer. Recalling his band's playing at Superdome in New Orleans, the bassist admitted that they wanted to think of that they were The Beatles plus, adding they were their reference point.
"We were playing stadiums in South America, but when Kiss played the Superdome in New Orleans – which holds 100,000 people or something – there may have been 3,000 people there," he says. "You just get on a roller coaster and hold on.
"Our reference point was The Beatles, because we were delusional. We wanted to think of ourselves as The Beatles on steroids."
Gene Simmons then explained why he love The Beatles so much. Expressing his dislike for Liverpool town, Simmons said that the town is full of empty. He was very sincere in saying Liverpool is in the middle of nowhere, where the band achieved world success. According to Gene, that was a huge achievement. He also mentioned The Beatles' great works, such as Yesterday and Eleanor Rigby.
"[I love England] it's because of The Beatles," he reveals. "Holy crud, this place in the middle of nowhere – Liverpool. Liver. Pool. My god, could you think of a more disgusting-sounding name for a city?
"In the middle of nowhere, you had these four young guys hovering around age 20, 21 years old, who, within a span of seven years wrote hundreds of classic forever songs. Michelle and Yesterday and Eleanor Rigby and I Am The Walrus, and just hundreds and hundreds of songs.
"At 20 years old I couldn't even wipe my ass!"