David Reed Watson of A Rising Force Talks New Music, A Harsh Music Industry & More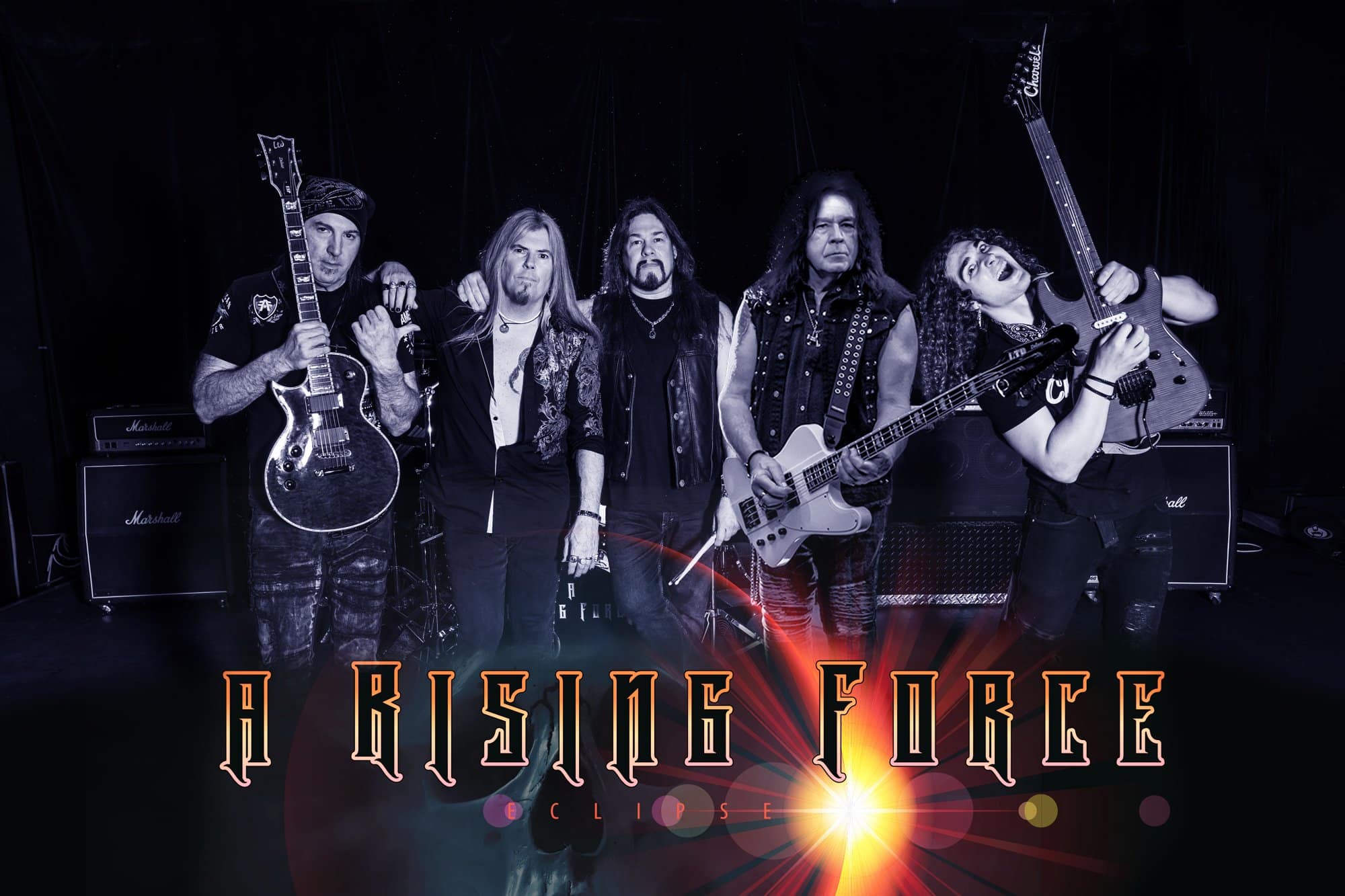 All images courtesy of Cipster PR/Feature image credit: Tommy Sommers
Today's metal scene is as bustling and vibrant as ever, and at the heart of that are many aspiring indie bands which round it out. One of those bands is the soul's on fire, ball of fury, A Rising Force.
Led by veteran frontman David Reed Watson, A Rising Forces sophomore record, Eclipse, is poised to litter year-end top-10 lists across the board. Featuring an eclectic mix of classic heavy metal meets modern rock, if you've managed to miss Eclipse to date, make sure you feast your earholes on its sweet sounds of rock 'n' roll excess.
In the wake of Eclipse's success, David Reed Watson took a moment with me to recount his musical origins, the formation of A Rising Force, the recording of Eclipse, his thoughts on the modern music industry, and a whole lot more.
Andrew: As a young musician, what was the moment which first sparked your interest in music?
David: My parents were into theatre, and I come from a family of singers. My Dad had a folk band called The Tikis, and he played Banjo, so there were always musicians running around the house. My Mom said that I was singing the Beatles' White Album word for word when I was very young. I never understood the meaning of any of the songs until later in life, but I loved the sound of the voices mixing together. So, right from the womb, music influenced every aspect of who I was.
Andrew: Who were some of your earliest influences?
David: Crosby, Stills, Nash, and Young and other folk and acoustic music were very prominent in my youth. I didn't really start getting into the heavier rock until I heard those three hypnotic tones from the song "Black Sabbath." It drove my mom nuts that I would be listening to something so dark, but I never looked at it as "dark." I looked at it as a real statement of what life was, especially mine. It was full of shades of grey. Pop music just didn't appeal to me because it just seemed so fake. It didn't portray the real world we lived in.
Mind you, when I was a kid, Vietnam was still going on, and we would watch the death count on TV every night around dinner time. So, to add to that, I was very much into protest music and the hippie culture. With that long-winded statement, I will backtrack a bit; I mentioned that my parents were very much into theatre; I heard Jesus Christ Superstar, the London cast to be specific. Ian Gillan from Deep Purple played the role of Jesus, and when I heard him scream, it spoke to me louder than any voice ever had. Bowie was a big influence, as well as Ronnie James Dio, David Coverdale, Greg Lake, Paul Rogers; any vocalist that could make you feel emotions with their voice….
Andrew: How would you say that style has evolved as you've moved through your career?
David: As I've become more confident with who I am, with my voice, with myself, I no longer try to emulate these people. I have my own style and signature sound that I've become comfortable with. I'm sure I can speak for a lot of singers when I say it took time for me to be ok with my voice. Here's an example… the first time you heard your voice… let's say, a recorded phone call or if somebody shot a video of you. Do you remember how that sounded? It scared the hell out of you, didn't it? It did me. I was like, "I sound like THAT?" I wanted to puke.
Andrew: What were some of your earliest gigs?
David: I was a bit of a late bloomer. I really didn't join my first band until I was 23. Prior to that, I was in the Marines. So, in the late '80s, I started fronting bands in the Boston area. I realized very quickly that I had something good going on because I was always busy. Boston had a great music scene in the '80s and '90s: Bunratty's, The Middle East Café, The Channel, The Rathskeller, Orpheum, T.T. the Bear's, and the list goes on. It was an amazing time for me during my college years because it was all about rock 'n' roll and records.
All images courtesy of Cipster PR/David Reed Watson
Andrew: Take me through the formation of A Rising Force.
avid: Leni got asked to join the Twin Cities band Dare Force, but after being mentally abused by the guitar player, he took the bass player and drummer and created A Rising Force. He had already written a couple of dozen songs for an album, and they decided to find a frontman, and they landed a record deal. It happened pretty quickly, really. The first singer, Mark – who is great, by the way – needed more time with his family and his other band, so he graciously handed over the keys to me. It was perfect, really. I mean, Leni meant for this next album to be a bit heavier and when Mark decided to part Leni already had the type of vocalist in his head. He wanted a John Bush type of singer, so he got me. I was honored to step up to the plate. To be quite honest, my girl and I were in the process of moving to Arizona, so the timing could not have been better.
Andrew: Let's dig into your newest album, Eclipse. What are the origins?
David: Again, Leni had a lot of the material already written. He handed me what he had and told me to make it my own. So, with a few minor changes lyrically – and I mean that they were minor – just to suit my voice. And with a couple of other additions lyrically with "Star" and "Trail of Tears," we had an album. Eclipse is what it is; it's a total or partial obscuring of one body over another. The second album is just that over the first; a shadow, or darker aspect, if you will. That's why it's a bit heavier, albeit a brand-new band.
Andrew: From a songwriting perspective, how have your collective experiences affected your music?
David: My lyrics are my diary. They are the way I express my true raw feelings. When I'm not writing or performing, I'm a bear to be around. Ask my better half; she'll tell you. [Laughs]. Leni and I write very much in the same vein. We are observers in one way; we see the world as it is and have no problem calling it as we see it. I think it's easier to cope with the world by writing it all down; plus, I really want to change the world for the better. Sounds silly saying it, but it's true. I've been saying this for years, and now I have a vehicle to get the message out.
Andrew: What themes would you say are best represented in your music? Why are those themes important to you?
David: Again, I want to change the world. I've had the opportunity to travel around the world. When I was in the Marines, I saw more countries by the age of 23 than most people do in a lifetime. I got to go into the Great Pyramid of Giza, run with the Bulls in Spain, meditate at Stonehenge, and repel off of mountains in Korea. I could tell you stories, and I will; just listen to my lyrics. [Laughs]. Seriously though, no matter where I went in the world, there was a common theme. Everybody wants to be loved. Everybody wants to feel like they matter. Once you see these similarities, it changes you. I want that to come through in my words, through my voice. So, in a nutshell, a running theme in my lyrics is that of unity, commonality, and respect for another human being's journey.
Andrew: How about the production mixing side of things? How were the final sounds honed in?
David: We went to Winterland Studios here in the Twin Cities area and had Brian Bart at the control board. We recorded it live. We set up the drums, guitars, and bass in one room and me in a vocal booth where we could all see each other. We did a few takes to warm up, and then, boom, we ran through the songs as we did at rehearsal. That's the best way to record; live, raw, and emotional. It's a winning combination. After laying down those tracks, we headed over to my home studio to do some of the vocal overdubs, backing vocals, and whatever else we thought we could add-in. Initially, we were only going to use my vocals as scratch tracks at Winterland, but I figured I was planted in front of a Neuman U87; I might as well take advantage of having that and saving us a few bucks as well.
Andrew: Will the material get any time on the live circuit?
David: This story has just begun. Clubs are opening up, and tours are happening again. We played these songs off of the new album at one of the local clubs to test the waters. Nobody threw tomatoes at us, so I guess they passed the test. [Laughs]. We just played them to a few sold-out shows with Tesla this past month, and again – no tomatoes. Initially, we were going to throw in a few cover songs, but since we have two albums worth of material, we don't need any covers, and the original songs are really making a hit. I mean, already, I'm watching people singing the lyrics! I think that's a good start.
All images courtesy of Cipster PR/David Reed Watson
Andrew: What needs to happen for you to remain vital and take the next step in your career?
David: Touring is imperative. We've got to get this out to the masses. More videos from the album will be coming soon. We have our song "Believe" on YouTube, sitting around 67K plays so far. And we're already starting the writing process for the third album.
Andrew: How do you go about self-marketing your music? Do you feel that's easier or harder these days?
David: We hired our own PR agent and radio and record rep to move us forward so that we could focus on the music and performance. It really makes things easier having all of this in place. I wish I would have made this kind of investment when I was younger. The ego tells you that you are great and that people will listen to you or find you if you're great but that is not the case. Having these entities in place changes the game.
Andrew: Where do you see yourself in ten years?
Ten Years? I can't see where I'm going to be in ten days. [Laughs]. Seriously though, in ten years, I expect to be on the 10th or 12th A Rising Force album, touring still and playing sold-out shows.
Andrew: Does the lack of revenue through streaming services scare you?
David: No. I mean, I wish that we could make money through that but what has happened since record companies dissolved is that it has weeded out. So now, people who really love music and who can really work hard from those that just want to be rock stars. Those days are over. Being on an indie label has always been better in the long run. Majors only cared about one thing, and that's money. Having said that, we are under the umbrella of a major label – Sony/Universal – but seriously, I'm not sure it matters, really. If the music is good, and you can get it out there somehow yourself, you have more control of your future.
Andrew: What's next for you in all lanes?
David: One of my favorite books that I go back to time and time again is The Road Less Traveled by M. Scott Peck. I've never liked jam-packed highways and congestion. I've always enjoyed taking the route that nobody dares go down. Fear is a killer, so in that respect. The road is wide open!
All images courtesy of Cipster PR/David Reed Watson
– Andrew Daly (@AJDWriter88) is a contributing writer for Metal Castle and may be reached at andrew@vinylwriter.com