Dave Grohl Reveals A Weird Story From Post Malone's Nirvana Tribute Night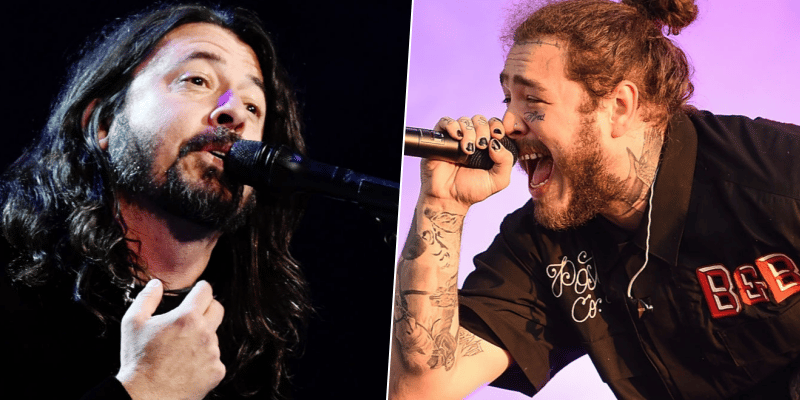 Former Nirvana drummer and current Foo Fighters lead vocalist/guitarist, Dave Grohl, spoke to ALT 98.7 radio station and revealed a weird story he lived during Post Malone's Nirvana Tribute night.
When he was asked if he saw Post Malone's special tribute night, Dave Grohl said it was weird because he got messages about the event repeatedly while he was writing some stories for his "Dave's True Stories" Instagram page. He also praised Post Malone for his works and said he is great.
"It was so weird, because I was writing… I started this Instagram page called 'Dave's True Stories', because I thought, 'Well, I just wrote a whole record. I don't wanna write music. And I don't really know what else to do, so I'll just write all these stories.'
"So I'm sitting there writing one of these stories out, and someone said, 'Hey, Post Malone is live on YouTube right now doing a whole set of Nirvana covers.' And I've met him before. He's really nice; he's really cool. I've met his dad; he's cool too. So I was, like, 'Oh, that's kind of cool. I'm in the middle of writing something.'
"And then I started getting hit with texts, people texting me, like, 'Yo, are you watching this Post thing?' And I'm, like, 'No, I'm writing right now.' They're, like, 'It's pretty good.' I'm, like, 'Really?' So I keep on writing. Another text comes in, 'Dude, are you watching this Post Malone thing?' And I'm, like, 'No.'"
While continuing his words, Dave said that he impressed Blink-182 star Travis Baker's drum performance. He added that the whole musical sounds great.
"So finally I tuned it… I started watching, and first of all, watching Travis play the drums to those Nirvana songs, I was honored — I thought that was super cool. More than the sound of it and more than the chords and whatever, it just sort of felt good. To me, it didn't feel weird. They were killing it.
"So I watched a bunch of it. I was, like, 'That was really cool.' I don't get to see other people do Nirvana songs often, and he seemed perfectly comfortable with it, and it sounded great… Even the die-hard Nirvana people that I know were, like, 'Dude, he's kind of killing it right now.'"
On April 24, 2020, the American rapper Post Malone appeared with a 75-minute-long live stream on YouTube and performed Nirvana songs, which includes the favorites "Come as You Are," "In Bloom," "Lithium," and "Heart-Shaped Box," for the raise money for the COVID-19 Solidarity Response Fund for World Health Organization.