Chris Slade Says AC/DC Was Auditioned By Big Drummers That Their Bands Had 'No Idea About That'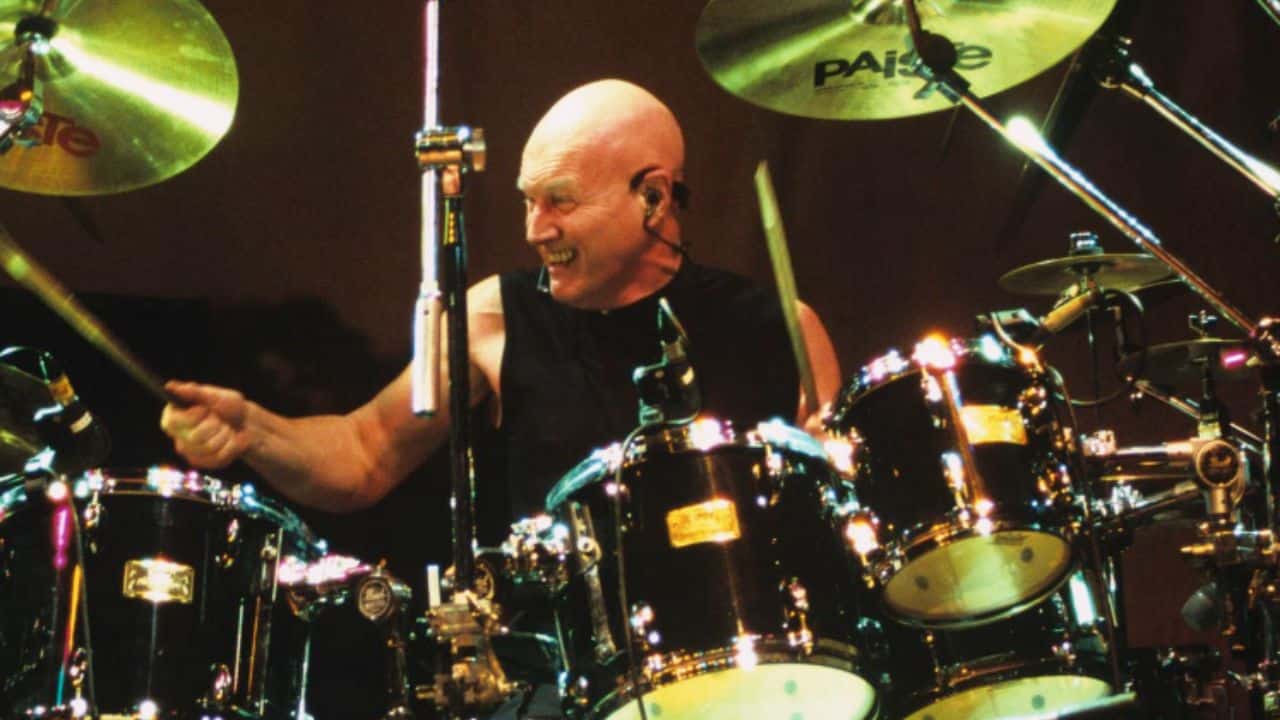 Former AC/DC drummer Chris Slade has conducted a brand new interview with the Ultimate-Guitar. In the interview, the drummer talked about the process of joining the band, his function in the band, and made striking statements.
AC/DC is a Sydney-based heavy metal band formed in the early 70s by the Young brothers Malcolm and Angus. AC/DC has made eighteen studio albums and numerous tours in the nearly 5-decade period it has been active.
Angus Young has been the band's only permanent member while AC/DC has changed its lineup many times. The band has only worked with 8 different artists in the position of drummer to this day and one of them is Chris Slade.
In his five-year AC/DC career, Slade has only appeared on The Razors Edge album, which has become one of AC/DC's most commercially successful albums. The album, which consists of 12 tracks and more than 46 min listening time, has sold more than 12 Million copies worldwide.
Anyway, recently in a brand new appearance with Ultimate-Guitar, Slade made some shocking comments about AC/DC audition in 1989. At first, the drummer revealed how he heard the auiditions.
"Well, I was working with Gary Moore for that year," he recalls. "Around this time, Gary had gotten a new manager named Stewart Young, who was also AC/DC's manager. So, I heard about the auditions, and since we had the same manager, well since Gary Moore had the same manager, and I was playing with Gary, I got a chance through him. I knew about the audition, I asked Stewart Young, and so I got a chance to audition."
Chris Slade Admits There Were Big Drummers Auditioned For AC/DC Without Their Band's Knowledge
After 23 years, Slade has revealed information that might shock some fans. At the audition for the role of drummer in AC/DC in '89, many artists who took part in big bands participated without their bands knowing. In the continuation, he said that he received calls not to reveal who they were.
"As it turns out, I was the 100th drummer to audition for AC/DC at that time," he continued. "I didn't know this at the time, but they had tried out 99 other drummers before me. I won't say who the others were because some of them were in big bands, and still are, those bands have no idea their drummer was trying out for AC/DC.
"So, I won't say who, but it was a big deal. It was really nuts because these other drummers would phone me up, and say, 'Chris, listen, please don't tell the other guys in the band that I've tried out. If they find out, they'll throw me out.' I mean, I see both sides of it. Why wouldn't the band be mad, but also, if you're in that spot as a drummer, and AC/DC calls you, how can you not go for it? I will say this though, the list was full of names that you wouldn't believe. I tell you this, you simply would not believe it.
"It didn't matter what band they were in, they all wanted to play for AC/DC. Even though they've they were down in the ratings, it was still a premier gig. So, with all that being said, I was very pleased that they chose me, and that I got the gig."
Chris Slade Mentioned Axl Rose's Unique Performance With AC/DC
Back in 2021, in an interview with VW Music former AC/DC drummer Chris Slade recalled the band's singer Brian Johnson's parting ways with the band due to his hearing issues and touched on how the singer was upset after his leaving.
When the interviewer asked how AC/DC decided to hire Axl Rose when Brian Johnson left the band, he said that Brian was doing great but added that he felt very bad because of the issue.
"Yeah," he says. "Well, for me, it was quite a long time. Me and my Mrs. had to spend a lot of time in Miami, Florida. Towards that break, which ended in Florida, Brian was really unhappy with what he was doing.
"And I could hear him perfectly; I was using in-ears and I could hear the band, and him, perfectly. To me, it didn't sound as bad as he thought it was. I kept saying to him, 'Brian, you're doing fine.' But he didn't like it.
"I don't know the circumstances, but all I knew is that Tim the tour manager said, 'Brian's not here anymore. We just gotta hang around.' I went, 'Oh, OK.' It took some time; maybe a month or more. Then we went to Atlanta, GA and there was some auditions."
Later, he also mentioned Axl Rose and his unique performance. He expressed his mesmerizing in front of his performance and said that he was great.
"I said to Dick Jones, 'What's tomorrow? Is it a day off?' He said, 'No. It's Axl Rose tomorrow.' I went, 'What!?' I couldn't believe it; I heard all the stories about Axl," the musician adds.
"The next day, there he is. I shook his hand and thought, 'This guy's not bad at all,' and he was telling jokes. And then he sang and I didn't know he had that voice.
"I really had no idea he could sing like that. It was tremendous from the start. Within the next day, he was in the band."