Alice Cooper's Nita Strauss Reveals The Secret Of Become A Better Musician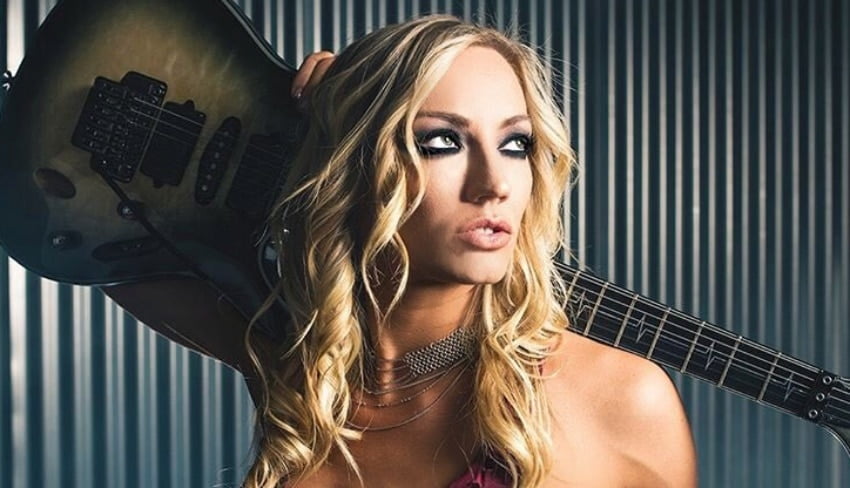 The current touring guitarist of Alice Cooper, Nita Strauss, who was the first female signature artist with Ibanez guitars, has just sent a new letter through her social media account and revealed the secret of how to become a better musician.
In the social media statement she shared, Nita Strauss told said that when she was on tour, she was dreaming about being at home, but when she was on home, the situation has reversed.
"When I'm on tour, I dream about being home. When I'm home, I dream about being on tour. It's kind of a cruel cycle we go through as musicians, isn't it? You either get to do what you love most in the world, but away from home, significant other, friends, family, pets, missing birthdays, anniversaries, stability, routine… Or you are home and get to have those wonderful, normal things but not one of the things that makes you feel most alive."
She also touched why it was writing "always on tour" on her social media account's biography.
"Playing guitar is all I've ever wanted to do with my life. There's a reason my IG bio says 'Always on tour…' I haven't been home for more than a few months at a time since I was in tenth grade. And while I'm playing a lot at home, using this time to write an album, release an instructional course, do live streams and keep super productive, nothing will ever compare to getting to do this out there on stage with you guys."
She continued: "I say something in every single one of my clinics when someone asks how to become a better musician: PLAY GUITAR IN FRONT OF PEOPLE. Playing shows might be nerve wracking at first, but iron sharpens iron. And once you can get past any initial nerves, that's the way to transform yourself from a good guitar player to a great one. And take away the travel, the different cultures, the food… that feeling of being on stage is like nothing else in the world.
"As the prospect of more time home gets more realistic, I feel like this is a moment I've been mentally preparing for for a while… because someday I AM going to step back from touring for a while to have a family of my own. In a way, this seems like a preview of what that might be like someday. It's harder than I thought it would be. Just random morning thoughts from a girl who can't wait to get back on stage."
In the comments of the photo, Nita Strauss and a fan's speech drew attention. While a fan named Richard Thompson mentioned the issue is similar to the military, Nita Strauss replied:
"I hear that!! Thank you for your service."
You can see the post shared by Nita Strauss below.