Alice Cooper Praises The Beatles Legend Paul McCartney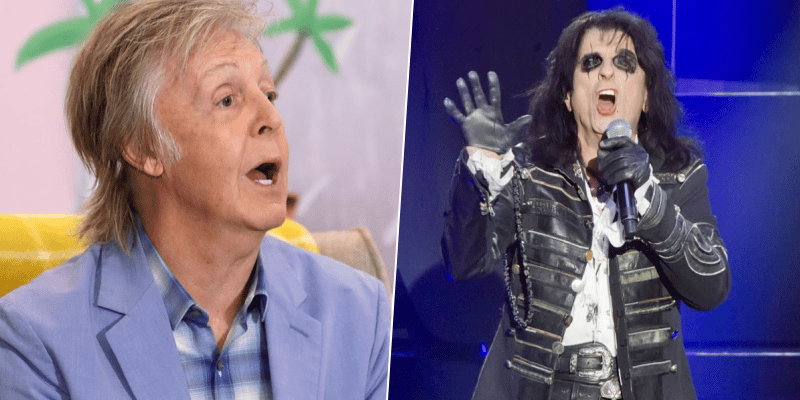 The legendary rock musician Alice Cooper guested on the recent episode of Halestorm star Lzzy Hale's Raise Your Horns With Lzzy Hale podcast and talked about his meeting with his heroes.
During a 5-hour interview, Alice Cooper, also known as The Godfather of Shock Rock, touched The Beatles legend Paul McCartney and said about him that he is the nicest person he ever met.
"I don't think I've ever refused an autograph or a picture to anybody – only because, to me, it's a compliment, the fact that they would actually want me to sign something.
"I draw the line with somebody who has seven of the same albums 'cause I know they're selling 'em. But I'll ask 'em right up front, I'll say, 'Are you supporting your family or your kids with this?' 'Yes, I am.' 'OK. I'll sign 'em.'
"But, honestly, leave the ego onstage. And when I get out in the public, every single day, Sheryl and I end up at the mall, whatever city we're in. I have a baseball hat on, sunglasses. If somebody recognizes me, sure – take a picture.
"I always heard, 'Never meet your heroes, 'cause you'll be disappointed.' That's not in the least bit true. I got to meet Sinatra, Elvis, The Beatles… every single one of them, the bigger they were, the nicer they were.
"They were always the nicest people, 'cause they didn't have to prove anything. And I said, 'If I ever get anywhere near that level'…
"It actually takes a lot of energy to be a jerk. And how awful to have to live with yourself if you're just walking around, going, 'Eh, I won't sign anything. Bleh.' I just go, 'C'mon!' That's always for the bands on their way up.
"But if you take a guy like Johnny Depp; Johnny is the nicest, sweetest, will sit and talk to anybody for two hours on a park bench. And when you get to see that kind of people, you realize that that's what you wanna be – you wanna be big and nice at the same time.
"McCartney – the nicest person you've ever met in your life. The Stones – nicest people you've ever met. And that's great. That's what you should strive for – is to have a great reputation."
Here's the interview:
https://youtu.be/VBJHXDF_IL0