AC/DC's Angus Young Admits His Admiration For Guns N' Roses Star AXL ROSE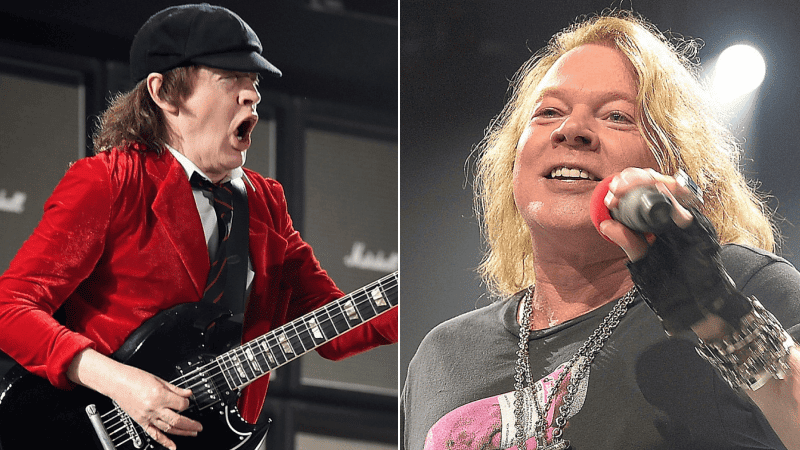 In a new appearance on RockFM radio station from Spain's El Pirata, Angus Young, the guitarist of the world-class rock band AC/DC, sent touching words for Guns N' Roses star Axl Rose once again and said that everyone appreciates that he did that.
As many of you guys remember, Axl Rose joined AC/DC in 2016 for the band's Europe and North America shows due to Brian Johnson's unexpected injury. At the time, the doctors told him that he faced a total loss of hearing if he did not stop touring immediately.
However, recently, Angus Young mentioned Axl Rose's special behavior and thanked him once again while making his recent appearance on a radio show. He made emotional comments about Axl Rose and admitted that it was a huge behavior.
"On our last tour, when Brian [Johnson] had his hearing problem, with the deafness in his ears, for us at the time, we had some dates and shows that we were committed to doing," he said.
"And it was a case of, 'We'll get through those shows," he continued. "But how do we go about that?' And Axl Rose, he had said to us, he had got a message to us, if he could help us in any way finish those commitments, if it didn't interfere with what his own project was, he would help us get through that."
He concluded: "So with Axl, he participated with helping us get through that tour, and that's something we'll always be grateful for, 'cause he'd done a really good job. So everyone appreciates that he did that."
Just a few weeks ago, AC/DC announced its reunion by releasing "Shot In The Dark" from the band's long-awaited album "Power Up," which will be released on November 13.