5 Things We Love About KISS's Creatures of the Night 40th Anniversary Box Set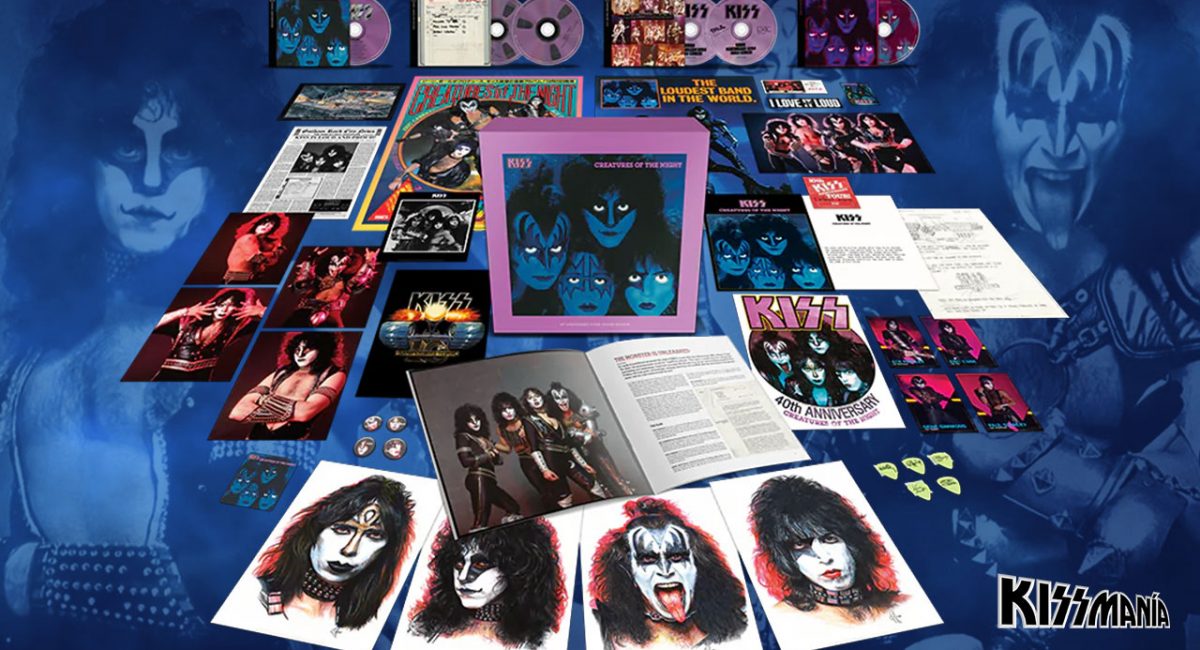 All images courtesy of Funhouse Media/Getty Images
After months of waiting, KISS's Creatures of the Night 40th anniversary box set is upon us, and boy, it is a doozy.
In the wake of the release, fans have rejoiced, basking in the glory of goodies delivered alongside once-lost outtakes, unheard demos, and long-awaited live sets. If you're a longtime fan of KISS, the Creatures box set has it all and more. And if you're new to KISS, the Creatures box set is a perfect entry point to the band, sending you directly into one of the most convoluted yet magnificent eras of KISS's history.
For the uninitiated, or those balking at the price tag, let me ease your worries with 5 things we love about KISS's Creatures of the Night 40thanniversary box set.
5) Paying Homage to a Lost Classic
The backstory of Creatures of the Night is as compelling as any in KISS's nearly 50-year history. Be it the infighting, commercial indifference, departure of Ace Frehley, or induction of Vinnie Vincent, there's no doubt that the Creatures era features some interesting tidbits. If we dial back to its release, Creatures of the Night was met with deafening silence rather than a roar of approval.
But in the years since, the retrospective love for Creatures has grown, and boxsets like the one that KISS has put together only drive home that fact. It's good to see KISS sticking to their guns and getting behind the album. Moreover, it's good to see fans heaping on support.
4) The Packaging Ain't Half Bad
If you know anything about KISS, you'll know that they're rarely outdone. In the hive mind of Gene Simmons and Paul Stanley, the bigger, the better. KISS more or less set the template for Creatures' 40th reissue with its Destroyer 45th-anniversary set, but that doesn't take away from the former's grandeur.
Regardless of If you choose the vinyl or CD set, the box is loaded with goodies ranging from stickers, posters, replica tour books, iron-on patches, and of course, music—lots and lots of wonderfully mastered music, which I'll hit on later.
All images courtesy of Funhouse Media/Getty Images
3) Exclusive Interviews Tell a Tale as Old as Time
One of the most incredible additions to the Creatures 40th-anniversary box set is the hardcover book that includes interviews with just about every person remotely involved with Creatures of the Night. What's more, not only did they interview these people, but they framed the enter period of KISStory beginning with the fallout due to the failure of The Elder and then running the gamut through Creatures' promotional jaunt.
You've got interviews with Paul Stanley, Gene Simmons, Ace Frehley, and archival information from Eric Carr. And it was a nice touch to sit down with producer Michael James Jackson (before his death). The Creatures box is a revelation for fans who don't know the history. And for diehards, there's a ton of new info here, and it's all consolidated into one place for the first time ever.
2) A Rare Moment of Glory for Vinnie Vincent
There's a longtime contingent of KISS fans who feel that Alive III should have been recorded during the Eric Carr era, specifically while Vinnie Vincent was in the band. And while that's a bit unfair to Bruce Kulick, Vincent's era is uber-interesting and musically unique.
It seems that Simmons and Stanley were listening because the Creatures box comes with not one but two concerts from the Creatures of the Night/10th Anniversary Tours. To finally be able to bask in these rare soundboards and properly hear what KISS sounded like post-Ace Frehley was a treat for this member of the KISS Army.
1) Outtakes, Alternative Versions, and Demos
There are a ton of amazing things to behold within the Creatures box. We can revel in extras, trinkets, and decorative items, but ultimately, it's about the music. To that end, the Creatures box set delivers in spades, with several discs of unheard music. Be it the origins of the Killers tracks, demo versions of existing tracks, or never before heard outtakes, the Creatures box is jam-packed with hours of essential music.
What kills me is how good some of these outtakes are here. So much so that I can't help but wonder how they didn't end up on a KISS record instead of some of the tracks that did. Hearing songs like "Betrayed," "Deadly Weapon," and "Feel Like Heaven" only drives home my assertion that with its back against the wall, KISS had entered its most creative period yet during this era.
All images courtesy of Funhouse Media/Getty Images
– Andrew Daly (@AJDWriter88) is a contributing writer for Metal Castle and may be reached at andrew@vinylwriter.com