The Top 10 Drummers That Neil Peart Named His Favorites Ever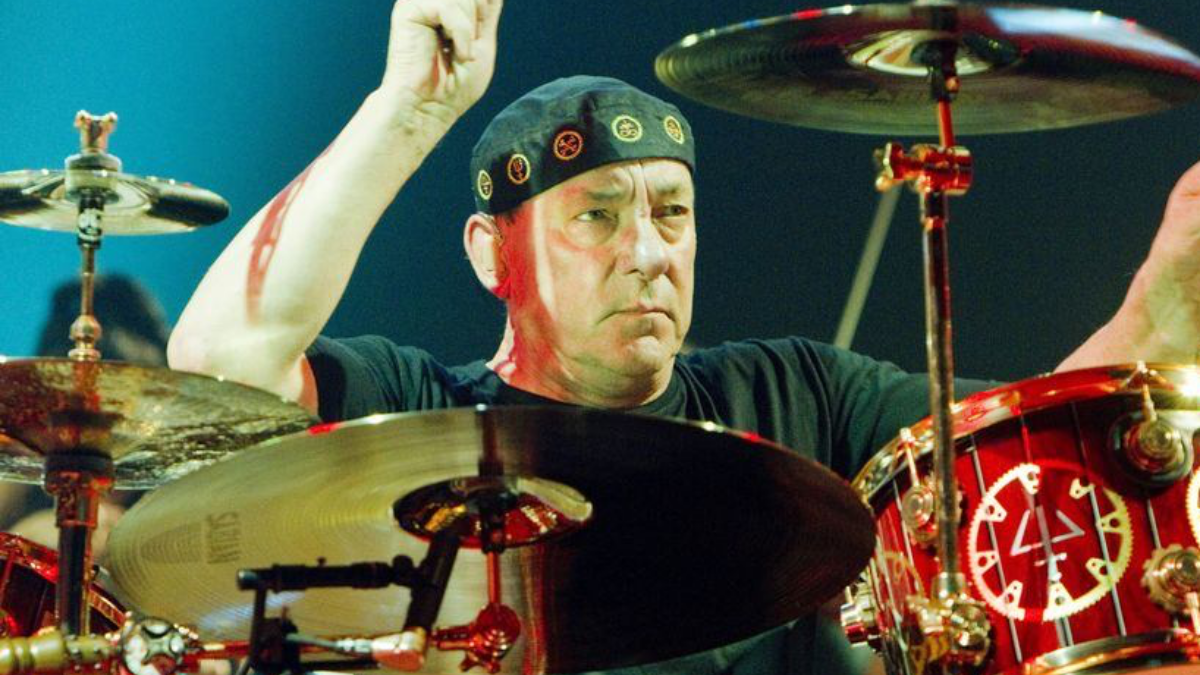 Neil Peart, the legendary drummer and lyricist of the iconic Canadian rock band Rush, was a true virtuoso behind the kit. His impact on the world of music is immeasurable, and his contributions to rock drumming will be felt for generations to come. In this article, we will detail what made Neil Peart a great drummer and who influenced his musical style.
Peart joined Rush in 1974, just in time for the recording of the band's second album, Fly by Night, which marked the beginning of his remarkable tenure with the group. His intricate and complex drumming style quickly set him apart as one of the most innovative and technically proficient drummers in rock history. He was inducted into the Rock and Roll Hall of Fame in 2013.
Peart was also a prolific lyricist and penned many of Rush's most memorable songs, including Tom Sawyer, The Spirit of Radio, and Limelight. His lyrics often touched on themes of individualism, personal freedom, and the human condition, and his thoughtful and introspective approach to songwriting set him apart from his peers.
Tragically, Peart passed away on January 7, 2020, after a long battle with brain cancer. His legacy as one of the greatest drummers and lyricists of all time will live on, and his influence on the world of music will continue to inspire generations of musicians for years to come. But in this piece, we will look at what made Neil Peart one of the greatest.
So, let's learn which drummers Neil Peart named his favorites of all time.
The 10 Drummers That Neil Peart Picked As His Influences
Over the years, Neil Peart appeared in various interviews to reveal his favorite drummers that influenced his playing. In 1980, he even opened up to Modern Drummer about his influences while he was starting to climb his musical career. He also revealed his passion for John Bonham in his appearance with Anatomy of a Drum Solo in the past.
However, let's learn about Neil Peart's favorite drummers of all time.
#10. Phil Collins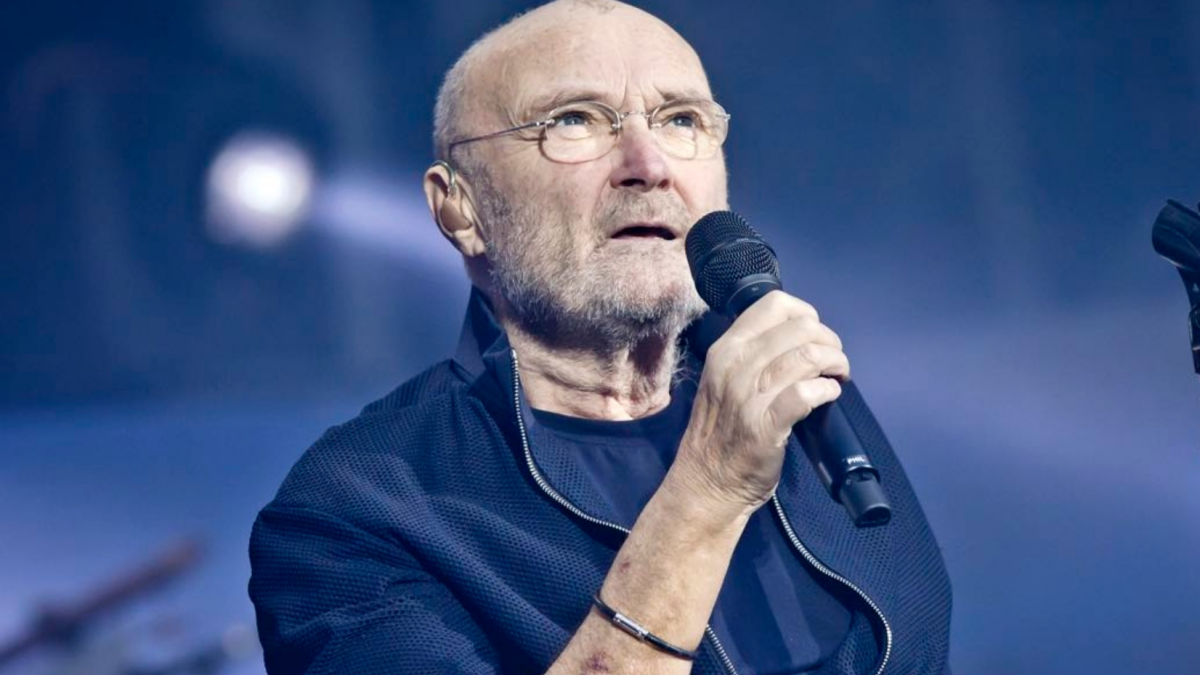 Phil Collins is a legendary drummer whose iconic beats have driven some of the most memorable songs of the past few decades. Picked as an influential drummer of all time by Neil Peart, Collins began his music career as a drummer for the progressive rock band Genesis in the early 1970s.
Collins' musical style is characterized by his impeccable sense of timing, crisp and precise snare hits, and ability to infuse emotion into every beat. He is equally at home playing fast, complex rhythms or slow, groovy beats, and his versatility has made him one of the most sought-after drummers in the world.
In addition to his work with Genesis, Collins has also enjoyed tremendous success as a solo artist. His signature song, In the Air Tonight, is an undeniable classic, with its haunting drum intro and powerful lyrics that have resonated with listeners for decades.
Neil Peart sent praising words for his favorite drummer Phil Collins during his interview with Rhythm Magazine in 2011. Recalling the time he saw Phil Collins' performance with Genesis back in 1974, Peart admitted he was great.
"Phil Collins was an enormous influence on my drumming in the '70s," Peart says.
"In the summer of '74, just before I joined Rush, I attended one of the shows on that tour (when Genesis supported Selling England By The Pound album), and it was simply a galvanising performance, by him and all of that excellent band. The music from that night's show echoed in my head long after, while Phil's vocal performance on 'More Fool Me', was a harbinger of a whole other career to come."
#9. Nick Mason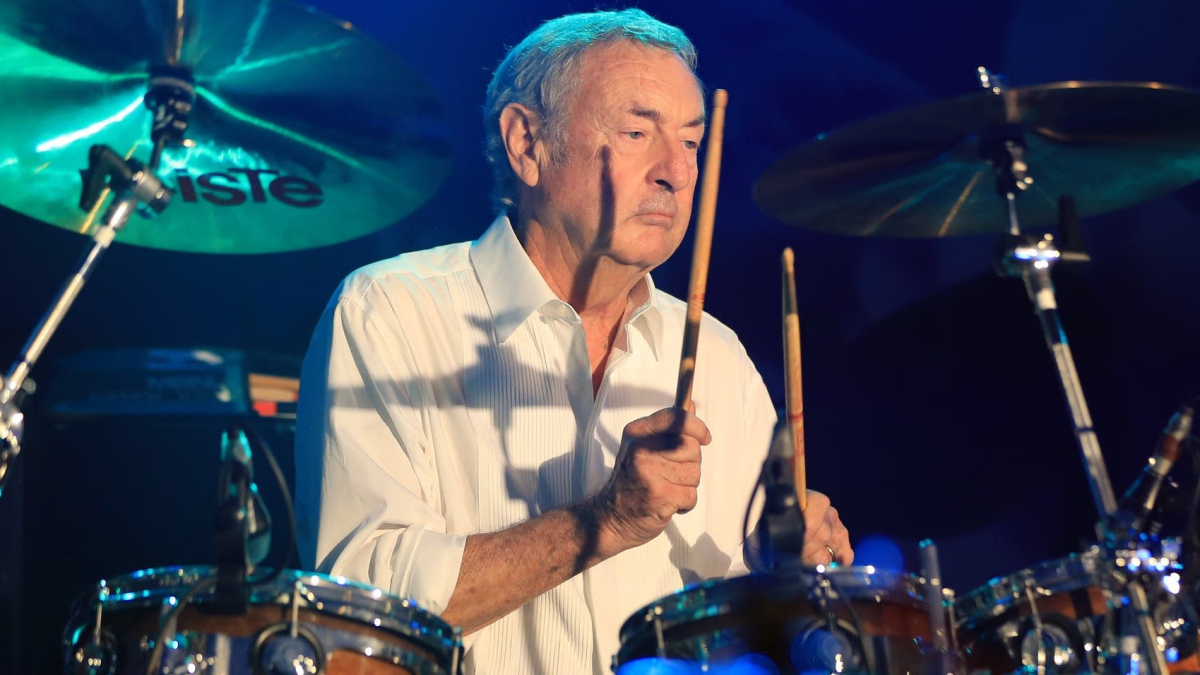 Nick Mason was also the one that Neil Peart named one of his favorites of all time. With over five decades of experience behind the kit, Mason has become a household name, recognized for his incredible skill and contribution to the evolution of rock music.
As one of the founding members of Pink Floyd, Mason has been integral to the band's success, helping to craft some of their most iconic songs and albums. He played a steady and precise rhythmic sound, which serves as the backbone of Pink Floyd's distinct voice. From the haunting rhythms of Money to the ethereal beats of Echoes, Mason's drumming has been an essential part of the band's signature sound.
Mason's creative drumming style is perhaps best exemplified in his use of unconventional percussion instruments, including cowbells, gongs, and even kitchen sinks. This experimentation with different sounds and textures has become a defining characteristic of Pink Floyd's music and has cemented Mason's reputation as a pioneer of progressive rock drumming.
In 1980, Neil Peart talked about Nick Mason's simplistic but tasteful style.
"Nick Mason from Pink Floyd has a different style," Peart says. "Very simplistic yet ultra tasteful. Always the right thing in the right place. I heard concert toms from Mason first, then I heard Kevin Ellman who put all his arms into it. You learn so many things here and there."
#8. Michael Shrieve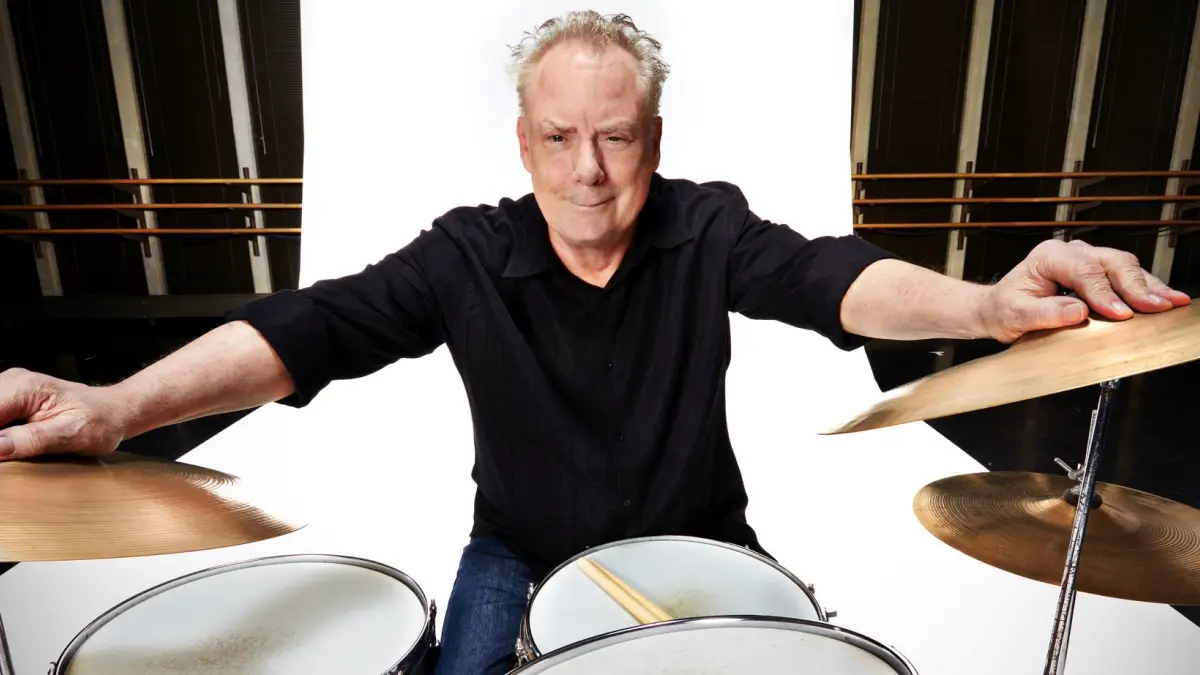 Michael Shrieve is an American drummer who has made a name for himself in the world of rock music with his technical prowess and innovative playing style. He first gained widespread recognition as the drummer for Santana, one of the most influential bands of the late 1960s and early 1970s. It was with Santana that Shrieve's unique playing style truly emerged, incorporating elements of jazz, Latin music, and rock into a dynamic and complex sound that captivated audiences around the world.
After leaving Santana in the mid-1970s, Shrieve went on to collaborate with a wide range of artists, including Steve Winwood, Mick Jagger, and Klaus Schulze. His contributions to musicians and bands were honored with an induction to the Rock Hall with Santana in 1998.
In 2012, there was a moment when Neil Peart talked to Michael Shrieve. During his appearance on Shrieve's podcast, Peart found a chance to mention how Shrieve's work in Santana influenced him.
"I was in early cover bands growing up in the mid- to late-60s when the first Santana album came out at just the right time," Peart says. "And the style that you really is pioneered, that you adapted from those beautiful [jazz] sources into those first few Santana albums, and moved me [then]—and the famous Woodstock solo, of course. But I started doing that, playing a solo, in 'Soul Sacrifice,' in the band I was in, with the snares off…"
#7. Keith Moon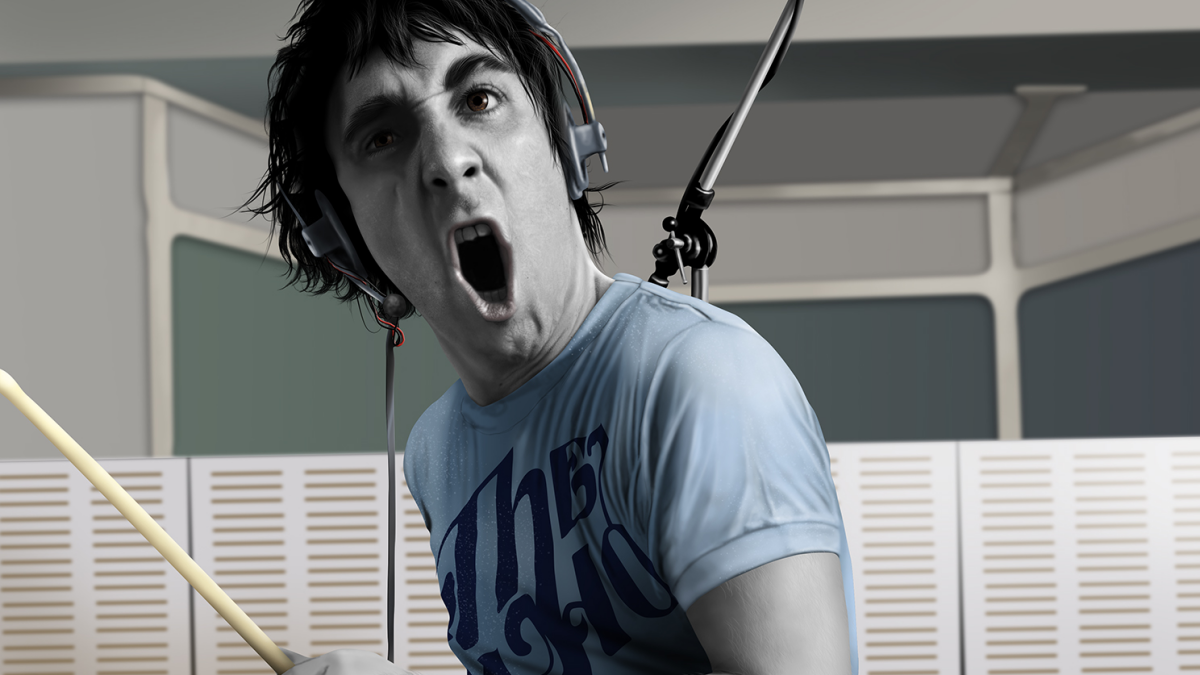 Known for his explosive playing style and larger-than-life personality, Keith Moon was a legendary drummer came to world prominence with the iconic rock band The Who.
Moon's drumming was characterized by its sheer power, speed, and unpredictability. Moreover, Keith Moon often incorporated unorthodox techniques and used his entire kit to create a frenzied. His signature move of throwing sticks and cymbals in the air mid-performance became a staple of The Who's live shows, earning him the nickname Moon the Loon.
However, the late drummer's contributions to The Who extended far beyond his drumming prowess. His wild antics and rebellious attitude epitomized the spirit of rock and roll, and he quickly became known for his extravagant partying and destructive behavior. Moon's wild escapades off stage often made headlines and contributed to his enduring status as a rock and roll icon.
In 2014, Neil Peart praised his influence Keith Moon, recalling a golden memory.
"When I was 17 years-old or so, I went to see The Who at the Old Coliseum," he said.
"I was with a bunch of friends and bandmates in a van [and we were listening to 'Tommy' by The Who]," Peart told The Hour. "On the way home, one of the guys said, 'Do you think you could ever had that kind of stamina?' [Laughs]. I said, 'I don't know.' I was laughing about that now [after] all these years."
#6. Bill Bruford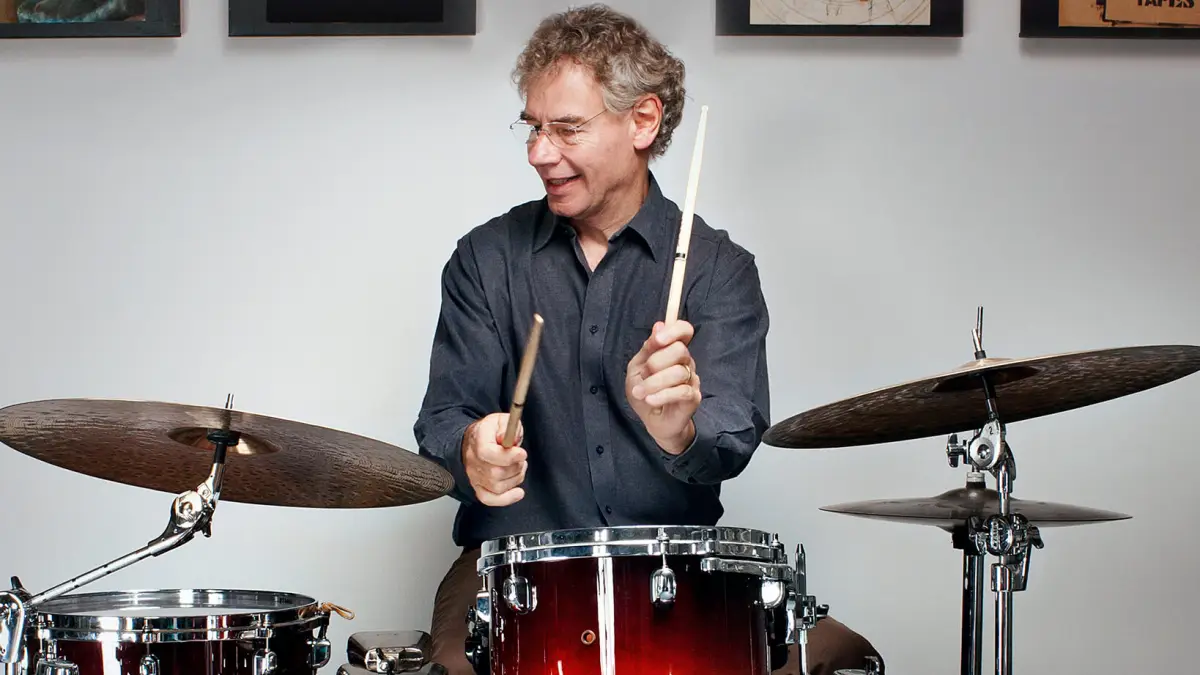 In the past, Neil Peart also picked bill Bruford as one of his influences. Born in 1949, Bruford has made a significant impact on the world of progressive rock music with his exceptional technical skills and unique playing style. He began playing the drums at an early age and quickly established himself as a talented and versatile musician.
Bruford's career took off in the 1970s, during which he played with the progressive rock band Yes. He contributed to the band's sound with his intricate and inventive drumming, which combined elements of jazz, funk, and classical music. Bruford's playing was an integral part of Yes's success, particularly on hits such as Roundabout and Close to the Edge.
Focusing on his style, Bruford's playing is characterized by his use of unusual time signatures and unconventional techniques. He has inspired many other drummers to experiment with new sounds and approaches. Bruford has also been recognized for his technical proficiency and his ability to blend different musical styles into cohesive sound.
When Neil Peart reviewed Bill Bruford's autobiography, he praised the drummer by touching on the way he influenced his playing.
"Bill Bruford found early success with the English rock band Yes, early favorites of mine, and his playing on their first five albums was a strong influence on me in the early 1970s," Peart said. "As a struggling nineteen-year-old drummer recently moved to London, working behind the counter of a souvenir shop on Carnaby Street, I would pound the Sweda cash register in time with Bill's drumming on Time and a Word and The Yes Album."
#5. Ginger Baker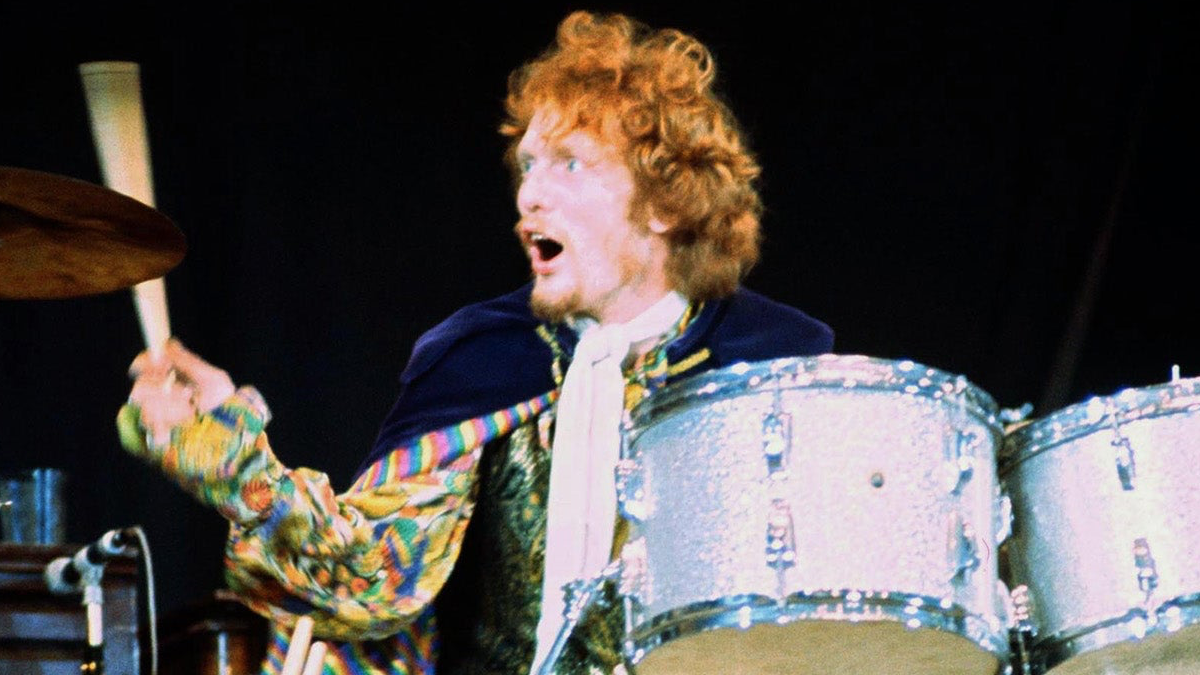 Ginger Baker, the late drummer of Cream, was a musical virtuoso whose explosive playing style revolutionized the world of rock and roll. Neil Peart named him one of his favorite drummers of all time.
The drummer gained international fame as a member of Cream. His place in the roc-innovative approach to drumming helped make the band one of the era's most influential bands, with hits like Sunshine of Your Love and White Room cementing history. In addition, his playing on tracks like Toad showcased his technical prowess, while his improvisational skills were on full display in the band's legendary live performances.
In 2009, Neil Peart admitted to Rolling Stone magazine that he emulated Ginger Baker's techniques. According to him, Ginger Baker's style influenced numerous rock drummers in the past.
"His playing was revolutionary, extrovert, primal, and inventive. He set the bar for what rock drumming could be. I certainly emulated Ginger's approaches to rhythm — his hard, flat, percussive sound was very innovative. Everyone who came after built on that foundation. Every rock drummer since has been influenced in some way by Ginger — even if they don't know it."
In 2020, Rock and Roll Hall of Fame honored both Neil Peart and Ginger Baker with a special tribute.
#4. John Bonham
Neil Peart also named John Bonham one of his favorite drummers ever. Known for his explosive playing style and thunderous beats, Bonham was a true master of his craft.
Bonham started playing drums at a young age and quickly made a name for himself in the local music scene. He was a notable member of the rock band Band of Joy alongside Robert Plant in the mid-1960s. After playing a few years together, Plant introduted Bonham to Page. His hard-hitting, no-nonsense approach to drumming made him join Led Zeppelin in 1968. With Bonham behind the drum kit, Led Zeppelin went on to become one of the most successful and influential bands in rock history.
John Bonham played powerful drums on stage. He also incorporated intricate rhythms and patterns into his playing, setting him apart from other drummers. Bonham's unique approach to drumming can be heard on classic Led Zeppelin tracks such as Whole Lotta Love, Kashmir, and Stairway to Heaven.
In the past, there were moments both Neil Peart and John Bonham respected each other.
"When I was starting out, very young, John Bonham and Led Zeppelin were new in those olden days, and John Bonham did always the big triplets with his giant bass drum," Peart told Anatomy of a Drum Solo. "I had two little bass drums at the time, so I just added those in and had kind of four-beat triplets as my variation on it. And then over the years, I found many ways to develop that, to apply it to songs outside of the solo."
Furthermore, John Bonham recalled first hearing Rush during his interview with Straight. The late drummer talked respectfully about Neil Peart.
"I went through the stage, after dad died, where somebody bought me '2112', and I was suddenly listening to this guy playing drums and going, 'Wow!'," Bonham recalls.
#3. Mitch Mitchell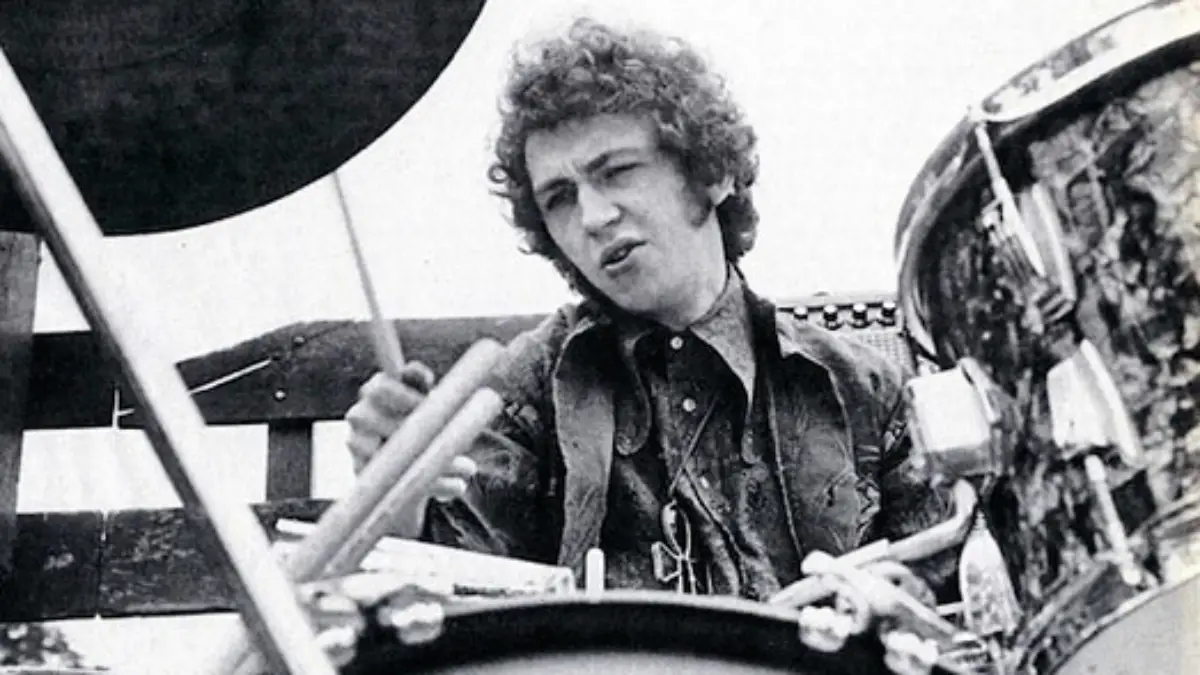 Mitchell first gained widespread recognition as the drummer for the Jimi Hendrix Experience, one of the most influential rock bands of the 1960s. It was with Jimi Hendrix that Mitchell truly came into his own, incorporating elements of jazz and funk into his drumming to create a unique sound that was both technically impressive and musically compelling.
Mitchell's skills as a drummer were not limited to the Hendrix years, however. He went on to collaborate with a wide range of artists, including Jeff Beck, Jack Bruce, and John Lennon. He also released several solo albums, showcasing his virtuosic drumming skills and his ability to blend different musical styles into a cohesive whole.
In 2003, Neil Peart called one of his influences Mitch Mitchell an innovative drummer. He admitted that hearing Mitchell's drum playing on Hendrix's Are You Experienced? was life-changing.
"One Saturday morning during my drum lesson at the Peninsula Conservatory of Music in St. Catharines, Ontario, I remember my teacher playing a record, then telling me, 'This changes everything,'" Peart recalls. "It was Jimi Hendrix's 'Are You Experienced?', with Mitch Mitchell's artful and innovative drumming.
#2. Gene Krupa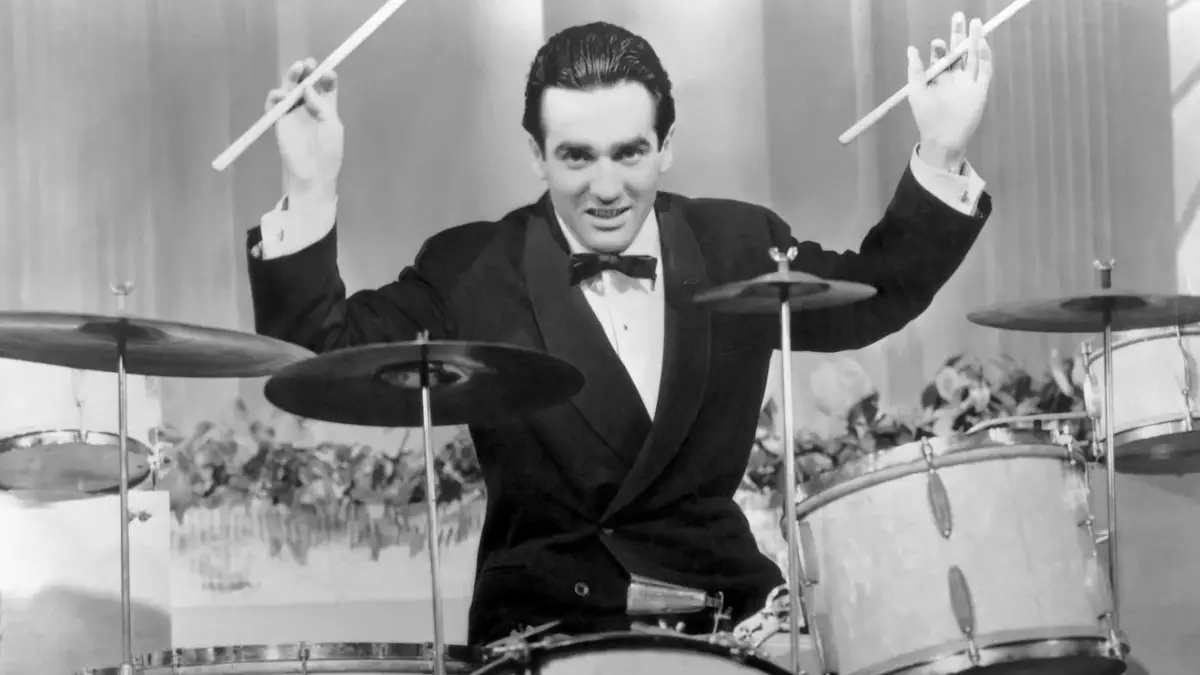 Gene Krupa was one of those giant drummers who influenced Neil Peart in many ways. He was an American jazz drummer who revolutionized the way drums were played and became a cultural icon during the Swing Era. The late drummer's interest in music was evident from a young age, and he began playing the drums professionally in the 1920s.
In music history, Krupa was one of the first drummers to use a full drum kit, and he pioneered the use of the bass drum and cymbals in jazz music. His playing was characterized by his use of complex rhythms and his ability to improvise and play off other musicians.
Revealing Krupa's influence on him, Neil Peart admitted watching the late drummer's movie when he was a young boy led him to pick up the drumsticks.
"The first time I remember feeling a desire to play the drums was while watching the movie 'The Gene Krupa Story,' at the age of eleven or twelve," he reveals. "The film's dramatization of his life and Sal Mineo's portrayal managed to make the idea of being a drummer seem exciting, glamorous, elegant, and dangerous."
#1. Buddy Rich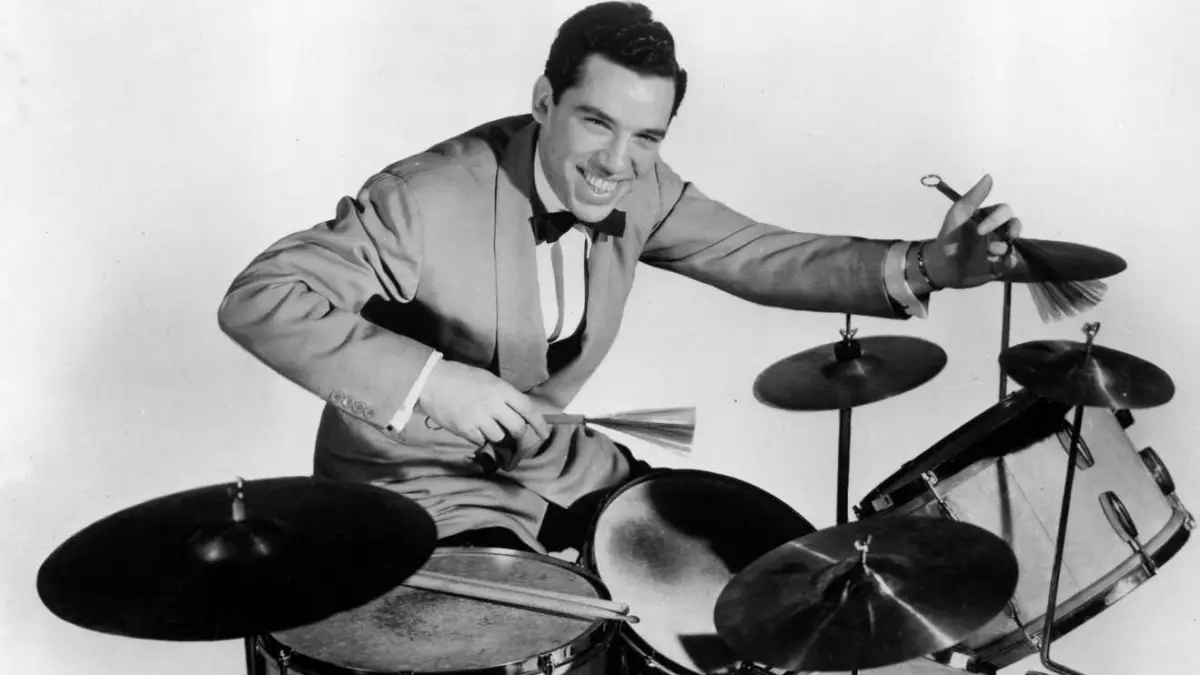 Rush legend Neil Peart named Buddy Rich one of his influences as well. Throughout his career, Rich played with some of the most influential musicians of his time, including Tommy Dorsey, Benny Goodman, and Harry James.
Buddy Rich was known for his ability to improvise and play in a variety of styles, from swing to bebop, and was equally adept at playing fast and complex rhythms as he was at playing soft and subtle ones. Rich's technical prowess on the drums was unmatched, and he was also known for his incredibly fast and precise playing.
Rich's career spanned over six decades, during which he played with some of the most renowned musicians of his time and won numerous awards and accolades. He passed away in 1987, but his legacy lives on as one of the most innovative and influential drummers in the history of jazz music.
In 2003, Neil Peart quoted Gene Krupa's meaningful words to praise his influence Buddy Rich.
"As Gene said about Buddy, 'There are all the great drummers in the world—and then there's Buddy,'" he recalls. "It would be a long time before I even began to understand what I was seeing and hearing when Buddy played, but eventually I would know as well as anyone why he was so revered."
Furthermore, there was a tribute album produced by Neil Peart in honor of Buddy Rich. It was named Burning for Buddy, Volume 1, and featured a lot of great drummers.
Neil Peart's Favorite Drummers:
Ginger Baker
Mitch Mitchell
Keith Moon
Buddy Rich
John Bonham
Nick Mason
Michael Shrieve
Bill Bruford
Phil Collins
Gene Krupa