The Time Pantera Got The Cops In Their Weird Drinking Games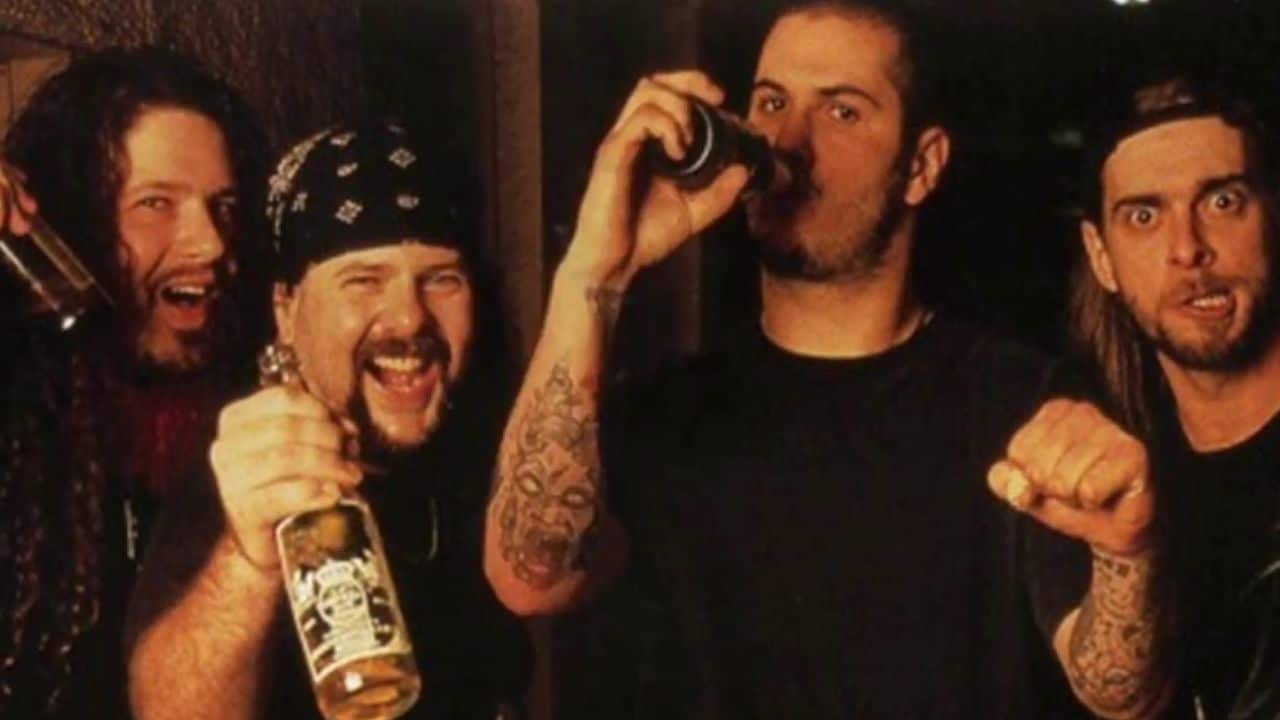 The surviving Pantera members Phil Anselmo and Rex Brown recalled the time they got the cops in their weird drinking games during the recording session of Vulgar Display of Power and said that they convinced one cop to play the game.
Pantera was a world-known heavy metal band formed in 1981 by the Abbott brothers, Vinnie Paul and Dimebag Darrell. Until 2003, they rocked the rock and roll community with its best-known line-up that includes Phil Anselmo on vocals and Rex Brown on bass. Throughout its 22-year career, the band released 9 studio albums, 2 live albums, 4 compilation albums, 4 video albums, and many more things.
In addition to their massive success, the band gave two different saddened news in two different times. In 2004, the band's co-founder and lead guitarist Dimebag Darrell was murdered by a fan during the band's performance at the Alrosa Villa nightclub in Columbus, Ohio. In 2018, Dimebag's brother and the band's drummer Vinnie Paul found death at his Las Vegas home.
As well as sad moments, there were many great moments in Pantera's history. One of those funniest moments had happened during the band's recording session of its sixth studio album, Vulgar Display of Power, which was released on February 25, 1992. At the time, the neighbors had called the police after the noisy drinking game Pantera played during the recording process of the album.
However, during a recent appearance on Revolver magazine, Phil Anselmo and Rex Brown detailed those moments that Pantera got the cops in their drinking games. At first, Phil Anselmo mentioned what the game was. According to him, the game was a little bit noisy.
"It was a game and there was this dead-end sign where – there was a studio right here, we would jam inside the studio, step outside of the studio, [there was a] little parking lot," Anselmo started.
"And we were at the very end of the dead-end street. And there was this dead-end sign at the end of the street.
"So, the game was: chug the beer, spin around, and hum it at the damn sign. I guess we we woke up some neighbors."
Rex Brown Says Pantera Became Friends With The Cops
Rex Brown chimed into detail the cops moment. Saying that they became friends with the cops, Brown added that they invited them to play the game. He then added that one of those cops joined them to play the game and hummed it at the dead-end sign that spray-painted X by Dimebag Darrell.
"Yeah, we got the cops coming out, and we became friends with them at a certain point, you know, they were just: 'We're tired of coming out here,'" he continued. "[So, we asked them] 'Y'all wanna do it?' One cop did this one time towards the end.
"Dime had even spray-painted a fucking X and, you know, little spot you stood in on the pavement in front of the studio.
"But you know, it's pretty much at that point – his old man had taken over. His dad was an engineer there for years, and that's where we grew up as kids."
Back in February 2021, Rex Brown had revealed what he did when Dimebag Darrell was murdered. According to him, he had to keep working instead of retiring or letting himself into depression. Adding that he kept himself busy every time, Brown had stated that he misses the camaraderie of playing with his bandmates in a room.
"After Dime got murdered, instead of going to someplace like freaking Wyoming or somewhere and get my head together, I had to keep working," he said.
"I moved out to California and I just used a different name, and I played on probably 50 records at Ocean Way [Studio] – that was our favorite room to work.
"I've always kept busy, and then Down came right after that, did that for another six years; and then Kill Devil Hill, and then finally about the end of that I've been doing this on the road for, damn, near 30 years.
"And I was just burnt, I mean, I got to get home and like – what does the grass feel like, underneath your toes, you know? My kids were about 14, I just said, 'I've got to take two years off.' And eight months later I was back in the studio somewhere.
"That's just always been my deal. Since then, I haven't been back on the road except for one European tour in 2017.
"I miss the camaraderie of playing with guys in a room and jamming, I do plenty of that, but I don't miss all the grinding 22 hours of the day, sitting around, wondering what's in the fridge, what you're gonna eat.
"I don't miss that at all, so I think I've done my time in hell, and we've got some things in the coffer that are looking good as soon as things open up. It's about safety for everyone – for me, it is, I don't want to get anybody sick."