The Rock Bands Ritchie Blackmore Listed As The Best Of All Time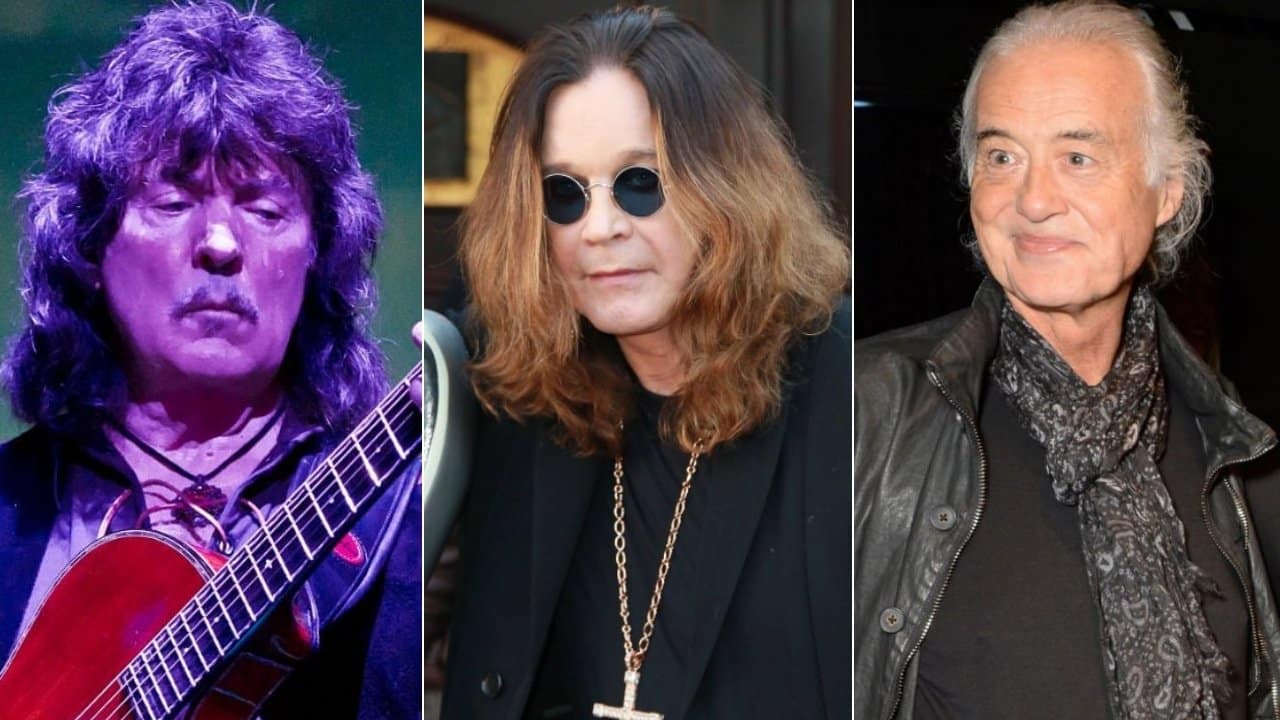 There are tons of rock and roll bands that reached world fame with the unique works they have made over the years. Deep Purple was one of those bands that are considered one of the biggest. Back in 1970, Ritchie Blackmore, who gained international fame as a member of Deep Purple, revealed the 5 greatest rock bands in the rock scene.
Ritchie Blackmore was a founding member of Deep Purple and came to world prominence as a member of them. At first, the musician appeared in the band from its formation in 1968 to 1975. And then, he rejoined them in 1984 and rocked the stage until 1993. During that period, he contributed to the band's 13 studio albums. While the band's debut album marked his first release with the band, 1993's The Battle Rages On… was his last release with Deep Purple.
When Blackmore first quit the band, he formed his own band Rainbow, which is one of the most respectable rock bands in music. With Rainbow, he has released 8 studio albums in total, which means he performed in the band's every one of its releases. Debuted in 1975 with Ritchie Blackmore's Rainbow, the band and Blackmore's latest album with the band was the 1995-released Stranger In Us All.
However, even though Ritchie Blackmore influenced numerous musicians in rock, there were bands he looked at as his influences as well. Let's look at which bands Ritchie Blackmore picked as his favorite rock bands.
The Rock Bands Ritchie Blackmore Listed As The Best Of All Time
5. Deep Purple
The list started with Ritchie Blackmore's former band Deep Purple. Picking the band one of his favorite bands of all time, Blackmore looked very determined on that.
Debuted in 1968 with Shades Of Deep Purple, the Purple discography includes 22 studio albums, 45 live albums, 15 video albums, 45 singles, 28 compilation albums, and much more stuff. As of 2022, the band has sold more than 100 million records worldwide and has a huge fanbase.
When we detailed the band's honors, those included a Legend Award on 2008's World Music Awards, Rock and Roll Hall of Fame induction, and ranking number 22 on Greatest Artists of Hard Rock of VH1. The band also has numerous platinum and gold-certified albums for its album releases.
4. Black Sabbath
Black Sabbath was a fourth of the list that said the rock bands Ritchie Blackmore listed as his favorites of all time.
As some of you might agree, 1968-formed Black Sabbath is still one of those bands the pioneer of heavy metal music. Although the band announced its disbandment back in 2017, they have continued to be an inspiration for the music industry.
Before Sabbath announced its first disbandment in 2006, it had eighteen studio albums for its 38-year career. When the band announced its reunion in 2011 until 2017, they added one more studio album to their catalog and announced their nineteenth and a final studio album. The album is titled 13.
In addition to their 19 studio albums, Black Sabbath released 8 live albums, 16 compilation albums, 7 video albums, 1 EP, and 30 singles throughout its existence in metal music. As of 2013, Black Sabbath has sold more than 70 million albums worldwide.
3. Mountain
Mountain was an American rock band that existed in four different periods. Formed in 1969, the band announced its first disbandment in 1974. In 1981, they reunited for four years of careers until 1985. Seven years later in 1992, the band announced a second reunion and performed until 1998. Lastly, the band rocked its fans from 2001 to 2010.
Throughout that 24-year tenure in rock, Mountain released 8 studio albums in total. 1970-released Climbing! marked the band's first release, 2007's Masters Of War was the latest album of the band. They also have 5 live and 3 compilation albums, except for those studios.
In 2000, Ritchie had commented about Mountain and the band's iconic song, Mississippi Queen. He admitted that with that song, Mountain destroyed his band Deep Purple.
"There is no hard rock song which had more impact than that [song]," he says.
"Around 1970, Deep Purple invariably ended up at rock clubs all over Europe. They would always play music of the latest bands and this one night this band came up doing 'Mississippi Queen.' We didn't speak to each other for about three minutes because we thought 'who the hell is this?
"They just completely destroyed our sound."
2. Vanilla Fudge
Vanilla Fudge is an American band officially formed in 1967. Having reunions and disbandments over the years, the band was one of Blackmore's favorite bands of all time.
During its ongoing tenure in rock, Vanilla Fudge released 10 studio albums. Debuted in 1967 with self-titled Vanilla Fudge, the band's latest release was named You Keep Me Hangin' On and released in 2016. The band has been silent for six years.
In 1991, Blackmore picked Vanilla Fudge as his hero while speaking to Guitar World, saying: "I met him in a transvestite bar in '68, in Hamburg, Germany. [laughs] Back in the late Sixties, there were few organists who could play like Jon. We shared the same taste in music. We loved Vanilla Fudge – they were our heroes.
"They used to play London's Speakeasy and all the hippies used to go there to hang out – Clapton, the Beatles – everybody went there to pose. According to legend, the talk of the town during that period was Jimi Hendrix, but that's not true. It was Vanilla Fudge.
"They played eight-minute songs, with dynamics. People said, 'What the hell's going on here? How come it's not three minutes?' Timmy Bogert, their bassist, was amazing. The whole group was way ahead of its time.
"So, initially we wanted to be a Vanilla Fudge clone. But our singer, Ian, wanted to be Edgar Winter. He'd say, 'I want to scream like that, like Edgar Winter.' So that's what we were – Vanilla Fudge with Edgar Winter!"
1. Led Zeppelin
Originally named The New Yardbirds, the English rock band Led Zeppelin was formed in London in 1968 by the band's legendary line-up. Although the band had reunited several times without John Bonham in the past, in 1985, 1988, 1995, and 2007, the band was originally activated for 12 years. In 1980, the band had announced its disbandment.
Throughout its long career in the community, Led Zeppelin released 8 studio albums, 10 compilation albums, 4 live albums, 16 music videos, 3 video albums, 16 singles, 3 charted songs, and many more things. The band debuted in 1969 with its self-titled album, Zeppelin and released its eighth and final studio album in 1979, titled In Through The Out Door.
Even though Ritchie Blackmore picked Led Zeppelin as one of his favorite rock bands during his interview in 1970, he criticized Zeppelin to John Bonham in 1995, claiming they copied his band's sound.
"I used to be very friendly with Bonzo from Led Zeppelin," he said. "We'd be sitting drinking in the Rainbow [bar in LA] – and he'd be really up and drunk or really depressed. So he'd be looking at the table. And he used to say to me: 'It must be really hard to stand there and go: 'der-der-derr, der-der, de-derr' [Smoke On The Water]. 'Yeah, it's nearly as difficult as going: 'duh-der duh-der dum' [Whole Lotta Love]. At least we don't copy anybody!' He goes: 'What are you talking about? That's bullshit!"
"I know exactly where you got "duh-der duh-der dum" from; you got it from Hey Joe, you just put it to a rhythm.' And he's thinking. 'And Immigrant Song was Little Miss Lover.' 'What are you talking about?' 'Bom-bobba-didom ba-bom bobbadidom…' He was not a happy man, but he started it.
"We then went upstairs to the toilet. We're both there, weeing away, and he says: 'Rich, did you mean all that?' I said: 'No, not really, I was just having a go back at you.' He says: 'Oh. I didn't mean it either. There's room at the top for everybody.' So we carried on weeing, then went downstairs and started drinking again."