Justin Hawkins Explains Why He Stole AC/DC's Brian Johnson's Microphone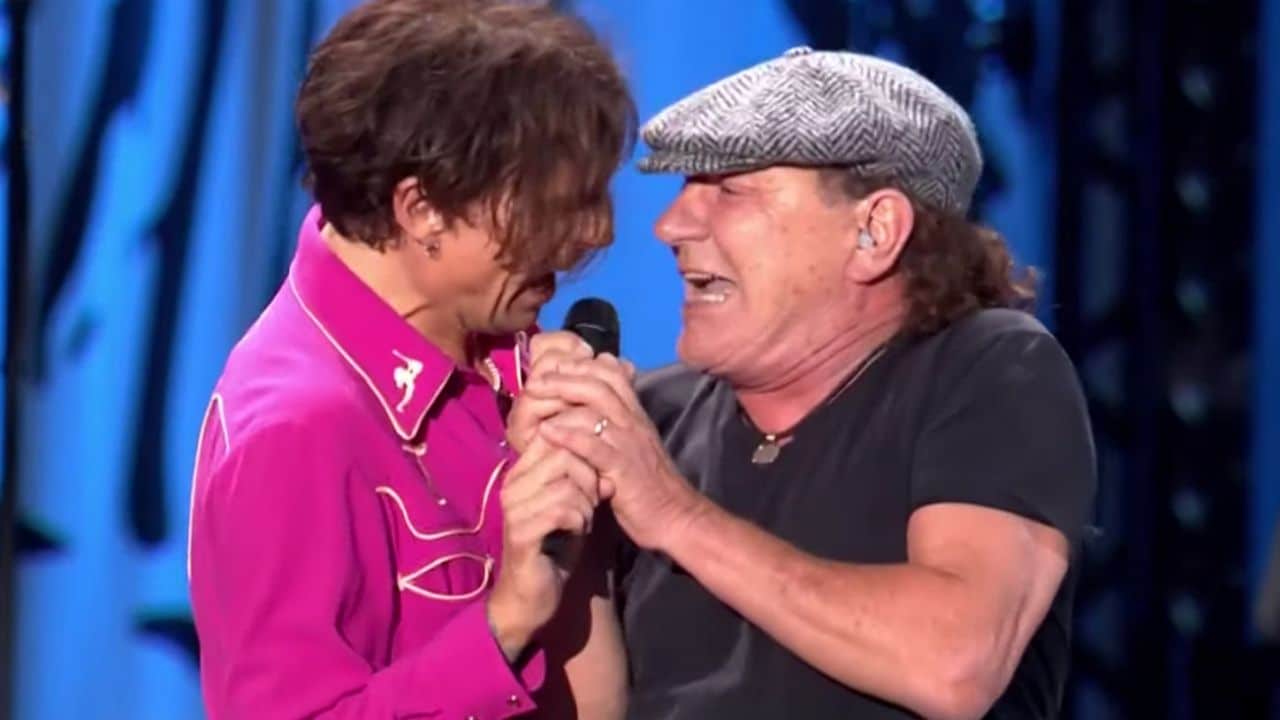 During the Taylor Hawkins Tribute Concert at Wembley Stadium in London, Justin Hawkins took away the AC/DC singer Brian Johnson's microphone during their live performance of Back in Black. Earlier today, Justin Hawkins took to his Twitter to explain why he stole Brian Johnson's microphone.
On September 3, 2022, Brian Johnson and Lars Ulrich joined Foo Fighters on stage to perform some AC/DC classics in honor of Taylor Hawkins, who passed away on March 25, 2022, at age 50. During the performance, Justin Hawkins walked onto the stage and took away the microphone from Brian Johnson, and joined the musician to perform the song. The situation was interpreted incorrectly and disrespectfully by many people.
Recently, Justin Hawkins shared a letter to open up about the truth. In his letter, Hawkins admitted that Brian Johnson invited him to play AC/DC's classic Back in Black live. Saying that he refused Johnson's invitation at first, Hawkins stated that he accepted the offer when Grohl told him to do that harshly.
"If Brian tells you to do something, you fucking do it!" pic.twitter.com/QXJFajur1L

— Justin Hawkins (@JustinHawkins) September 5, 2022
"10 minutes before the AC/DC segment of the tribute, Brian Johnson asked me to come up and sing the second verse of Back In Black," he says. "I initially refused, I've never sung it before and I didn't want it to seem like I was gatecrashing. However, Brian really was insistent and Dave Grohl told me that 'if Brian tells you to do something, you fucking do it'."
Justin Hawkins Reveals Why He Took Away The Microphone From Brian Johnson
Adding that there was confusion, the musician said that a microphone should have been set up for him, but this did not happen. Finally, he thought it would be useful to accompany Brian and steal the microphone from him.
"I had Rufus pull up the lyrics on his phone and I gave it a go, but in all honesty I think Brian just wanted to create a memorable spontaneous moment and have a laugh so he could really push on and smash the rest of his set," he added. "The stage manager scrambled to prepare a microphone for me, but I didn't know which one I was supposed to take and I ended up having to steal Brian's, which looked a bit awkward.
"Brian Johnson is an absolute legend and Dave was right, I couldn't turn it down."
After they witnessed the moment on the stage, the fans commented on the situation badly. Hawkins even had to respond to a few users on Twitter. One fan was of the opinion that Hawkins should have been kicked after his move on Brian. Hawkins interjected decisively.
"Yeah, 10 seconds before the AC/DC section Brian told me to get up for the second verse of BIB," he said. "I didn't want to do it, never sung that before but DG said 'if Brian tells you to do something, you fucking do it.' Haha."
Yeah, 10 seconds before the AC DC section Brian told me to get up for the second verse of BIB. I didn't want to do it, never sung that before but DG said "if Brian tells you to do something, you fucking do it." Haha

— Justin Hawkins (@JustinHawkins) September 4, 2022
Hawkins also responded to Wolfgang Van Halen's respectful words, saying: "Haha I wouldn't say that 😉 To be honest, I feel like BJ just wanted to drag me up for a laugh and to give his voice a few seconds to recover in time for the rest of the track. I thought he did an AMAZING job and I'm always happy to help out when needed."
Haha I wouldn't say that 😉 To be honest, I feel like BJ just wanted to drag me up for a laugh and to give his voice a few seconds to recover in time for the rest of the track. I thought he did an AMAZING job and I'm always happy to help out when needed.

— Justin Hawkins (@JustinHawkins) September 4, 2022