Queen's Brian May Supports Ukraine: "It's Unbelievable That The Peaceful Life Of Them Could Be So Senselessly Shattered"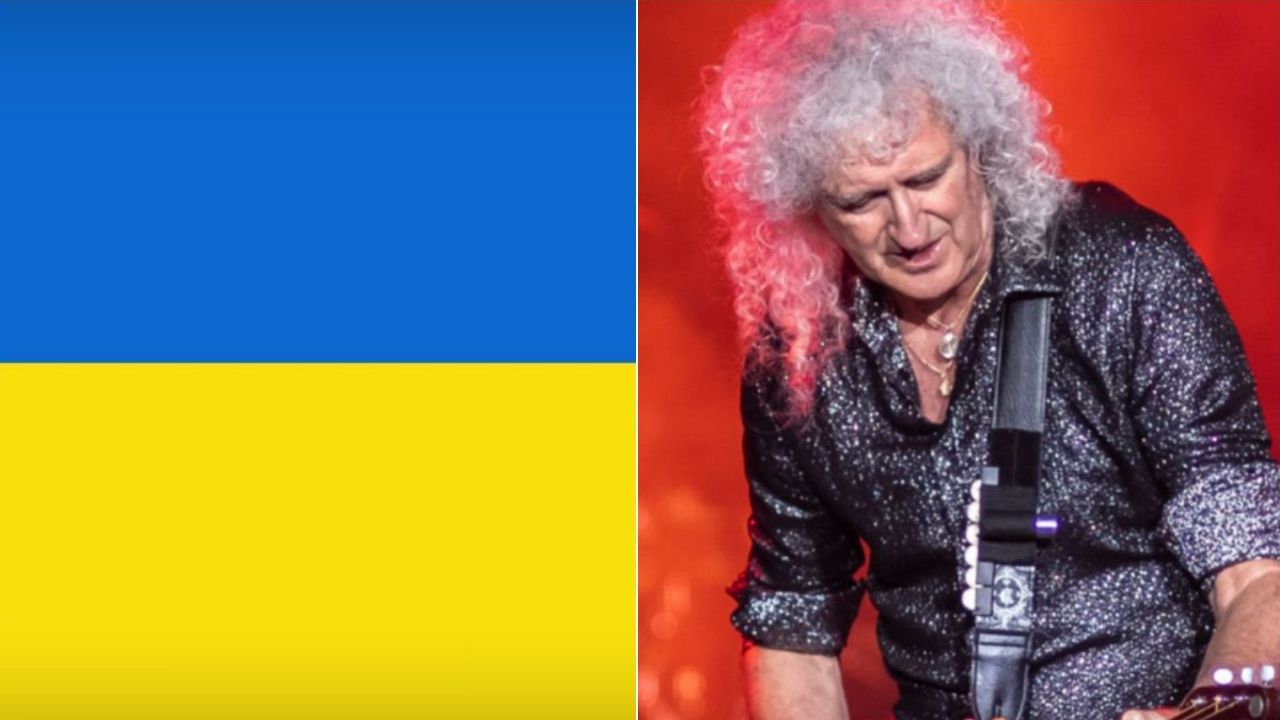 Queen guitarist Brian May has broken his silence on the Russia-Ukraine crisis and showed off his support for Ukraine, remembering his great memories around Freedom Square in Kharkiv in 2008.
Brian May is known for being the guitarist of his co-founded rock band, Queen. Throughout his career with the band, Brian May released 15 studio albums, 10 live albums, 2 EPs, 16 compilation albums, and many more things. After the tragic passing of the band's legendary singer Freddie Mercury, Brian May's band Queen is joined by several musicians, and they've been rocking out with Adam Lambert since 2011.
Outside of his career with Queen, Brian May, who has previously contributed to numerous artists, has released two solo studio albums during his solo career. Debuted in 1992 with Back To The Light, May's second solo album was 1998's Another World. His third album was a soundtrack album titled Furia. Due to his massive success with the band, Brian May was inducted into the Rock and Roll Hall of Fame as a member of Queen.
With the smile he put on his face and his positive view on the incidents, Brian May is one of the artists who is loved by most rock and metal fans. Outside of his musical life, Brian May has been trying to be useful to life on earth and preserve the values that he believes in himself. He updates his social media channels to reveal the positive sides of the negative incidents.
Recently, Brian May has sent a social media post about the Russia-Ukraine crisis, recalling their show in Kharkiv in Ukraine. Cursing war, May admitted that those times were great. He also expressed his devastating attack on Ukraine's freedom. According to Brian, it's heartbreaking the world could just watch and let it happen.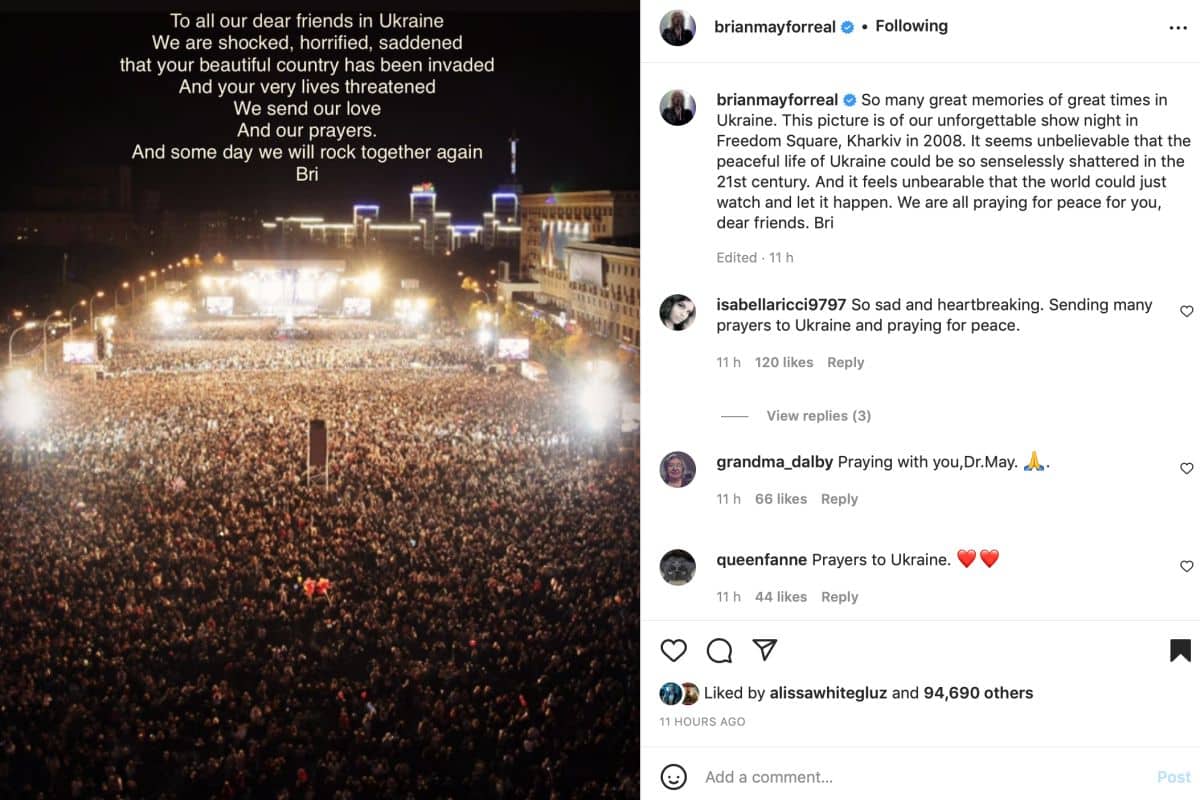 "So many great memories of great times in Ukraine," Brian writes in the caption. "This picture is of our unforgettable show night in Freedom Square, Kharkiv in 2008.
"It seems unbelievable that the peaceful life of Ukraine could be so senselessly shattered in the 21st century. And it feels unbearable that the world could just watch and let it happen. We are all praying for peace for you, dear friends. Bri."
Brian May Is Not The Only One Who Talked About Ukraine-Russia Crisis
The legendary musician Brian May is not the only rock and roll artist who talked about the crisis between Russia and Ukraine. As some of you might know, on February 24, the Russia president had announced a special military operation in the east of Ukraine. At press time, at least 137 people have been killed and 316 injured during the war.
However, Whitesnake star David Coverdale, Disturbed singer David Draiman, KISS co-founders Gene Simmons and Paul Stanley, and many more have sent their good wishes for Ukraine, cursing Russia and Vladimir Putin.
Paul Stanley
"While we are living our everyday blessed lives, the people of Ukraine are fighting for theirs against overwhelming odds," Paul Stanley says via his Twitter. "We are watching in real time as families are decimated and a country is battered. There's a dark cloud over us all who are powerless today to help. I will pray.
Gene Simmons
Paul Stanley's bandmate Gene Simmons talked about the Ukraine-Russia crisis as well, saying Ukraine is not alone.
"Our hearts and minds are with the brave people of Ukraine," he said. "You are not alone!"
David Coverdale
Sending praying and broken heart emojis, David Coverdale said it was a heartbreaking morning. According to him, the news was unbelievable.
"A heartbreaking Good Morning," he says. "Such Indescribable, Unbelievable News To Wake Up To…UKRAINE…"
Brian May Bandmate Adam Lambert
Brian May's bandmate in Queen + Adam Lambert showed off his saddening about the issue. He sent his supports to everyone who lives in Ukraine.
"Sending support and love to everyone in the Ukraine," he said. ";("
David Draiman
Disturbed's David Draiman looked pissed off about Vladimir Putin. Explaining why he hates him, Draiman said the view in Ukraine is devastating.
"Why do I hate Putin?" Draiman asked. "@TuckerCarlson.
"Because he's an anti LGBTQ+, war mongering/fear mongering, communist dictator, who always seizes any opportunity to further enrich and empower himself.
"The better question is why DON'T YOU?"
"Devastated by the images coming out of Ukraine," he added.