Nirvana Legend Kurt Cobain Sends Her Rare-Known Stage Pose, She Looks Hot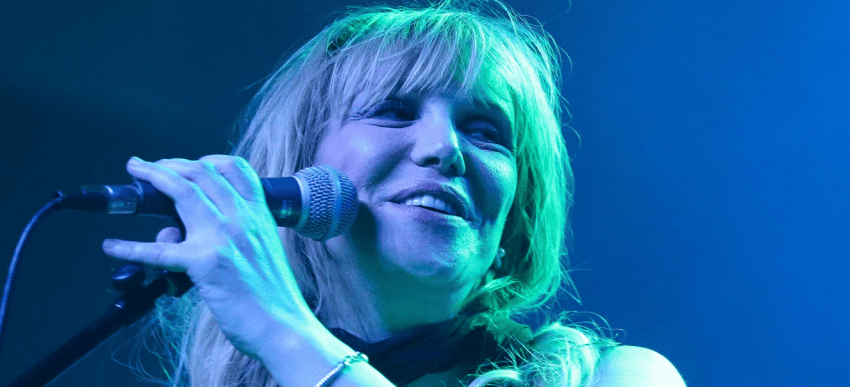 Nirvana legend Kurt Cobain's widow Courtney Love, also known as the singer of the alternative rock band Hole, remembered the great show she played in 1999 and took fans back to that day by telling how she felt at that day.
With a recent post she shared through her social media, the 55-year-old singer looked back the day she performed at Glastonbury Festival, which held on June 25, 1999, and lived that day once again.
When Courtney was talking about that day, she explained why she wrote 'Georgia' on her stomach. She also said they were in a British helicopter and revealed how a great experience it was.
Also, her story attracted huge interest from her fans and her close friends. Many of them commented on the post and expressed how a great singer she was. A couple of them have also touched her beauty.
You can read what she wrote about that day below.
"We'd spent a few days in London which is why I wrote his home state of 'Georgia' on my stomach, my forever peach.
"I wanted to see my old friend Joe Strummer and his band play. We were in a British military helicopter, I loved it! I took helicopters to festivals after that. (We'd) played big U.K. festivals before but I was in better health that year.
"I felt a lot of spirit and happiness move within me and my band, and can remember it vividly… really being transported to giving myself over to that fantastic, smiling crowd. Feeling like I'm doing the one thing I truly love… which is to deliver the message whatever form that takes within.
"You have to have a lot of confidence to hit that Glastonbury main stage.
"I remember lots of girls rushing the stage and dragging them up, and tolerant, nice security guys there at the farm. It was so fun and pretty, and the sun went down over that massive crowd.
"You really feel you've met your destiny up there. #glastonbury (@nmemagazine thanks also)."
Here's her social media post and comments:
https://www.instagram.com/p/CB_Yqazl5Y1/?utm_source=ig_web_copy_link