KISS' Gene Simmons Reveals 'Thrilling' Frank Zappa Memory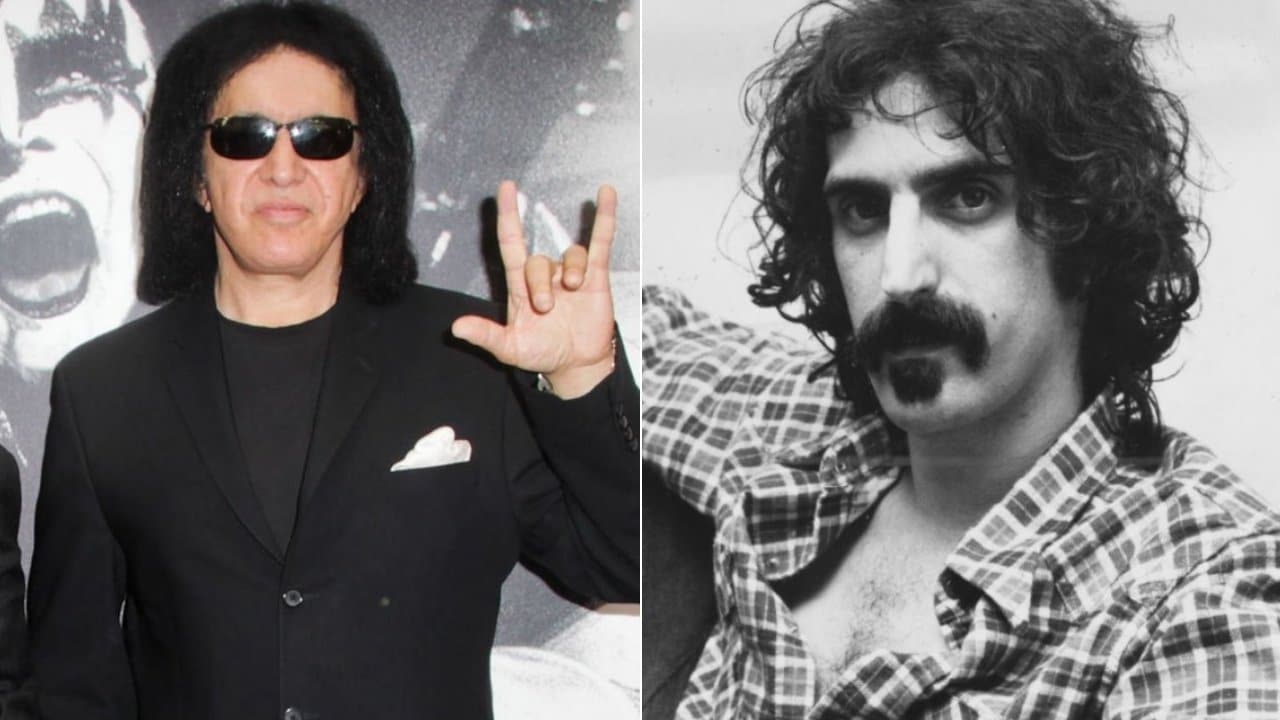 KISS bassist Gene Simmons mourned the late musician Frank Zappa during his recent appearance on Rocktails, which was hosted by Frank's son Ahmet Zappa. In the interview, Gene Simmons revealed a thrilling Frank Zappa memory.
Gene Simmons is one of the most creative musicians in rock and roll music. Although he is known for his musical success with his co-founded rock band KISS, he also has a great solo career with only two albums. Debuted in 1978 with his self-titled solo album, Simmons released his second studio album in 2004, named Asshole. With those two albums, Simmons proved how a talented musician he is.
Those two albums separately featured great artists in it. In the first album, there were great musicians such as Joe Perry, Sean Delaney, Neil Jason, Elliot Randall, Rick Nielsen, and Eric Troyer. When Simmons recorded the second, it featured ex-KISS members Bruce Kulick and Eric Singer, Simmons' daughter and son, Sophie Tweed Simmons and Nick Tweed Simmons, and the Zappa family, including Frank Zappa, Ahmet Zappa, Dweezil Zappa, Moon Zappa and Gail Zappa.
When we detail the second album, it was such a special album for Gene Simmons and Zappa family themselves. Back in the day, Gene Simmons visited the Zappa family at their home after their invitation. They spent a great time together and had fun together. After a while, Simmons wanted to make a collaboration with Frank Zappa, but he already passed away when he wanted to make a record for his second album. Zappa's family sent him a little snippet, and that was how Frank Zappa appeared on Gene Simmons' album.
However, Gene Simmons recalled those golden times when he interviewed Ahmet Zappa on Sirius XM's Rocktails. At first, Gene Simmons recalled his visiting the Zappa family, which was a great memory for him. Then, Simmons asked Ahmet if he could tell him the name of the track taken from Asshole and that featured all the Zappa family in it. Ahmet said Black Tongue is the song.
"Correct," Gene replies (as transcribed by MetalCastle.net). "I was invited by you guys to visit your dad's home, and he looked fine. I didn't know how serious it was and everything. It was a thrill for me to be shown the vaults of all these masters downstairs and everything. And we kidded around you guys were there and all that.
"Then, I was putting together my solo record, so I called you guys, and I said, 'Are there any unfinished Frank Zappa songs?' I'd love to co-write.' Unfortunately, your dad passed [away], but your mom sent over a 30-second snippet."
Gene Simmons Admits 'Recording With Zappa Family Was A Great Moment'
In the continuation, Gene Simmons revealed how Black Tongue came out. When the short snippet was sent over to him, he made his iconic final touches on it. He then admitted that he didn't want to put himself into that and added recording with the Zappa family was a great memory.
"There were barely any chords or anything, but it was 'Black Tongue,'" he continues. "No melodies or anything, but I took that and made a little bit of a loop and then created the chords, melody, lyrics, and all that [stuff].
"And then, when I was recording, I said, 'I can't do this, [I] can't put Gene all over, it gotta be a Zappa song.' I remember that one day all of you guys showed up singing in harmony. That was a great day."
Elsewhere in the interview, Gene Simmons also announced there will be a box-set of Creatures Of The Night in honor of the 40th-anniversary of the album. When Ahmet Zappa said, "This year is the 40-year- anniversary of the Creatures Of The Night. Can we maybe expect something special if you doing anything? You've been putting out so many great box sets and re-releases. Can we expect something special?", Simmons detailed it.
"Thank you for putting that ball right across the plate," Gene Simmons reveals. "Yes, there's gonna be another Creatures – sort of demos and working stuff, behind the scene stuff – yeah. People don't know it that on the record, there were so many stories in the Naked City [sings the song].
"The Creatures [Of The Night] record was a transitioning record because Ace Frehley and Peter Criss were out of the band. So, we were kind of 'you can't do it all yourself.' So we brought in different guitar players, different things and try to feel.
"And we co-wrote one of the guys that flew down from Canada. There was a young guy named Brian Adams, who I'd never heard of before. He sounded like a chick singer, and it was a hit."
Back this past November, Gene Simmons had discussed Ace Frehley and Peter Criss' not appearing with KISS during the band's farewell tour. He said it upset him.
"Well, clearly, Paul Stanley has lost all memory," Gene says. "My memory of things says he thinks he wrote 'Strutter.' I know I did.
"I want to say something on behalf of Ace and Peter, and this is important – through the years there have been some bad decisions made.
"My heart breaks that they can't be here and see your beautiful faces. They started with us, they were equally as important as Paul and myself in starting the band.
"We wouldn't be here with them, it's so tragic because of bad life decisions that they can't be here to enjoy all of this."