Richie Faulkner On Cancelled Judas Priest Show: "Rob Halford Is Resting His Voice"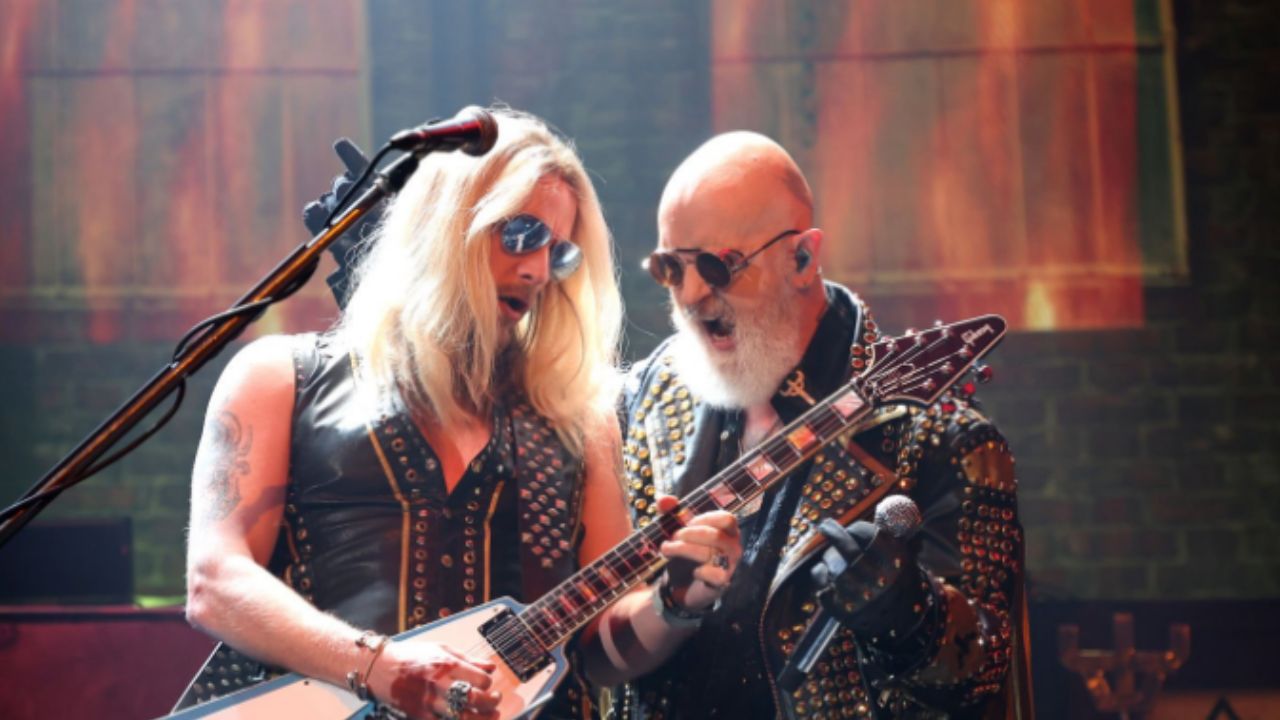 Judas Priest guitarist Richie Faulkner did a brand new interview with Sean P Mckenna of East Cost Lives. The Priest guitarist said the band's concert at the Tsongas Center at UMass Lowell in Lowell on April 4 was canceled due to Rob Halford's health problem.
The UK Birmingham-based grammy-winning band made their debut in the early 80s with their iconic albums British Steel and Screaming for Vengeance. Judas Priest, who became internationally famous with their British Steel album, has sold more than 50 million copies worldwide.
Judas Priest, who won The Metal Guru Award back in 2005, had won the Grammy Award, for which he was nominated four times before, in the category of "Best Metal Performance" in 2010 with the song "Dissident Aggressor" from its third studio album, "Sin After Sin".
Anyway, starting their North American Tour on March 4, Judas Priest canceled their concert in Lowel, MA, his last stop in the USA, due to health problems of the band's vocalist Rob Halford. The band will be performing in Canada the next week.
Judas Priest also had to cancel their Moscow, Petersburg, and Kyiv concerts due to the crisis between Russia and Ukraine.
In an interview with Mckenna, Faulkner stated that Priest canceled the Lowel, Ma show due to the cold that Rob Halford had, and said that these were the usual things during the tour.
"We're resting up," he says. "Yesterday, we had to, unfortunately, cancel the show. And the reason for that is so that we can preserve our health and get better. Rob's got a bit of a cold. So we can preserve our health, get back on track and do the rest of the shows in Canada. Yeah, that's what we're aiming to do.
"Obviously, these guys have been doing it for 50 years; I've been doing it for a few years with them. Even if you don't tour as a musician, we all get sick from time to time. It's gonna happen. When you're on the road, it's a rigorous schedule.
"And even pre-COVID, now post-COVID, so to speak, you're gonna catch bugs and stuff like that; it's just part of the life we lead. And obviously being a singer, if it was me or Ian or Scott or Andy, I think we could maybe just hammer through it, but obviously, when your instrument's your voice, it's a bit harder to do. So he's resting up, he's resting his voice, he's on some meds, and he's gonna get through it."
Judas Priest Guitarist Faulkner Says It's Great To Do Live Heavy Metal Shows Again
Stating that he is happy to return to tours and interact with fans face-to-face with the effect of Covid-19 a little less, Faulkner answered the question of whether you needed extra precautions to tour during the pandemic.
"I think everyone's gotta be vigilant. Obviously, the lockdowns and restrictions are kind of being relaxed around the world. So in one respect, you can be a bit more relaxed, but in another respect, because they're being relaxed, you've gotta be a bit more vigilant. So it's a bit of both, really.
"It's nice that it's been relaxed because we can now enjoy live music again, and to see the fans and the looks on their faces to be experiencing, in our case, heavy metal shows again, live heavy metal shows, is fantastic. And it's great for us again as well to be able to deliver a live heavy metal show and see the looks on those fans' faces and be part of that live heavy metal community again, it's fantastic.
"Obviously, I don't think [COVID-19 has] gone away completely yet — we're still hearing of cases here and there — so we've gotta be somewhat careful. It depends on what you listen to, what kind of sources you listen to, but you've gotta be somewhat vigilant. But again, I think it's got to the point where everyone's living their lives but kind of using common sense in terms of being safe."
During Judas Priest's performance at the Louder Than Life festival on September 26, Richie Faulker had suffered an important acute cardiac aortic dissection. In an interview with Ryan Roxie on February 15, he told what he went through that day.
"Looking back, you can join the dots," Richie said. "I was tired that day. Tiredness is a sign of it. But that's the thing — three weeks into a tour, you're finding your legs anyway. We're getting used to the schedule. We're gonna be tired two or three weeks in. There was nothing that was out of the ordinary for that time in the tour schedule.
"So there was no signs whatsoever. I was just out there halfway through 'Painkiller' and my chest just went 'bang.' And I thought, 'Well, that doesn't happen every day.' And it didn't go away.
"Luckily, we usually have an hour-and-forty-[minutes] set. But tonight Metallica were playing, so we had an hour set, and this was the last song. If it wasn't, I would have carried on a thousand percent, I would have carried on keeled over and that would have been it. Because when these things go I didn't know any of this beforehand you have minutes.
"What happens is it ruptures and it bleeds into your chest cavity and you bleed out inside yourself and you go. That's it. So literally, it blew up inside.
"So I'm playing along, and I started to feel a bit faint. I remember walking back from the edge of the stage, just in case. I've never fainted, I've never passed out before, but I started thinking this is what it feels like. 'Cause, obviously the blood was draining out of the extremities. So that's what was happening.
"Again, I didn't know this at the time. To be honest with you, I thought I was having a heart attack because it was in the chest cavity and it was getting pretty painful. All my energy was depleted.
"At the end of the song, I usually lift the flying V up in the air, and I couldn't lift it — I had nothing. So I came offstage and sort of collapsed into a chair. The paramedics came out. And it went from there."