Josh Robins of The Invincible Czars Talks Merging Metal, Classical, and Horror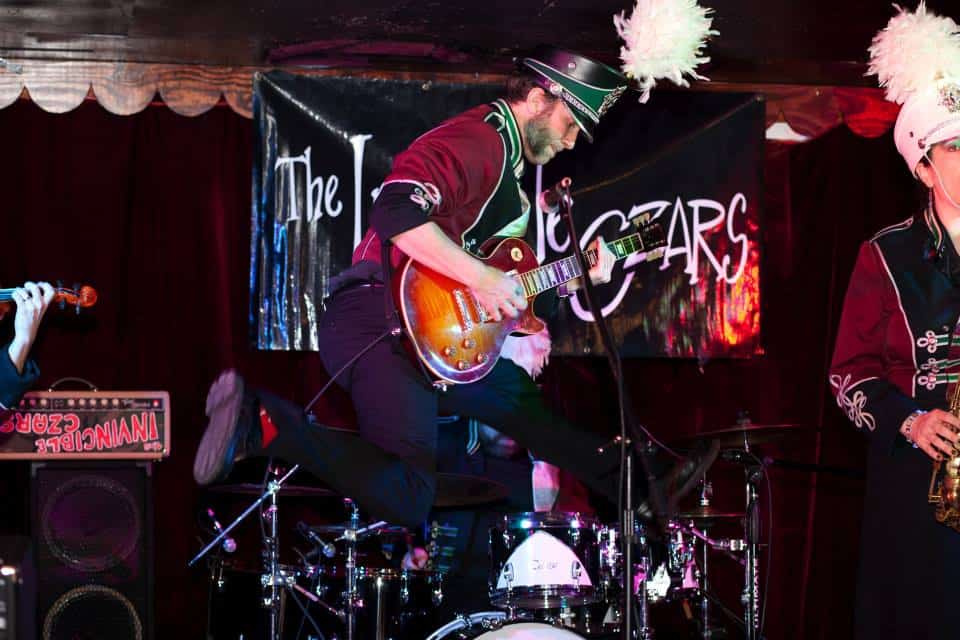 All images courtesy of Prospect PR
If you're the sort of metalhead that has an affinity for classical music and a thing for timeless horror movies, then this Halloween, I've got the perfect treat for you.
Austin, TX, has always been a hotbed for music. Call it a cultural fountain of shimmering splendor, always giving and seemingly endless. And in the case of far-reaching genre-melding metal outfit The Invincible Czars, the creative nature of the Austin scene has never been more apparent.
Some 20 years after the band's inception, its founder and main musical perpetrator, Josh Robins, is at it again, this time with a delightfully wicked metal-edged score of the now 100-year-old horror classic Nosferatu.
So, if you're looking for something interesting to soundtrack your Halloween candy binge, The Invincible Czars might be for you. While on tour promoting Nosferatu, Josh Robins took a moment with me to run through his history in music, the formation of The Invincible Czars, the creation of his soundtrack for Nosferatu, and a whole lot more.
Andrew: As a young musician, what first sparked your interest in music?
Josh: It's hard to pinpoint, but I can say that the soundtrack from the 1986 Transformers The Movie made a big impact on me. It was the first music I was into that my parents didn't directly expose me to. I had not heard anything that heavy at age 11 and probably wouldn't have if not for that movie. It wasn't just the metal songs I liked. Vince DiCola's synth score stuck with me, too, and of course, Weird Al's Dare to Be Stupid. Back then, I didn't know the soundtrack was available to buy, so I taped each moment of music manually from the VHS onto an audio cassette using my dad's stereo equipment. On my daily bike ride to school, I would play the tape on full blast from a mono cassette player in my backpack. Later, I became obsessed with Van Halen's 1984 – which I still listen to once a month – Public Enemy's Fear of a Black Planet, and any Weird AL I could find.
Andrew: Who were some of your earliest influences?
Josh: I always loved music from movies and TV like Mary Poppins, Alice in Wonderland, and Robin Hood, and particularly the music from cartoons of the '30s to the '50s like Tom and Jerry and Looney Tunes. My dad listened to a lot of classical music and what we now call "classic rock," so a lot of Tchaikovsky, the Beatles, Van Halen, ZZTop, and the Doors with a little Deep Purple. The first album I bought on my own was Living Colour's Vivid which I still love.
Andrew: How would you say your style has evolved as you've moved through your career?
Josh: When I first started playing, I was on the Eddie Van Halen wanna-be train like so many others, but that was derailed by exposure to the Pixies, NoMeansNo, Sonic Youth, Faith No More, Mr. Bungle, and Primus around 1990 or '91. I became less interested in fast guitar and more interested in song arrangements, compositions, and inventive ensemble play. That's when I learned to read and write music and began composing music with standard notation and playing with musicians' string players and horns in particular. That led to contemporary and silent film scoring. Lotta twists and turns in between, too!
Andrew: Can you recount the formation of The Invincible Czars?
Josh: After a few years of writing music for an imaginary band that mixed rock and orchestral instruments, I began running classified ads in The Austin Chronicle for musicians to play the stuff. The original line-up didn't last long, and it's been a constant revolving door of players since day one. The original line-up chose the name. I remember the ass player Tom Kimzey suggested "The ______ Czars," We spent weeks debating what we should fill in the blank with. In Dec 2002, we booked our first show, and the venue needed a name for the bill, so I suggested "Invincible," and it stuck. [Laughs]. Our first show was barely in 2002, only by about ten days, late December. Back then, our music had more eastern euro flare, and the name suited our sound and humor. I think it still does, but it can be confusing to those who only know our silent film soundtracks.
Andrew: What were some of the band's earliest gigs?
Josh: We played any club we could in Austin in 2003-2004, but we were a little too brainy for most late-night drinking audiences. In late 2004, we hit a stride when drummer Tommy Holton joined. We rocked a lot more and found our way to opening for bands like NoMeansNo, Sleepytime Gorilla Museum, Chrome, Melt Banana, and even metal bands like Hammers of Misfortune and Slough Feg.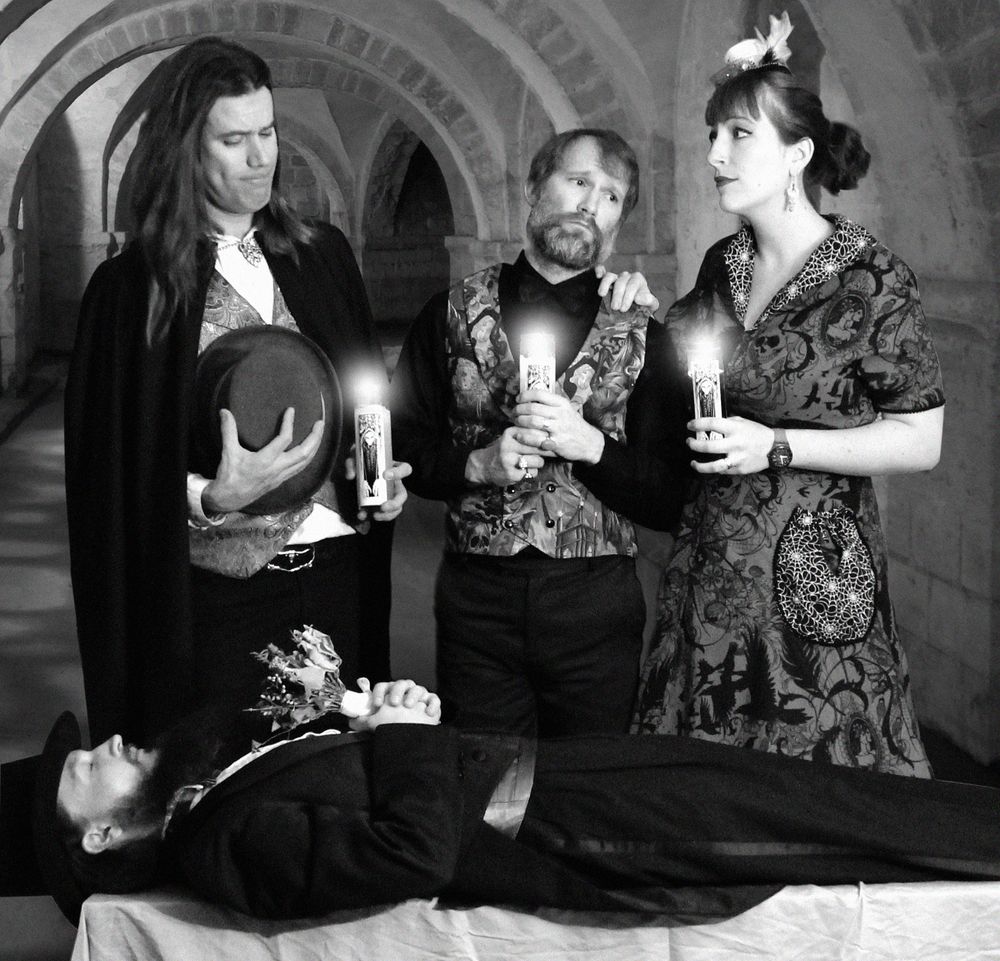 All images courtesy of Prospect PR
Andrew: Let's dig into your newest project, Nosferatu. Tell us about its inception.
Josh: We started doing silent film accompaniment in 2006. By 2013 we had built a repertoire of films, but they were mostly lesser-known movies because other Austin bands were Already doing the "A-List" silents like Nosferatu and Metropolis. We played more out-of-town shows, and people in those towns asked us to do Nosferatu. We decided to go for it and debuted our score in Oct 2015. That title opened doors to venues all over the US and Canada. Over five years, the score evolved through our live performances. The pandemic shutdown allowed us to update it for the 100th Anniversary this year. Honestly, it comes down to a love of horror, silent films, and soundtracks! We try to balance respect for the time and tone of the film while appealing to modern tastes.
Andrew: From a songwriting perspective, how have your collective experiences affected the music?
Josh: Everybody brings their influences into what we do. I notice it, especially with changes in who's playing bass and drums. That often influences how we treat an idea, and it sets us on a musical path. Our touring drummer Louis Landry is loose and swings a lot. Eoghan McCloskey, who drummed on the DVD soundtrack, is a very precise metal drummer. We treat and rearrange based on who's available for a recording or tour.
Andrew: How about the production mixing side of things? Take me through how the final sounds were honed in.
Josh: We all recorded from home using midi and tempo tracks to guide us. We assembled it all in Cubase and then made little tweaks to suit the film. I used VST Guitar Amps, the Mercuriall Spark, and Cubase's stock Deluxe emulator with a Schecter 7-string Hellraiser. Recording "under a microscope" revealed errors and weak spots in the music. We fixed those and added stuff we can't do live without more people and sound effects. The whole first half was one long, pain-in-the-butt wav file. Then I realized how cumbersome that was, and we did the last half in bits. Skunk Manhattan spent much time adding piano; unlike everything else, it was never transcribed. We also used a lot of midi, which can be a real challenge to harness but is ultimately really powerful. Chico Jones mixed all of this and provided guidance. It sounds like Primus meets John Williams, the film composer.
Andrew: Will the material get any time on the live circuit? What's next?
Josh: Yes, we're on a massive two-month Nosferatu Centennial Tour as I write this! I feel certain we'll bring it back when Robert Eggers' Nosferatu remake comes out. Next year we'll tour with our score for The Cabinet of Dr. Caligari (1920 Murnau). We plan to do an Iron Maiden tribute called The Gospel of the Beast, which was recorded in 2010 but never released. Lastly, we have a reimagined version of Pictures At An Exhibition by composer Modest Mussorgsky, in collaboration with Bee vs. Moth.
All images courtesy of Prospect PR
– Andrew Daly (@AJDWriter88) is a contributing writer for Metal Castle and may be reached at andrew@vinylwriter.com