James Hetfield, Lars Ulrich, Dave Mustaine and More Pays Tribute to Ray Burton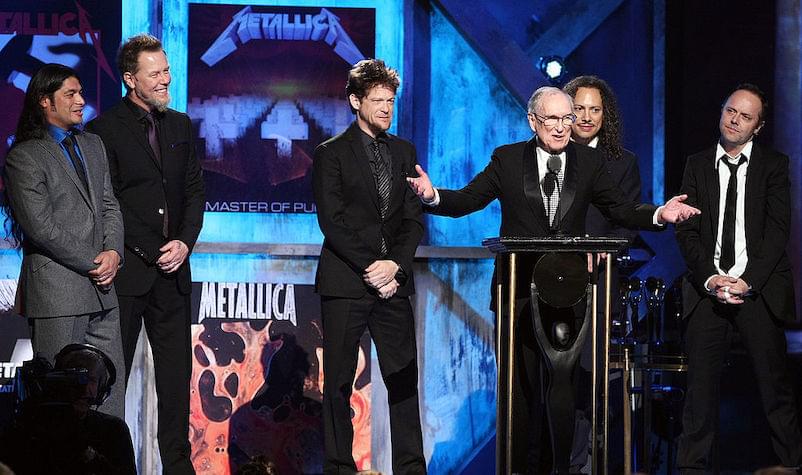 Metallica's James Hetfield, Lars Ulrich, Kirk Hammett and Robert Trujillo, Exodus bandleader Gary Holt and Megadeth's Dave Mustaine and David Ellefson have recently posted an emotional photo through their social media account and paid their tribute to Ray Burton, the father of the late Metallica bassist Cliff Burton. Ray Burton died on January 15 at the age of 94.
James Hetfield, the legendary member of Metallica, has shared his feelings through the band's social media accounts and stated that Ray Burton is a hero of him.
"Mr. Ray Burton is a hero of mine
In earthly form, his end of the line
He weathered many a difficult storm
A strong compass
true and gracefully worn
To his last breath, I've not met a more positive man
And to his son there was not a more loyal fan
So he leaves the material world to be with his sons and wife
I feel so very blessed to have had him grace my life
In earthly form, his end of the line
Mr. Ray Burton is a hero of mine

May peace be yours.

Love and Respect,
James"
Kirk Hammett said:
"Lots of love Ray.
May you finally be with Cliff and Jan.

Kirk."
While he talking about the inspiration to him, Metallica's bassist Robert Trujillo stated that he wants to be like Mr. Ray Burton.
"In my 55 years of existing on this earth I've met so many wonderful people, and not so wonderful people.

In recent times, and most definitely since I've been in Metallica, I've been asked who is an inspiration to me and/or who do I aspire to be like, and my reply is, "I want to be like Mr. Ray Burton!" Ray is the father we all want, or need to have; his positive energy, and support for how and what we do is a powerful gift that he blessed us with.

Always smiling, and always telling it like it is; someone to learn from. Ray's love for all styles of music was passion driven, telling me about various big band jazz artists from his youth, sharing his thoughts on how and why these musicians were so special. I'll always remember him telling my son, "You practicing, you playing piano Tye, remember that's very important for your music; Cliff played piano all the time." My family, the Metallica family, and the world will miss Ray Burton, that goes without saying. Ray was a warrior, and would want us to face life the way he has, with that desire to be the best you can be from the inside out, stay humble, and keep smiling!

We love you, and we will miss you Ray.

R.I.P
Robert"
Lars Ulrich has also talked about him and thanked him for lighting up every room he walked into.
"Ray… Thank you for lighting up every room you walked into, for inspiring all of us with your positive energy, your perseverance, your effortlessness and for always making everyone feel comfortable in your presence… and of course, thank you for giving the world the gift of Cliff and his unique talents. I'm honored and humbled to have played and stood beside him.

Rest In Peace.
Lars"
Megadeth's legend Dave Mustaine said:
"So sad to hear about the passing of Ray Burton. He was there the first time I played 'In My Darkest Hour' in honor of Cliff. Rest in Peace Ray, you will be missed."
Megadeth bassist David Ellefson said that he was an inspiration for a life well lived.
Just woke to the sad news of Ray Burton's passing.

"He was such a kind & sweet soul who always took such an interest in me, Dave and Megadeth. It was so wonderful to see him keep Cliff's legacy alive and truly become one with the metal community himself. He was an inspiration for a life well lived.

Condolences to his family and friends around the world. #riprayburton (first photo by Chris Loomis)."
Here's the posts: