Gary Holt Remembers The First Time He Saw Metallica's Kirk Hammett: "Kirk's Singing Is Terrible"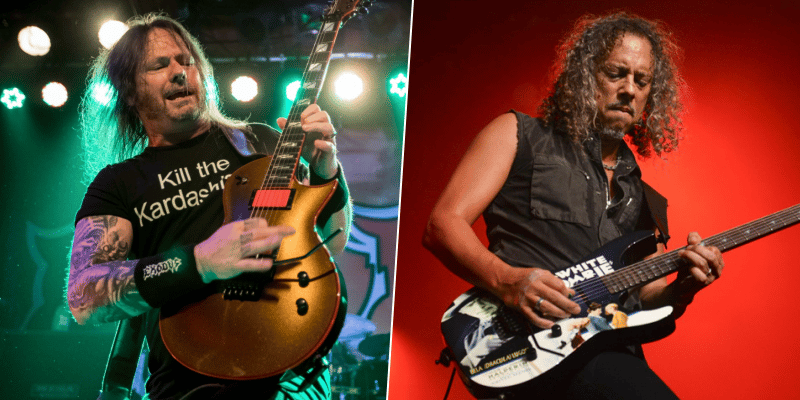 The American thrash metal band Exodus bandleader Gary Holt has just appeared on the recent episode of Let There Be Talk and touched his former bandmate Kirk Hammett, the current lead guitarist of Metallica.
During an interview, when the 56-year-old guitarist was talking about the legendary guitarist Kirk Hammett, he remembered the first performance he saw of Kirk Hammett and said he's singing terrible.
"Yeah, we met briefly when Exodus played a little an after-school performance in Richmond Heights.
"I knew Tom because he grew up across the park from me, you know, I'd walk out my house and two doors down is a park you would walk across and in 90 seconds, Tom's house's on the other side.
"I didn't know Kirk; the first time I saw Kirk, they did Scorpions, and Kirk's singing is terrible. [Laughs] Maybe Tom didn't know the lyrics at the time – because Tom is also a vocalist, and Tom could sing his ass off – but yeah, it was pretty rad.
"Then we went to see Ted Nugent with Scorpions at the Cow Palace, and that's the first time I hung out with Kirk, and so we met at his house over in El Sobrante, and he put on Scorpions' 'Virgin Killer' for me."
He continued to remember the first songs that Kirk taught him. He also revealed when he joined the band.
"I never heard Uli-era Scorpions before, and I heard that solo on that, and it changed my life, that's why there's a whammy bar on fucking 99% of every guitar I got.
"And we just became super-fast friends right from there. After hanging out, I was like his roadie – I can't call it a guitar tech because all I did was like help carry his 2×12 combo while he's carrying shit and drinking.
"And then we tore it down, and he asked if I wanted to learn a couple of guitar chords and the first thing he taught me was some Rolling Stones song. I can't remember what it was, but then he taught me the basic blues licks and shit like that.
"And six months later, I was in Exodus."
Gary Holt appears on Exodus since 1981.